UCLA's Caleb Wilson finally will get a chance to play inside Oklahoma's stadium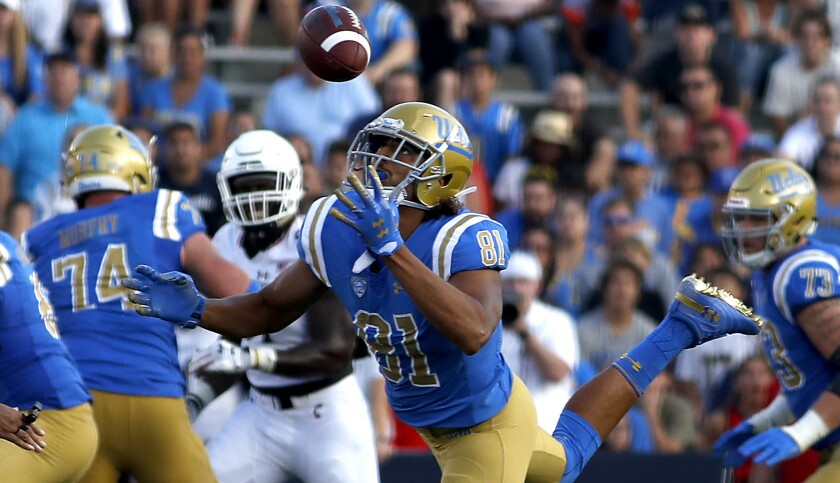 Caleb Wilson couldn't see Oklahoma's football games but knew what had happened every time he heard the blasts from the modified shotguns.
"We scored a touchdown," the UCLA tight end said this week, recalling the significance of the ear-splitting Sooners tradition.
Wilson once considered himself a proud Sooner. His father, Chris Wilson, was a two-time All-American linebacker for Oklahoma who later returned as defensive ends coach and special teams coordinator for five seasons while Caleb was in elementary and middle school.
Watching his dad's games was a rarity for Caleb. He preferred to flit around the practice field next to Gaylord Family-Oklahoma Memorial Stadium on game days while playing football with the sons of coaches Bob Stoops and Cale Gundy.
Caleb will graduate to the stadium field Saturday when the Bruins (0-1) face No. 6 Oklahoma (1-0).
"It will be just awesome to play in front of my dad and play on the same field he played on," said the redshirt junior, who had four catches for 36 yards during UCLA's season-opening loss to Cincinnati. "That's just a cool experience for me."
Chris Wilson, the defensive line coach for the Philadelphia Eagles, will also be in attendance because the Eagles open their season Thursday.
The elder Wilson won't have any split allegiances watching his son play for the 30½-point underdogs.
"That's one of the few times that I'll definitely cheer against the old alma mater," Chris said.
Caleb said his favorite memories of Oklahoma involved being around stars Sam Bradford, DeMarco Murray and Jermaine Gresham. The Sooners did plenty of winning while Caleb was around, compiling 8-4, 11-3, 11-3, 12-2 and 8-5 records while his father was an assistant.
Not that Caleb saw much of it.
"Most of the time," he said, "we would be back there playing football with our friends."
More family ties
Caleb Wilson isn't the only current UCLA player whose father once roamed Oklahoma's stadium as an All-American linebacker.
Safety Quentin Lake's father, Carnell, played there as a Bruin in 1986 — and it didn't go well for the visitors. The top-ranked Sooners routed fourth-ranked UCLA 38-3.
Most of the memories Carnell passed along to his son involved the decibel level.
"He said they were a loud crowd, pretty big environment, pretty stressful environment," Quentin said. "It's going to be hot, humid out there and he just said make sure you hydrate, stuff like that, physically.
"Mentally, he said just silence the crowd, that's the biggest thing, just prepare for anything, watch the tricky stuff like that."
Extreme circumstances
The youngest player on UCLA's roster is also the heaviest.
But it was the loss of 20 pounds that helped Atonio Mafi become the only true freshman starter along the defensive line against Cincinnati after winning the job in training camp.
Mafi, who turns 18 next month, said he now packed 380 pounds onto his 6-foot-2 frame. He intended to shed more weight.
"As far as I can go throughout the season," Mafi said. "Just keep dropping."
Mafi assisted on two tackles against Cincinnati but knows he must keep improving to maintain his standing with defensive coordinator Jerry Azzinaro.
"He's very upfront with you," Mafi said. "If you mess up, you're fired. You're going to get sent to the twos."
Warming up?
UCLA quarterback Wilton Speight, recovering from a back injury sustained in the opener, threw several short warmup passes in practice Wednesday before watching his counterparts roll out and throw as part of a drill.
It was the first time this week that Speight had thrown during the portion of practice open to reporters, but Dorian Thompson-Robinson continued to take the first-team quarterback repetitions.
Kelly said he had no update on Speight's status for the game against Oklahoma.
Etc.
Receiver Stephen Johnson and linebackers Bo Calvert, Elijah Wade and Je'Vari Anderson were wearing yellow jerseys to signify they were recovering from injuries. … The remnants of Tropical Storm Gordon are not expected to significantly affect the game Saturday. The forecast in Norman calls for cloudy skies with a high temperature of 76 degrees, 89% humidity and a 20% chance of rain.
Follow Ben Bolch on Twitter @latbbolch
---
Get the latest on L.A.'s teams in the daily Sports Report newsletter.
You may occasionally receive promotional content from the Los Angeles Times.