Members of Chip Kelly's first recruiting class are already getting playing time for UCLA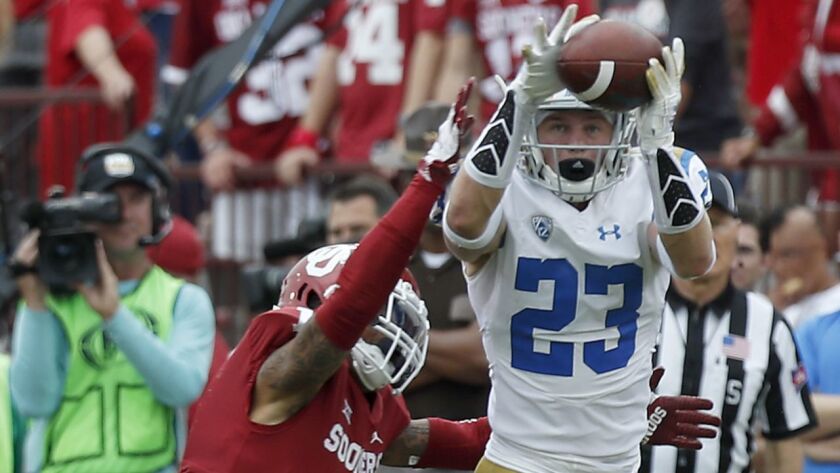 Receiver Michael Ezeike has given UCLA's true freshmen longing for their college debut a template: impress in practice and you just might snag some attention in the next game.
"Kept going hard, nonstop just working on routes," Ezeike said of his formula.
The former Ontario Colony High standout didn't play in the Bruins' season opener against Cincinnati on Sept. 1. But he worked his way into the team's plans because of what he did in the days that followed.
"As we talked as a staff as the week went along he kept making plays during practice," coach Chip Kelly said, "so we said, 'He's a guy we've got to get on the field.' "
Ezeike made his coaches thankful for that decision against Oklahoma in the game's final minutes when he caught a nine-yard touchdown pass from quarterback Dorian Thompson-Robinson, another true freshman. Ezeike's celebration was so subdued that Thompson-Robinson didn't immediately realize the play had resulted in a score.
"I didn't know what to do on my first one," Ezeike said. "I just pointed up to God."
The receiver became the latest member of Kelly's first recruiting class to make an impact. Eleven true freshmen played in the opener and defensive back Shea Pitts joined Ezeike in making their first appearances Saturday.
True freshmen accounted for all of the Bruins' passes, 28 of their 50 carries and five of their 16 receptions against the Sooners. Among them was receiver Chase Cota, whose four catches tied a team high and went for 45 yards. Cota was able to play like a veteran because of the experience he had gained the previous week.
"The first game was out of the way," Cota said, "so it was like there was nothing to be nervous about and I for sure just felt more confident, even though it was on the road and in front of more people."
True freshman Otito Ogbonnia made his first start along the defensive line and Christaphany Murray made his second consecutive start at center.
The newbies' collective advice might sound like something a parent tells his kid: Listen to your coach.
"A lot of us freshmen are playing now," Cota said, "because we're really keying into what [Kelly] says and trying to be the best we can as a unit."
While a new redshirt rule allows players to appear in four games and redshirt, the first-year Bruins who have already seen action seem likely to play the rest of the season.
Special plan
Cornerback Nate Meadors, who made the touchdown-saving tackle on Oklahoma's 86-yard kickoff return in the first quarter, said UCLA's special teams breakdowns were the result of missed assignments and "the perfect play" by the Sooners.
"That's all that was, but we fixed that [Monday]," Meadors said. "It should be fixed for Saturday."
UCLA hosts Fresno State on Saturday at 7:30 p.m.
His special teams play notwithstanding, it wasn't the best of days for Meadors. He was beat for a few long catches and called for pass interference in the first quarter.
Better now than once the calendar flips to October and November, Meadors said.
"I think it was real good for us to have it early in the season, especially for me to kind of humble me down and get me right," Meadors said. "Even though I'm in my fourth year, it's always a learning curve. … I'm just looking forward to this week, ready to get out there."
Etc.
Quarterback Wilton Speight, recovering from a back injury suffered in the Bruins' opener, did not participate in a rollout drill in practice Tuesday, indicating that his movement remained limited. … Tailback Soso Jamabo was back in his usual blue No. 1 practice jersey, one day after wearing a different number in red while participating as a member of the scout team. … Linebackers Leni Toailoa and Elijah Wade both wore yellow jerseys to denote they were recovering from injuries and off limits from contact.
Follow Ben Bolch on Twitter @latbbolch
---
Get the latest on L.A.'s teams in the daily Sports Report newsletter.
You may occasionally receive promotional content from the Los Angeles Times.