UCLA players say defense is on the verge of greatness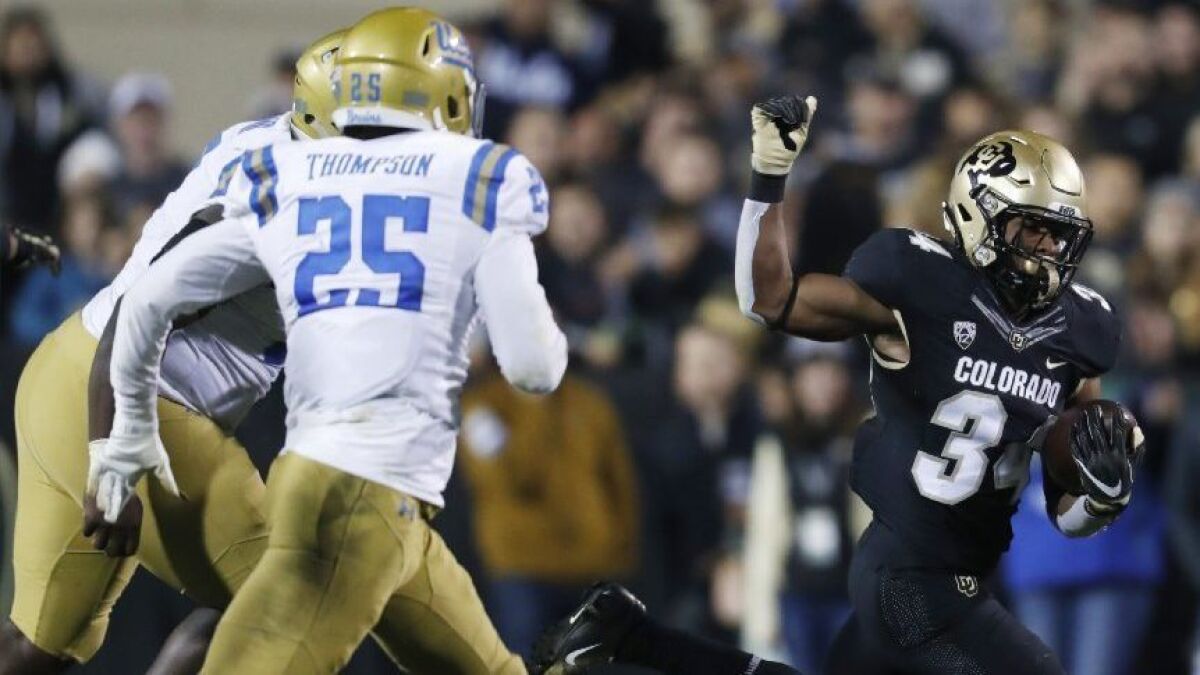 A winless start in which UCLA's defense has surrendered 37.8 points per game has left the Bruins on the edge of something besides insanity.
"If you watch the film, we're close," linebacker Tyree Thompson said. "Regardless of what everybody says outside of the [practice] facility, we're close to being great."
What, exactly, does Thompson see that would suggest a breakthrough?
"It's just the way we play," he said. "We hustle everywhere. We just gotta bring more juice that's going to bring us over the top."
Some might say the Bruins need a tanker's worth.
While they have made major progress in run defense, giving up 183 yards per game in that category compared with the school-record 287.4 yards they allowed last season, they still rank next to last in the Pac-12 Conference in total yards allowed per game (421.5) and scoring defense.
UCLA has also sagged late in each of its last two games, giving up 243 yards and 22 points after halftime against Fresno State and 281 yards and 24 points in the second half against Colorado.
But Thompson, who made a career-high eight tackles against Colorado, isn't alone in his season-on-the-brink assessment as the Bruins (0-4 overall, 0-1 Pac-12) prepare to face No. 10 Washington (4-1, 2-0) on Saturday at the Rose Bowl.
Said cornerback Nate Meadors: "You see the progress we're making as we watch film."
Said cornerback Elijah Gates: "I feel like we're a great team, we've just got to keep pushing and fighting to the end of the game, all four quarters."
Thompson cited increased consistency as additional evidence of his declaration. Much of the improvement has come among the horde of true freshmen dotting the defense, with Atonio Mafi, Otito Ogbonnia and Tyler Manoa becoming mainstays along the defensive line and Bo Calvert and Elijah Wade working their way into the rotation at linebacker.
"When they're playing well, it makes us play well," linebacker Krys Barnes said of the freshman defensive linemen. "They're in their gaps so we can fill our gaps easy. It allows us to play fast all over the board.
"I try to thank them every time I can because without them, it's going to be hard for us. … Game by game, you're seeing them improve, so I'm excited for the future."
The present hasn't left the Bruins as gloomy as their record might suggest.
"A lot of teams, a lot of players would feel like, 'Oh, we're 0-4, we're going to give up,' " Barnes said. "But a lot of us are out there, we're pushing every day still. We don't think about the record, we come out here ready to win and ready to do what we gotta do to improve from the last game and improve our mistakes, so it's good to see that no one's really given up."
Prepped to play
Joshua Kelley's 124-yard rushing breakthrough against Colorado was a reminder about the importance of practice.
Kelley had not gotten one carry in the Bruins' previous game against Fresno State, a fact that coach Chip Kelly alluded to this week when he asked the tailback, in front of his teammates, what he did about it.
Said Kelley: "I got better in practice."
Kelly has said that past performance does not influence his decisions about playing time. Starting jobs are earned anew in the days leading up to each game, a concept his players quickly grasped.
"We have to play hard or we're not going to be on the field," Thompson said. "It doesn't matter if you're a one or a three [on the depth chart]. That's just how we practice."
Thompson said competitive practices "make games easier."
"I never get tired in games," Thompson said, "because the way we practice is ridiculous."
See you in 2019?
Linebacker Mique Juarez, who reappeared at practice this week for the first time in nearly a month, intimated on Instagram that he would be sidelined for the rest of the season.
" … another setback but watch how I bounce back #tillnextseason," wrote Juarez, the redshirt sophomore who appeared in the season opener on special teams before suffering an unspecified injury in practice the next week.
Juarez has worn a yellow noncontact jersey in practice this week, signifying that he is recovering from an injury. Kelly said only that Juarez was "out."
Follow Ben Bolch on Twitter @latbbolch
---
Get the latest on L.A.'s teams in the daily Sports Report newsletter.
You may occasionally receive promotional content from the Los Angeles Times.