UCLA's offense against Arizona State is a glimpse of what might have been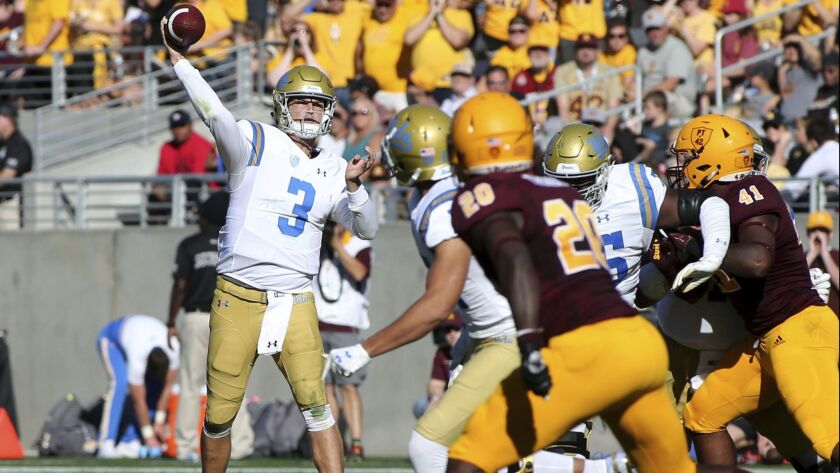 This could have been close to the UCLA offense that coach Chip Kelly intended to run once he named Wilton Speight the starting quarterback before the season.
Why the Bruins never got the chance before Saturday was no great mystery.
Speight lasted less than a half in the opener after hurting his back and has been in and out of the lineup since, mostly playing as an injury replacement. The offensive line struggled until center Boss Tagaloa returned from his three-game, season-opening suspension. Joshua Kelley wasn't identified as the primary tailback until the season's fourth game.
UCLA finally seemed to have the needed elements in place during its 31-28 loss to Arizona State at Sun Devil Stadium, almost everything working except the final score.
The Bruins gained a season-high 6.9 yards per play with a nearly even mix of 35 passes and 29 runs. They were relatively efficient, converting seven of 14 third downs. Their tempo varied and often worked to their advantage, including a handful of plays in which they appeared to be hurrying up only to pause at the line of scrimmage while scanning the defense and changing the play call.
Kelly got creative on several calls, including an end-around that receiver Theo Howard took for 26 yards and a three-tight-end set that mowed down defenders on the left side of the offensive line so that Kelley could run into the end zone on a two-yard touchdown.
It wasn't perfect, of course. Nothing ever is in a loss.
Receiver Chase Cota failed to get out of bounds after making a catch near the sideline on UCLA's final drive. Speight fumbled the ball on the next play before pouncing on it. Next came those two maddening false starts on consecutive plays.
UCLA also stopped itself on fourth and one at the Arizona State 14-yard line in the second quarter after an offensive lineman fell, allowing Kelley to be swarmed by defenders for a one-yard loss. Another drive ended in the third quarter when a Speight pass was tipped and intercepted.
"We had the look we wanted," Speight said, "and I think it went off their defensive end's hands and the corner made just an incredible catch, he caught it off his fingertips off his own shoelace."
Kelly also contradicted his reputation for being aggressive early in the fourth quarter when he elected to punt while facing fourth and five at the Arizona State 40-yard line with the Bruins trailing by three points.
"I didn't think we were going to get it," said Kelly, explaining that he preferred to pin the Sun Devils deep even though the punt netted only 20 yards.
When UCLA got the ball back, its deficit had mushroomed to 10 points. The Bruins responded with a breezy nine-play, 75-yard touchdown drive that made one wonder why they didn't have more confidence in themselves previously.
Speight produced his best day as a Bruin, completing 26 of 35 passes for 335 yards and two touchdowns to go with the interception. Kelly and Speight also pinpointed weaknesses in the Sun Devils defense that allowed tight end Caleb Wilson to make a season-high 11 catches for 164 yards and two touchdowns.
Was it all just a glimpse of what might have been had Speight not gone down on the first day of September?
"You know, I don't like to think about what-ifs," Speight said. "That's not the type of life I like to live. It's not enjoyable, the what-if life. But I do think that with this team and the talent that we have and stuff, a lot of games could have gone differently and you kind of kick yourself for that."
Etc.
UCLA's game against USC will start at 12:30 p.m. Saturday at the Rose Bowl and will be televised nationally by Fox.
Follow Ben Bolch on Twitter @latbbolch
---
Get the latest on L.A.'s teams in the daily Sports Report newsletter.
You may occasionally receive promotional content from the Los Angeles Times.