JT Daniels in a UCLA shirt? Bruins alum and former Mater Dei coach won't let him forget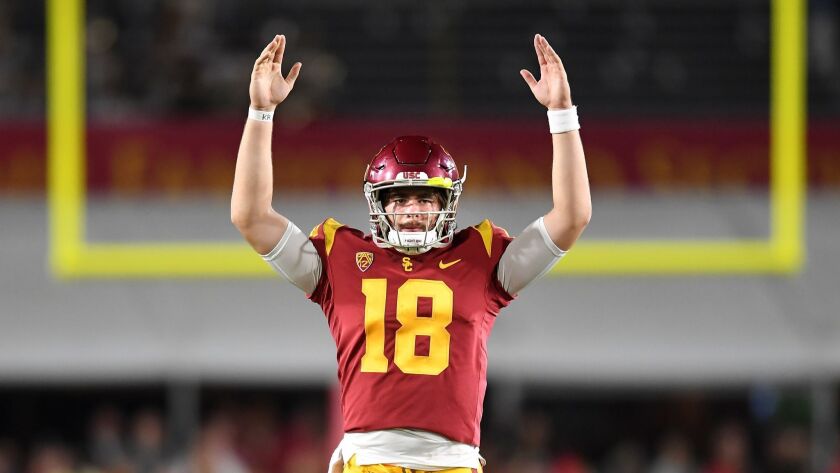 The social media mischief started Sunday with a picture of USC quarterback JT Daniels in a UCLA football T-shirt.
It was tweeted out by Chris Ward, a former Bruins offensive lineman who coached at Mater Dei High in Santa Ana when Daniels starred there. At one point before becoming a Trojan, Daniels slipped on a shirt featuring his future rival.
His mistake, one might say, was getting caught wearing it.
"Been sitting on this photo for over a year!" Ward tweeted. "It's game week!"
The six Mater Dei alumni participating in the rivalry game Saturday at the Rose Bowl figure to exchange enough smack talk to fill a message board.
While UCLA features sophomore safety Quentin Lake and freshman guard Christaphany Murray, USC boasts Daniels, freshman receiver Amon-ra St. Brown, senior cornerback Jonathan Lockett and sophomore kicker Chase McGrath. There will be dual bragging rights at stake for all involved.
"It's big-time," Lake said Monday. "You kind of want that 'We run L.A.' type of feel. Last year, we ended up short, but this year, we got a chance to really go out there and try to win the [Victory] Bell back, which should be awesome."
Lake hopes to revive the one-on-one battles with St. Brown that he enjoyed during high school practices, saying he wanted to lock down his former teammate and "stop every pass." The players are familiar with each other's tendencies, meaning Lake might need to get creative to find an edge.
"I might talk to him a little bit, see if I can get in his head," Lake said, "but I really am hoping for that because I want a little Mater Dei reunion on the field."
Mater Dei has widely been considered a USC feeder school over the years, sending such high-profile players as quarterbacks Matt Leinart and Matt Barkley to the school as well as linebacker Matt Grootegoed. The perception is largely fueled by Monarchs coach Bruce Rollinson having played defensive back and wide receiver for USC coach John McKay.
But Lake said Rollinson never promoted the Trojans over the Bruins.
"You hear it a lot … Mater Dei is a feeder to 'SC," Lake said, "but [Rollinson] kind of pushed it on me that you can go wherever you want. Go to the school that best fits you. So that's why I didn't really feel any Mater Dei-to-'SC pressure and I'm glad he gave me that respect."
Lake might have felt a different sort of weight when it came to his college choice considering he's the son of former UCLA All-America linebacker Carnell Lake. The younger Lake said his father hasn't mentioned the rivalry game, but he's already heard more than enough banter from the Trojans during their 28-23 victory last season at the Coliseum.
"Even though we're friends off the field, they were talking a lot of smack on the field," Quentin Lake said. "So I could see the rivalry is there and is strong so it should be interesting this year and how that works."
Lake said he intended to speak with his teammates about not letting off-the-field shenanigans that typically accompany rivalry week influence what happens in the game.
"I'm going to talk to the guys this week, really get their minds straight for the game, don't let the noise get to all the players and stuff like that," Lake said. "So it should be really interesting to see how they handle that."
Mater Dei isn't the only high school that will be well represented in the rivalry game; Los Angeles Loyola High features a combined 12 alumni on both rosters, leading to many split allegiances.
"There's a lot of guys that played high school football together and then one went here, one went there," UCLA coach Chip Kelly said, "so I think that's part of the unique thing about the rivalry is, not only the proximity of the schools but how many guys on their team played with guys who are on our team. There's a real familiarity with this team more than any other team we play."
Not-so-great outdoors
The Bruins practiced as usual Monday, one day after concerns over air quality because of the raging Southern California wildfires prompted school officials to cancel outdoor activities on campus.
Kelly said the air quality readings had improved to allow the team to use its practice field but would be monitored throughout the week. The Bruins have a contingency plan that would involve practicing indoors inside the Mo Ostin Center, Pauley Pavilion or the men's gymnasium, depending on availability.
"If we've got to go inside, we go inside," Kelly said. "If we have to go in the parking lot, we go in the parking lot. I'm not concerned about that."
Etc.
Tailback Kazmeir Allen, right tackle Justin Murphy and receivers Michael Ezeike and Kyle Philips were wearing yellow jerseys in practice to signify they were recovering from injuries. … UCLA's game against Stanford on Nov. 24 at the Rose Bowl will start at noon and will be broadcast by the Pac-12 Networks.
Follow Ben Bolch on Twitter @latbbolch
---
Get the latest on L.A.'s teams in the daily Sports Report newsletter.
You may occasionally receive promotional content from the Los Angeles Times.