For Joshua Kelley and UCLA, the week just continues to get better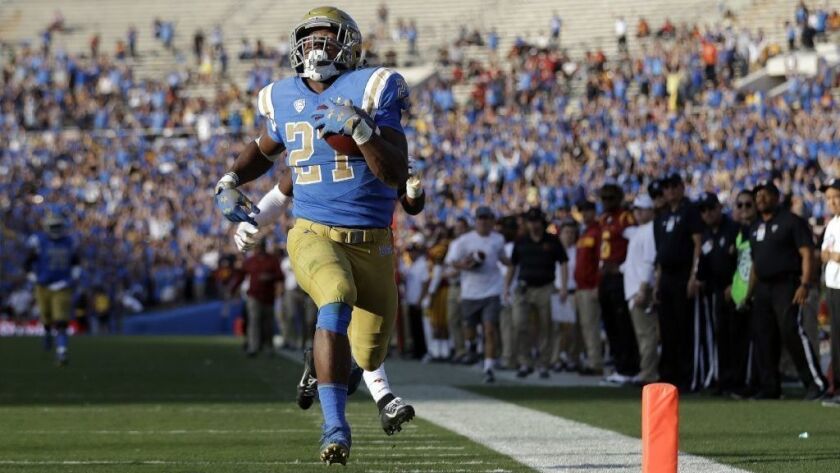 His name will forever remain atop some of the greats, from UCLA's Freeman McNeil and Gaston Green to USC's O.J. Simpson and Reggie Bush.
The tailback whose 289 rushing yards in the rivalry game surpassed his legendary counterparts was answering a question about the craziness of it all Monday morning when a voice interrupted.
"Yeah, Josh!" one of Joshua Kelley's admirers yelled as he walked past a group of reporters encircling the player outside the Bruins' practice facility.
"What's up?" Kelley responded with a chuckle.
The celebration continued two days after Kelley's record-setting performance in a 34-27 win, UCLA's first victory over USC since 2014. Kelley was selected the Pac-12's offensive player of the week Monday.
Bruins coach Chip Kelly talked about the congratulatory calls he had received over the weekend, including one from Hall of Famer Troy Aikman, while linebacker Krys Barnes said he was ready to talk trash if an old high school friend who's now a USC walk-on mentioned the rivalry.
The recruits the team recently hosted also had something new to ponder.
"It's easier to have recruiting weekends when you win than when you lose," Kelly said, "so it was a positive."
Meanwhile, UCLA's rally committee prepared to have the Victory Bell painted blue so that it could be unveiled Saturday at the Rose Bowl during the team's season finale against Stanford.
"I've never seen it in person before," Kelley said. "So it would be cool to actually really see it."
The Bruins continued to replay moments from the rivalry game in their head, including Barnes' breakup of USC quarterback JT Daniels' fourth-down pass that was intended for Amon-ra St. Brown. Barnes credited UCLA defensive backs coach Paul Rhoads for having prepared him to face the swirl route, allowing Barnes to get a jump on the pass and knock it away with the tip of his finger.
"Honestly it was kind of unreal," Barnes said of the moment after the ball fell incomplete. "I couldn't believe it was fourth down, game was over. I was kinda just juiced."
After one final snap out of the victory formation, the partying shifted from the field to the locker room, where the Bruins sang a hearty rendition of the fight song.
"I wish I kind of had a chance to actually record it," Kelley said. "But it's actually perfect that we shared the moment. So many millennials nowadays, they try to record everything, I know. But it's important that we stay in the moment. I won't ever forget that."
Kelley fulfilled the mandate of running backs coach DeShaun Foster, who had made his own memorable mark on the rivalry 20 years ago when he scored four touchdowns during a victory over the Trojans.
"He told me this is a historic rivalry," Kelley said. "This is where if you want to be one of the best backs, this is where you gotta show up there and compete. So I just embraced it."
UCLA won in large part by running the ball while stopping the Trojans from doing so, providing validation that they remained on an upward trajectory under their new coach.
"It's good to go out there and come out with a win and feel like, 'OK, we can really do this thing,' " Barnes said.
Etc.
Barnes said he was dealing with a hamstring injury suffered in pregame warmups against Arizona on Oct. 20 and a shoulder injury sustained against Utah six days later. "I'm in and out of treatment and the training staff is helping me, coaches are helping me," Barnes said. "They've been doing everything they can to help me get better and make it through the week and the game. I appreciate them for everything they do." … Cornerback Nate Meadors and receiver Audie Omotosho wore yellow noncontact jerseys in practice, signifying they were recovering from injuries.
Follow Ben Bolch on Twitter @latbbolch
---
Get the latest on L.A.'s teams in the daily Sports Report newsletter.
You may occasionally receive promotional content from the Los Angeles Times.