UCLA shrugs off sluggish first half, beats San Diego, 75-68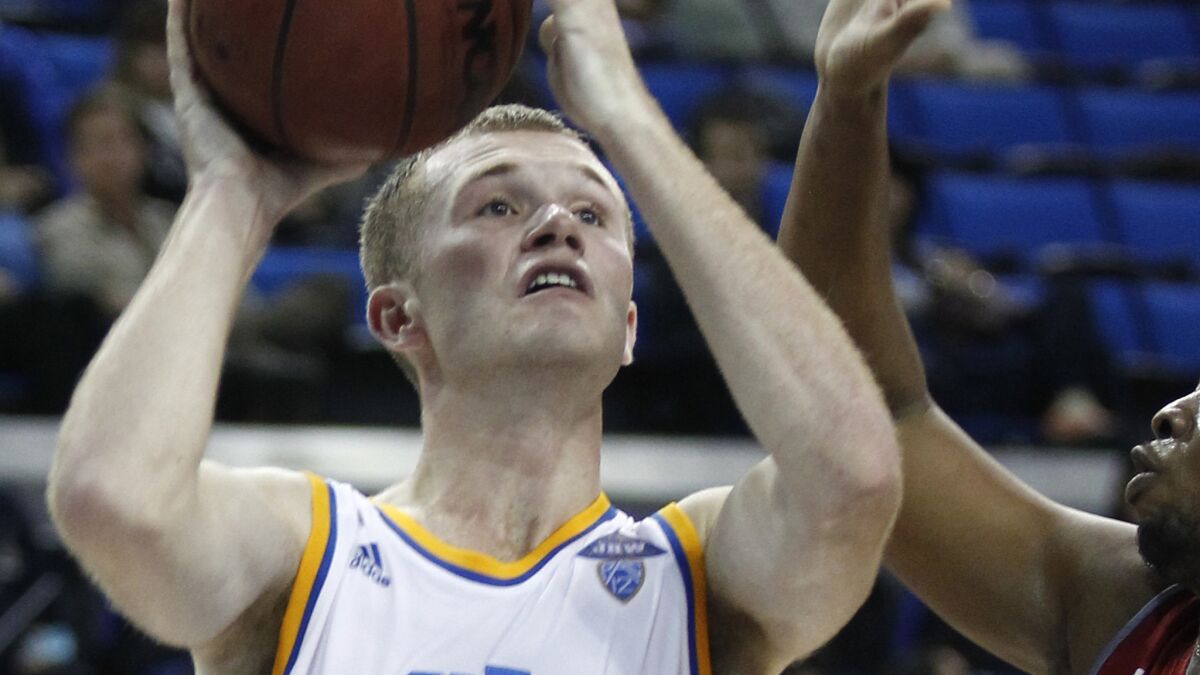 Bryce Alford raised his eyebrows, and a bemused smile stretched across his face.
What, he was asked after the UCLA basketball team's sluggish 75-68 comeback win over San Diego, was UCLA Coach Steve Alford's halftime message?
Bryce Alford looked to the back of the room, in the direction of a UCLA sports information staffer, before answering.
"The message," Bryce Alford said carefully, "was to not do what we did in the first half."
In less than a week, UCLA (7-2) will play a pair of games against Gonzaga and Kentucky, two of the best — and biggest — teams they will play all season. The Bruins will have to handle Gonzaga's 7-foot-1 Przemek Karnowski and Kentucky's two 7-footers, Dakari Johnson and Willie Cauley-Stein.
And here were the Bruins, being outrebounded, outmuscled and outscored by diminutive San Diego. They trailed by two at the half for the first time all season at Pauley Pavilion, and Steve Alford said his blood boiled.
"I questioned their toughness," Alford said.
The Bruins would come back thanks to hot shooting by Bryce Alford, who had 22 points, six assists and five rebounds in 38 minutes, and Kevon Looney, who had 18 points and 11 rebounds. Both players have scored in double digits each game this season, and Looney's six double-doubles leads the Pac-12 Conference.
But the interior defense also tightened up after an embarrassing first half.
Steve Alford has long acknowledged the Bruins' depth issues, but the bench is deepest in the frontcourt. Through eight games, it appeared to be a strength.
Looney has quickly matured into one of the nation's best freshmen. Tony Parker is a veteran presence inside, and Thomas Welsh, the 7-foot freshman, has been a pleasant surprise.
Coming into the game, UCLA ranked eighth nationally in rebounds per game, with 44.3. In seven of eight games, the Bruins had won the rebounding battle.
"What was it at half?" Alford asked of the rebounding margin. "I don't think I even looked at a stat sheet at halftime. My blood pressure was so high."
The Bruins, he was informed, trailed by five boards, to a team that started one player taller than 6 feet 6.
And the rebounding wasn't the only problem. Back-door cuts led to dunks and simple pick-and-rolls bewildered UCLA's big men.
"They had their way with us," Steve Alford said.
After Alford's halftime challenge, the second-half performance improved. UCLA allowed 12 points in the paint, after surrendering 18 in the first half. Ultimately, UCLA outrebounded San Diego (4-5) by four.
But the first-half play was sobering for a team that will need its big men to play physically and clean the boards to challenge Gonzaga and Kentucky's length.
Before the Gonzaga game Saturday, Alford said he hopes to give more playing time to Gyorgy Goloman and Wanaah Bail, the next forwards off the bench after Welsh.
Their services haven't been crucial, as UCLA has seen mostly small lineups so far. But Alford knows what is coming.
---
Get the latest on L.A.'s teams in the daily Sports Report newsletter.
You may occasionally receive promotional content from the Los Angeles Times.