UCLA ends spring practice without naming a starting quarterback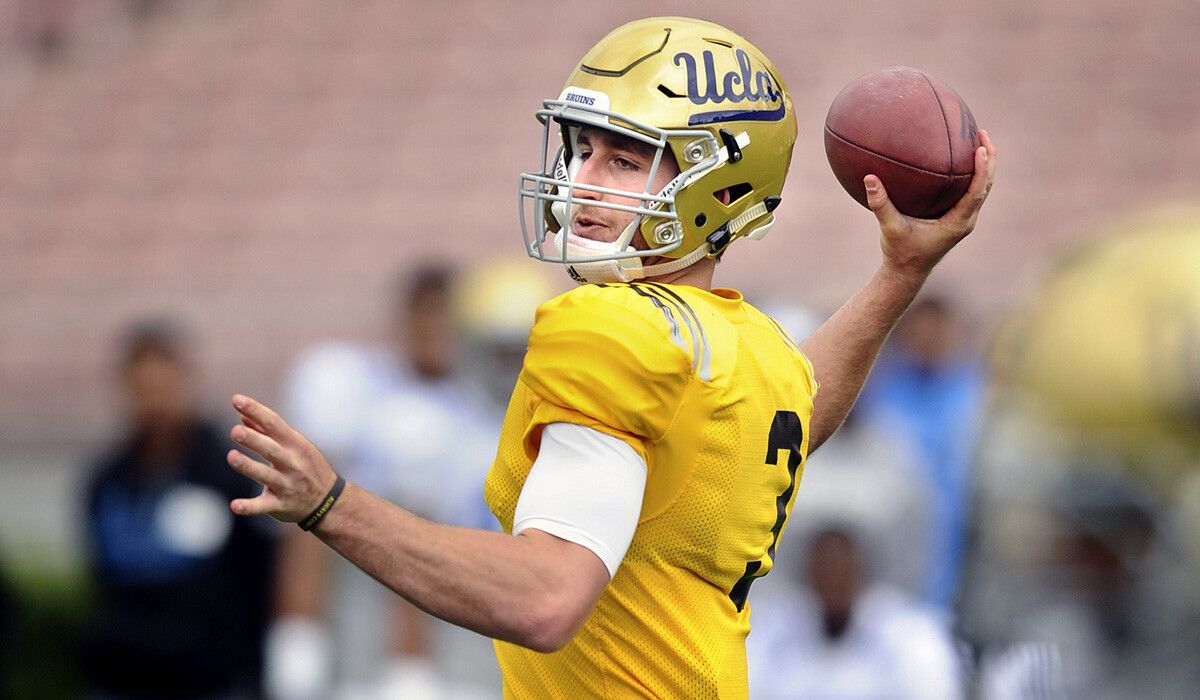 There are advantages to not having a quarterback at this point in the season.
UCLA wrapped spring practice Saturday with a run-of-the-mill workout at the Rose Bowl. Coach Jim Mora came out of it insisting he does not have a starting quarterback at the moment.
A year ago, he did, and came out of spring practice with a crowded bandwagon. By summer, UCLA had a Heisman Trophy campaign in place for quarterback Brett Hundley and ESPN commentators were predicting that the Bruins would win the national title.
"We don't have to deal with that this year," Mora said, smiling. "So much of that was because of our quarterback."
If Saturday's spring game is an indication, another quarterback may bring that spotlight back on the Bruins.
Freshman Josh Rosen was the best quarterback on the Rose Bowl turf. He completed 13 of 17 passes. Rosen, Asiantii Woulard, Jerry Neuheisel and Mike Fafaul will enter fall camp competing for the job, officially, and Mora maintained that he won't name a starter until before the opener against Virginia.
But Rosen took a big step Saturday in an otherwise mundane workout.
Asked specifically about Rosen, Mora said, "Josh is very intelligent. He is one of those kids that the game comes to more easily than some. He understands concepts."
There were only a handful of moments that seemed worth the price of admission Saturday.
There was receiver Jordan Lasley's contradictory behavior — he bobbled and dropped one pass, then made a one-handed grab while being held on his next opportunity.
There was linebacker Myles Jack's leaping, one-handed interception during an individual drill.
There was defensive back Ishmael Adams getting into another receiver's head — this time Darren Andrews, who had to be separated from Adams after the play.
And there were the quarterbacks.
Mora said the workout was "skewed toward the offense. Defensively, we didn't bring any pressure."
Still, Rosen clearly had the best day. He completed seven of eight passes on his first series, with the only incomplete a dropped pass.
On his second go-round, Rosen looked very much the freshman on the first play. He threw a floater that was intercepted by John Johnson. He finished the series with six consecutive completions, the last an eye-of-the-needle touchdown to Tyler Scott.
Offensive coordinator Noel Mazzone spent the last three seasons with Hundley, which were like comfort food for Mazzone.
"This is how it usually goes," Mazzone said. "You have guys who haven't played much and new guys coming in. That's how it is when you have played the same guy every game three years. There are going to be unknowns when he leaves. That's what we're trying to figure out right now."
The thought of playing a freshman at quarterback means "I won't be getting as much sleep," Mazzone said. "I'll lose weight, so that's a positive."
The other upside is how the college football world will perceive UCLA. A year ago, the Bruins tried to ignore the hype. It proved to be impossible.
"It was a humbling experience for us," defensive lineman Kenny Clark said.
UCLA finished 10-3, but did not win the Pac-12 South Division. The Bruins finished 10th in the final Associated Press media poll, yet there were many who thought they fell short.
"It's definitely a maturity thing we picked up on dealing with the outside talk," Jack said. "We had ESPN saying we would win the whole thing. It taught us a lot."
The Bruins probably will be a preseason top-10 pick this summer. The difference will be, "We understand how to play with expectations," receiver Jordan Payton said.
UCLA has 18 starters returning who learned that last year. What's missing is a quarterback … for now.
"Maybe we can work ourselves back into position where we do have to deal with expectations again, and we handle it," Mora said.
Twitter: @cfosterlatimes
---
Get the latest on L.A.'s teams in the daily Sports Report newsletter.
You may occasionally receive promotional content from the Los Angeles Times.