UCLA prepares for full-court pressure heading into game against St. Francis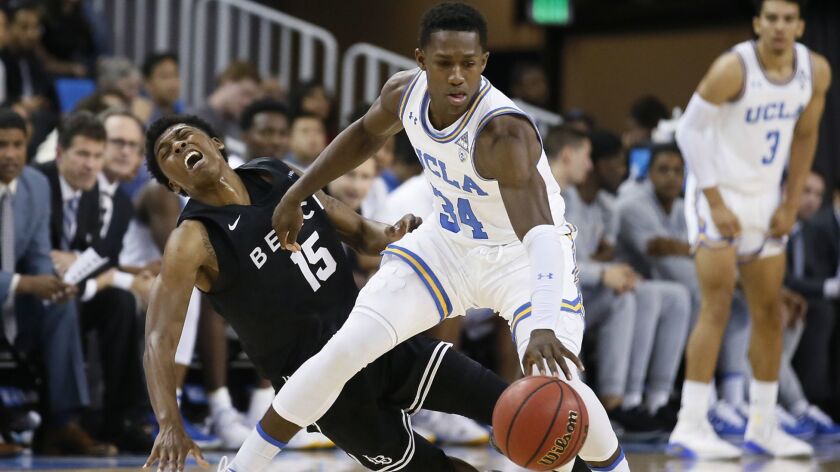 The game was essentially over, UCLA needing only to avoid a complete collapse over the final 4 1/2 minutes.
The Bruins nearly found a way.
The implosion started when center Moses Brown had the ball taken away in the backcourt with his team leading by 15 points. Next came an offensive foul by guard Prince Ali, and on it went. UCLA kept finding ways to struggle with Long Beach State's full-court press.
The Bruins pulled out a 91-80 victory, but only after a flurry of six turnovers in a little more than two minutes helped the 49ers briefly make it a five-point game. There was no shortage of issues.
"Not running the baseline when we take the ball out, catching it in the coffin corner, inviting traps," UCLA coach Steve Alford said.
Alford absolved his players of responsibility for the breakdowns, acknowledging that coaches had not spent enough time in practice teaching the players how to handle a press.
The No. 20-ranked Bruins (2-0) know they will probably see plenty more pressure until they figure out how to withstand it. That's why they're making it a priority heading into their game against St. Francis (1-1) on Friday night at Pauley Pavilion.
"We know that's going to come and we want to be able to attack that like we do anything else on the offensive end," Alford said. "If you press us, we want to attack you."
UCLA guard Jules Bernard said part of the problem against Long Beach State was players getting caught in the corner between the baseline and the sideline in the backcourt — known as the coffin corner — making it easy for the 49ers to steal the next pass.
"You have to be alert when teams are trapping," Bernard said. "It's an aggressive style of defense, so people are flying around the court [and] you have to be aware of where everyone is on the court and be assertive but be careful and be strong."
Another issue for the Bruins was targeting one player to receive the inbound pass instead of realizing there were multiple options. It's among the fixes the team intends to make so that it can withstand similar pressure.
"Teams will try to press us," Bernard said, "but I think we will handle it just fine because we have the ability and the talent to adjust."
UP NEXT
VS. ST. FRANCIS
When: 8 p.m., Friday.
Where: Pauley Pavilion.
On the air: TV: Pac-12 Networks; Radio: 570.
Update: Junior guard Keith Braxton leads St. Francis in scoring (19 points per game) and rebounding (11). The Red Flash dropped their opener against Buffalo 82-67 before rebounding to beat Morgan State 80-62.
---
Get the latest on L.A.'s teams in the daily Sports Report newsletter.
You may occasionally receive promotional content from the Los Angeles Times.