Latest USC-UCLA showdown could determine more than bragging rights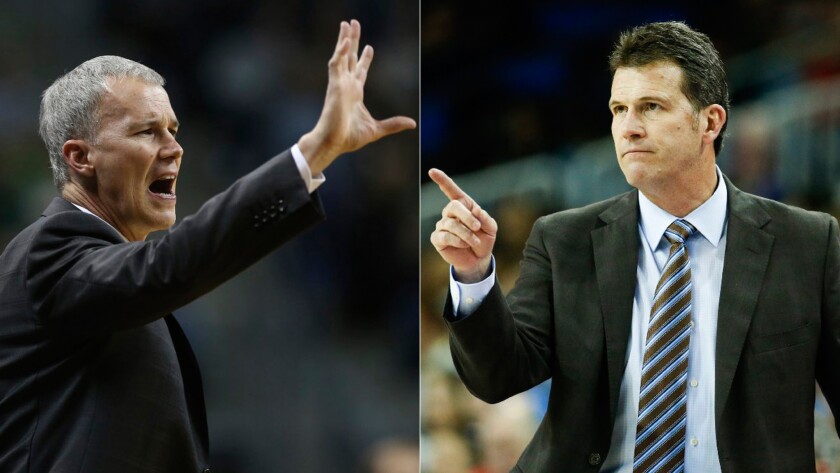 A coach has been fired, three players have been held out for the season and another player withdrew from school before his punishment could be determined.
Otherwise, things haven't wildly strayed from the script since basketball players and coaches from UCLA and USC last convened in the same building four months ago for Pac-12 Conference media day.
The Trojans are second in the conference standings, matching their predicted finish in the preseason media poll. The Bruins are in a tie for fourth place, one slot worse than projected.
Both teams are unranked heading into the rivalry game Saturday afternoon at Pauley Pavilion, after USC opened the season at No. 10 and UCLA at No. 21, but their season-opening goals remain within reach.
USC, 17-6 overall and 8-2 in Pac-12 play, is riding a six-game conference winning streak that might be nine if not for a buzzer-beating heave at Stanford. Still, the streak is its longest since Harold Miner led the Trojans to nine consecutive victories in 1992. UCLA, 15-7 and 6-4, has won two consecutive games to put itself back into the NCAA tournament conversation.
The Trojans and Bruins are touting themes of perseverance amid an FBI bribery probe and an international shoplifting incident that drained their rosters of expected contributors.
Said UCLA coach Steve Alford: "We had a tough thing to hit us in China to start the season and I think these guys have battled and worked and done everything they could possibly do each day and each week to get better and better."
Said USC point guard Jordan McLaughlin: "After everything that happened we talked about just controlling what we can control and that's us playing basketball, playing as hard as we can."
The Trojans' sustained effort has eased concerns about the absence of sophomore guard De'Anthony Melton, who will miss this season because of eligibility concerns related to the FBI's investigation into college basketball payoffs. USC fired associate head coach Tony Bland last week in the wake of his September arrest in connection with payments he allegedly received for steering Trojans players toward an agent and financial advisor.
UCLA has been without forwards Jalen Hill and Cody Riley as well as shooting guard LiAngelo Ball after the freshmen stole luxury goods from three stores at an upscale mall during the team's trip to China to play Georgia Tech in November.
Hill and Riley eventually were suspended for the season; Ball departed UCLA to play professionally in Lithuania before learning his fate.
The punished players have not been completely barred from their teams, however. Melton, Hill and Riley are allowed to practice with their teammates and have sat on the bench for some games. UCLA forward Kris Wilkes recently credited Hill with helping to prepare him to face power forwards after the Bruins juggled their starting lineup to include an extra guard.
Sometimes the reminders of the sidelined players aren't as pleasant. Students at Michigan and Oregon wielded signs poking fun at UCLA for the shoplifting incident, including mugshots of the players involved. UCLA students could have something similar planned for the Trojans, unless they develop some unexpected empathy for their archrivals.
"I never wish ill will on anybody's program," Alford said, "so we've got enough that we have to deal with on a daily basis of just making our young men getting better and understanding how to play this game at a high level, and I think our young men have done that. I think they've really responded well."
Alford recently moved freshman point guard Jaylen Hands back into his starting lineup, improving his team's ball movement and transition play.
USC also has benefited from a change to its starting lineup, mostly because it has given the Trojans another valuable contributor off their bench. Sophomore guard Jonah Mathews' new status as a reserve seems like a misnomer considering he led the team in scoring with 18 points against Stanford last week and rescued his team from a sluggish start against California with 16 points.
The Trojans' resurgence also has been sparked by improved defense. During its current winning streak, USC has held its opponents to 70 points or fewer. The past two victories have come without forward Bennie Boatwright, whose status for the UCLA game remains a game-time decision because of a blister on one of his feet.
Saturday's game could have added significance for the Bruins given their NCAA tournament projections. Neither ESPN's Joe Lunardi nor CBS Sports' Jerry Palm included UCLA in their most recent tournament brackets. Both prognosticators have USC receiving a No. 10 seeding.
"The only reason it would be special is because we have to get this win," UCLA point guard Aaron Holiday said of facing the Trojans. "That would put us in a great position moving forward, so I'm not really worried that it's against USC, I'm just worried about getting the win."
The Trojans continue to have a little extra motivation every time they take the court.
"We're playing for De'Anthony," McLaughlin said. "He did nothing wrong, we still see that he did nothing wrong … so he definitely sparked our fire."
UCLA-USC
When: Saturday, 3 p.m.
Where: Pauley Pavilion.
On the air: TV: ESPN2; Radio: 1150, 710.
Update: UCLA persevered through some sloppy stretches to defeat California and Stanford last week, but the Bruins know that kind of inconsistency won't put them in a position to beat USC. "We can't be naïve to think that we're going to be on our C, D game and think we're going to win," UCLA coach Steve Alford said. "We have to be at the top of our game both offensively and defensively." The Bruins won two of three against the Trojans last season, including in the Pac-12 tournament. The Trojans' 8-2 start in Pac-12 play is their best since the 2001-02 season.
Times staff writer Lindsey Thiry contributed to this report.
Follow Ben Bolch on Twitter @latbbolch
---
Get the latest on L.A.'s teams in the daily Sports Report newsletter.
You may occasionally receive promotional content from the Los Angeles Times.