USC and UCLA go head to head with NCAA tournament hopes on the line
USC might be playing its best basketball of the season, parlaying start-to-finish effort and strong defense into a four-game winning streak.
Across town, some UCLA players are still wondering what it might be like to play well for 40 minutes.
"We didn't do it all season," Bruins point guard Aaron Holiday acknowledged this week on the eve of his team's final regular-season game. "We just gotta figure something out."
Some answers will emerge, one way or the other, for both teams when UCLA faces the Trojans on Saturday evening at the Galen Center.
USC, 21-9 overall and 12-5 in the Pac-12 Conference, learns whether it can tie Arizona for a share of its first conference regular-season title since the 1984-85 season. That scenario would require the Trojans to beat the Bruins and the Wildcats to lose at home to last-place California.
UCLA, 19-10 and 10-7, finds out whether it gets a bye into the quarterfinals of the Pac-12 tournament. All the Bruins need to do to assure themselves of avoiding a first-round game Wednesday at T-Mobile Arena in Las Vegas is to beat the Trojans.
By the end of the night, both USC and UCLA will also receive more clarity about their NCAA tournament standing only eight days before the brackets are announced.
"We're both right there for making the tournament," Trojans guard Jordan McLaughlin said.
USC appears to be a step ahead of its crosstown rival. While ESPN analyst Joe Lunardi projects the Trojans to be among his "Last Four In" for the NCAA tournament, necessitating a play-in game, he lists the Bruins among his "First Four Out." CBS Sports' Jerry Palm is more bullish on the teams' prospects, listing them both with No. 11 seedings in his latest projections.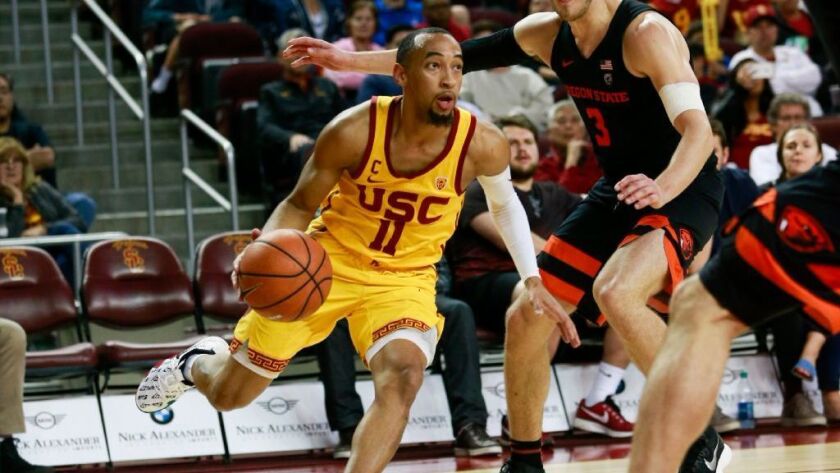 The Trojans have two more wins than their crosstown rivals but fewer marquee victories, having notched none over nationally ranked teams. Meanwhile, UCLA defeated then-No. 7 Kentucky and then-No. 13 Arizona. The Bruins also beat USC last month when the teams met at Pauley Pavilion, wiping out a nine-point deficit over the final eight minutes of an 82-79 triumph.
The home team has won each of the last four games in the series. The last victory by the visitors came in January 2016 when the Trojans beat the Bruins inside Pauley Pavilion. UCLA has dropped its last two games at the Galen Center.
A loss to the Trojans on their home court in January 2017 prompted a lengthy postgame team meeting for UCLA. The Bruins went on to win 10 consecutive games, including a 32-point romp over USC at Pauley Pavilion that served as UCLA senior forward GG Goloman's fondest remembrance of the rivalry.
"Favorite memory, probably last year when they beat us in the first game and then we came back and beat them," Goloman said.
USC will be bidding farewell to seniors McLaughlin and Elijah Stewart before their final home game. It could also be the final appearance inside the Galen Center for juniors Chimezie Metu and Bennie Boatwright, both considered NBA prospects. Boatwright has been sidelined for the rest of the season because of a knee injury, but the Trojans have won all three games since he went down two weeks ago.
USC coach Andy Enfield credited his team's surge to a defense that has limited opponents to 62.8 points a game during the current winning streak.
By comparison, UCLA's defense can go missing for several minutes at a time, a big part of the reason the Bruins have lost two games in row and three of their last five.
"We didn't have the proper rotations and help to get stops," UCLA center Thomas Welsh said of the defensive breakdowns during losses to Utah and Colorado, "and we ended up giving up a lot of really good looks to the other teams."
The Bruins' inconsistencies have left them in a precarious position. While USC is assured of finishing no lower than second place in the Pac-12, UCLA could drop as low as sixth with a loss to the Trojans.
Whoever loses might not have to wait long for redemption. USC and UCLA have met in the Pac-12 tournament in the previous three seasons, with the Bruins prevailing twice.
Leaving for Las Vegas with a victory over its archnemesis would be the perfect travel companion for either team.
"It's going to be fun," McLaughlin said of the environment he expects Saturday. "UCLA rivalry game, for it to be my last [home] game, got to go out with a bang."
UCLA VS. USC
When: 7:15 p.m. Saturday
Where: Galen Center.
On the air: TV: ESPN; Radio: 570, 710.
Update: UCLA hopes to repeat the defensive success it enjoyed against McLaughlin during the teams' first meeting in January, when the USC senior point guard was held to five points on two-for-eight shooting. "My teammates obviously did a good job of helping when he's driving," Bruins guard Holiday said of his team's approach. "And obviously his passing ability is incredible, so they obviously took that away and helped me out a lot." Holiday finished UCLA's 82-79 victory with 23 points, nine assists and six rebounds while playing all 40 minutes.
Times staff writer Lindsey Thiry contributed to this report.
Follow Ben Bolch on Twitter @latbbolch
---
Get the latest on L.A.'s teams in the daily Sports Report newsletter.
You may occasionally receive promotional content from the Los Angeles Times.