Holiday season just keeps getting better for the Bruins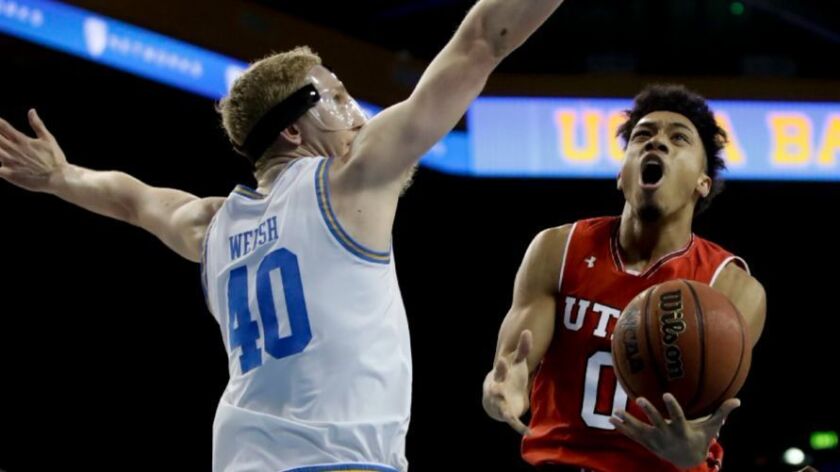 Aaron Holiday's teammates weren't the only ones he fed en masse Thursday night.
The UCLA point guard also helped Bruins fans eat as part of a promotion that resulted in free chicken sandwiches for everyone in attendance at Pauley Pavilion.
Holiday made four of the Bruins' 12 three-pointers on the way to an 83-64 victory over Utah that completed another well-rounded showing for the junior who continues to emerge as one of the nation's top players.
Holiday collected 20 points on seven-for-10 shooting to go with six assists and three turnovers. He also made all four of his three-pointers, including the one that gave fans free food whenever the Bruins make at least eight three-pointers in a home game.
Holiday's display came on the same day he was announced as one of 25 players on the midseason watch list for the John Wooden Award, given each season to the nation's top college basketball player.
"I can't believe he wasn't on the list to start the year," UCLA coach Steve Alford said. "That was amazing, but there are not very many, if any, that are better than him. He's controlling the game now."
Forward Kris Wilkes added 19 points and four steals and guard Jaylen Hands scored all 12 of his points in the second half for the Bruins (13-4 overall, 4-1 Pac-12 Conference), who held on to first place in the conference standings while winning for the sixth time in their last seven games.
Attendance has not kept pace with the team's success. A crowd of 8,739 showed up Thursday even though UCLA students were back from winter break and filled most of their allotted sections. The Bruins entered the week averaging 7,305 fans per home game, fifth in the Pac-12.
There were plenty of feel-good vibes as UCLA pulled away in the second half. Former Bruins great Bill Walton rose from the seat where he was serving as game analyst for ESPN2 to lob free T-shirts to students during a timeout.
Wilkes generated a few highlights with his steals, including one that triggered a give-and-go with Prince Ali that ended with Ali throwing an alley-oop pass to Wilkes for a dunk. Ali showed more than the ability to make a flashy play, fighting for a tough putback along the baseline about a minute later as the Bruins extended their lead to 52-37.
Ali finished with 13 points, nine rebounds and three assists and UCLA center Thomas Welsh, playing a third consecutive game with a protective mask, had seven points and six rebounds.
The Bruins made 12 of 23 three-pointers and have topped 50% accuracy from long range in back-to-back games.
"I think the ball's moving and we're not turning the ball over," Alford said of his team's success shooting three-pointers. "We're sharing the basketball and we're taking good shots."
Forward David Collette had 15 points for Utah (10-6, 2-3), which suffered its first road loss in conference play after sweeping the Oregon schools two weeks ago.
Holiday was nearly perfect in helping his team take a 41-33 halftime lead. He scored 13 points while making all four of his shots, including three three-pointers, and compiling six assists against only one turnover.
Alford said Holiday has grown in his feel for how to influence the game beyond scoring. His latest big stat line came while holding Utah guard Justin Bibbins to 12 points on four-for-10 shooting. Holiday's final assist came after the game when he pushed a microphone closer to the soft-spoken Wilkes in the interview room.
"I think I've grown in playing defense, passing the ball and shooting," Holiday said, "but I think I always was a good defender. I'm always going to be on the best guy and I just try to stop him."
UP NEXT
Saturday vs. Colorado, 7:30 p.m., Pauley Pavilion, Pac-12 Networks — Some of the luster of recent victories over nationally ranked Arizona and Arizona State was lost for the Buffaloes (10-7, 2-3) during a 70-58 loss to USC on Wednesday that dropped them to 0-5 on the road this season.
Follow Ben Bolch on Twitter @latbbolch
---
Get the latest on L.A.'s teams in the daily Sports Report newsletter.
You may occasionally receive promotional content from the Los Angeles Times.