UCLA's Aaron Holiday continues to show scoring on him is no easy task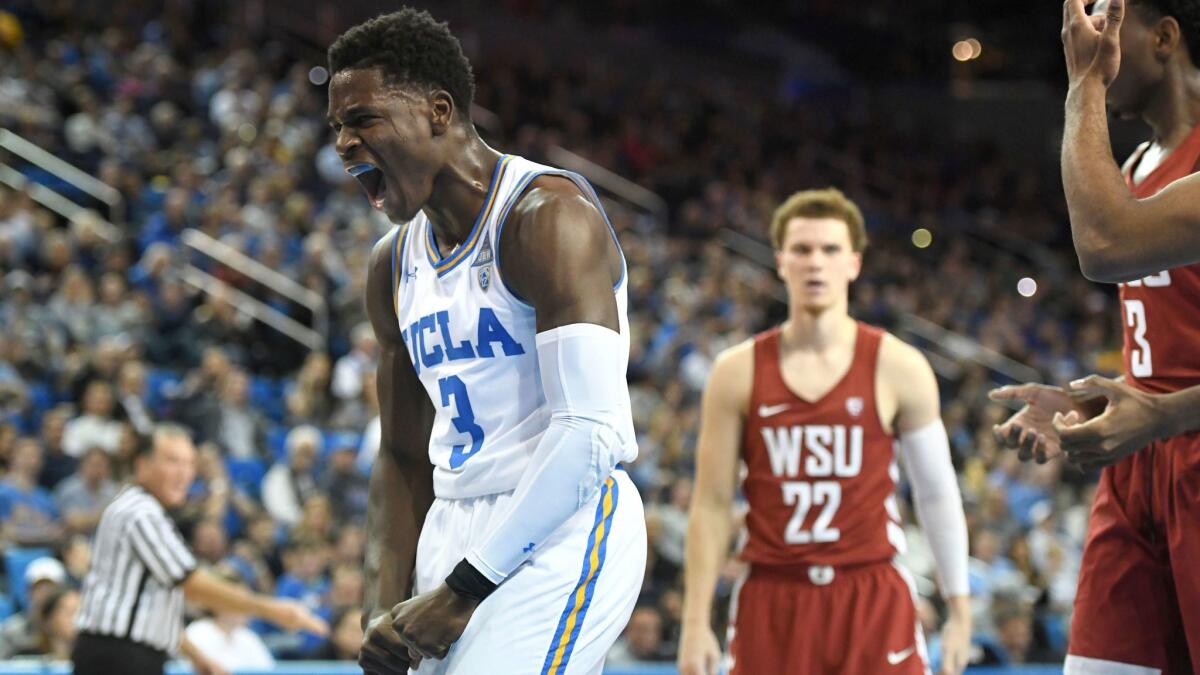 Chased around the perimeter, continually denied the ball, Washington State's Carter Skaggs learned Friday what UCLA's guards have known since the first practice of the season.
Trying to score against Aaron Holiday is no fun.
Skaggs possessed a four-inch height advantage over Holiday but could not find a smidgen of room against his Bruins counterpart after Holiday switched onto him late in UCLA's 96-82 victory at Pauley Pavilion.
Skaggs made a trio of three-pointers in a 63-second span during the second half while helping the Cougars stay within single digits of the Bruins. After that, with Holiday on him, Skaggs could manage only a three-pointer in transition after pump-faking Chris Smith out of the way, a turnaround jumper and a meaningless three-pointer with 14 seconds left.
"I just wanted to stop the guy who was scoring, pretty much," Holiday said afterward. "Even though he's what, 6-5, I feel like I can guard him, so that's what we did."
Holiday earned plenty of praise for his 33 points, 11 rebounds and no turnovers, becoming the first UCLA player to log at least 33 points and 11 rebounds in a game since Ed O'Bannon collected 37 points and 13 rebounds against Duke on Feb. 26, 1995. But it was Holiday's defense that might have been the biggest game-changer.
UCLA coach Steve Alford said he would anticipate Holiday trying to thwart an opposing forward or even a center if that player got hot.
"That's Aaron's mind-set," Alford said, "and that's what's special."
Holiday also helped neutralize Washington State guard Malachi Flynn, who finished with nine points on three-of-nine shooting.
UCLA freshman point guard Jaylen Hands said much of his improvement this season has resulted from having to face Holiday every day in practice.
"It's really helped, especially on the offensive side because defensively he's so good and he keeps coming in practice; there's no fouls and you can just do whatever you want almost," said Hands, who scored 16 of his 19 points in the second half Friday. "So it helps when I get in the games to manage pressure."
Holiday might find himself switching onto various players Sunday when the Bruins (10-3 overall, 1-0 Pac-12 Conference) face Washington (11-3, 1-0) at Pauley Pavilion after the Huskies shot 67.3% during an 88-81 victory over USC.
Holiday did post one concerning number Friday: 40 minutes played. Alford said his coaching staff twice suggested getting Holiday a breather and Alford said no both times.
"If he doesn't get in foul trouble," Alford said of Holiday, "he's probably going to be out there a long time because we're a whole different team when he's on the court."
::
UCLA UP NEXT
VS. WASHINGTON
When: 5 p.m.
Where: Pauley Pavilion.
On the air: TV: Pac-12 Networks; Radio: 1150.
Update: UCLA coach Steve Alford was not pleased that his team gave up 14 three-pointers against Washington State, though the Bruins did log eight "kills," which the team defines as three consecutive defensive stops. Their defense will face a greater challenge against Washington, which features a more balanced and precise offense than the Cougars. The Huskies made eight of 16 three-pointers against USC.
Get the latest on L.A.'s teams in the daily Sports Report newsletter.
You may occasionally receive promotional content from the Los Angeles Times.