UCLA gives coach Chip Kelly a signature win with upset of No. 16 LSU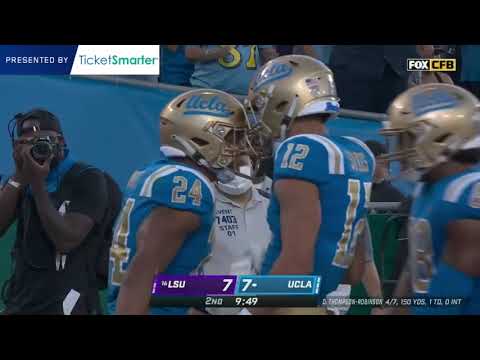 Highlights from UCLA's win over LSU on Saturday.
The bamboo sprouted on a sweltering September evening at the Rose Bowl, after so much waiting, so many doubts.
It was the realization of one of Chip Kelly's favorite motivational mantras involving the giant timber bamboo. If you water the bamboo in the first year, nothing happens. If you water it in the second year, nothing happens. If you water it in the third year, nothing happens. If you water it in the fourth year, it grows 90 feet in six weeks.
In Kelly's fourth year at UCLA, after a whole lot of nothing, the bamboo was visible throughout the Bruins' 38-27 victory over No. 16 Louisiana State.
It could be seen in the playmaking of tight end Greg Dulcich, whose fancy footwork led to one touchdown after he juked a defender and nearly another when he converted a crucial third down and was stopped just short of the end zone.
Hope has arrived: All aboard the Bruins bandwagon
The bandwagon is barreling now.
You'll need to sprint to catch it. You'll need to shove to board it.
The UCLA football bandwagon, revved up in this space last week, furiously eight-clapped its way across the grass-stained backs of college football royalty at a roaring Rose Bowl Saturday and is now churning up wondrous clouds of legitimate hope.
These Bruins are honest-to-goodness good. These Bruins are for-real real.
UCLA locked helmets with the mighty 2019 national champion LSU Tigers from the fabled Southeastern Conference Saturday and an amazing thing happened.
The Bruins didn't flinch. The Bruins didn't fade. The Bruins were tougher. The Bruins were faster. The Bruins were better.
Yeah, did you hear that over there in SEC land? The Bruins were better. They were way better.