UCLA falls to San Diego State for the first time to open season 0-2
Chip Kelly, widely known as an innovator, did something Saturday that none of his UCLA predecessors could do: He lost to San Diego State.
The coach hit a new low with a team careening toward historic indifference, the Bruins falling to the Aztecs, 23-14, before an announced crowd of 36,951 that was their fourth smallest at the Rose Bowl since making it their home in 1982.
There were boos in the second quarter and eerie quiet amid a mostly empty stadium in the final minutes. The only sound was provided by a patch of San Diego State fans nestled in one corner of the end zone.
"Let's go Aztecs!" they chanted.
UCLA (0-2) got a quick defensive stop to start the game, scored a touchdown on its opening drive and the rest of the game was all Aztecs. It was San Diego State's first triumph over the Bruins after entering the game with a 0-21-1 record in a series that started in 1922.
"It doesn't matter if we lost to them before or lost to them now," Kelly said after falling to 3-11 overall with the Bruins and 0-4 against Group of Five opponents. "It hurts when you lose. It hurts when you lose to Cincinnati, it hurts when you lose to San Diego State."
There could be more losses to come. The Bruins play No. 4 Oklahoma at home next weekend before opening Pac-12 Conference play with back-to-back road games against Washington State and Arizona. It's hard not to consider the possibility of an 0-5 start for a second consecutive season given UCLA's lack of tangible progress.
Kelly was hailed as an offensive genius upon his arrival, but his turnover-prone team lost two more fumbles Saturday and managed just 261 yards. Through the season's first two games, the Bruins have committed six turnovers and are averaging 14 points and 239.5 yards of offense.
The inability to move the ball was highlighted by two plays in the fourth quarter.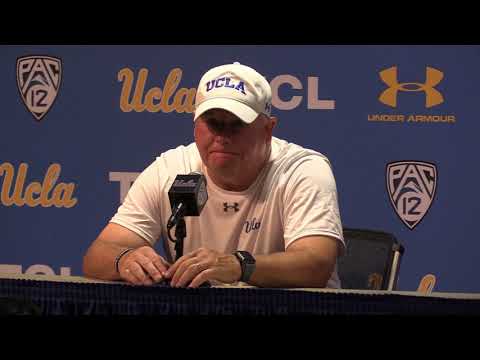 Twice, UCLA needed one yard on fourth down to sustain its faint comeback hopes.
Twice, the Bruins were stuffed.
"I think we had some miscues up front and just didn't execute the play," UCLA quarterback Dorian Thompson-Robinson said after getting stopped for no gain on fourth down with about four minutes to play.
The Bruins' final drive ended when running back Joshua Kelley ran into a wall of defenders and was stopped for a four-yard loss.
Recaps and scores of today's Pac-12 football games in action.
"I have to make a guy miss," said Kelley, who ran for 53 yards and a touchdown in 15 carries in his season debut after sitting out his team's loss to Cincinnati with a knee injury.
UCLA had plenty of other issues. The Aztecs (2-0) picked apart the Bruins secondary like a bowl of chicken wings one week after failing to score a touchdown against Weber State, a Football Championship Subdivision team. San Diego State quarterback Ryan Agnew completed 23 of 31 passes for 293 yards and one touchdown even though Bruins safety Quentin Lake said he was tipping his passing plays by touching the towel on his waist before snaps.
"I would say his success came on poor defensive alignment," Lake said. "So it was more on us."
Bruins cornerback Elijah Gates was often in the midst of the mess. He was penalized twice for pass interference and once for defensive holding, though he endured a far more regrettable moment. With UCLA trailing by six points and needing to stop the Aztecs on third down midway through the third quarter, Gates was beaten by San Diego State receiver Jesse Matthews for an 18-yard completion.
"We just have to make the play," Kelly said, noting that Gates was in position for a breakup.
The Aztecs went on to kick a 25-yard field goal for the game's final points.
Agnew's big day more than offset a San Diego State ground game that gained just 80 yards and 1.7 yards per carry, helping the Aztecs improve to 5-1 against Pac-12 teams since the start of the 2016 season.
A look at some of the biggest headlines on the second Saturday of the college football season, leading with Jim Harbaugh and Michigan escaping with a win over Army.
There wasn't anything to celebrate for his UCLA counterpart. Thompson-Robinson bounced back from his season-opening clunker, completing 24 of 35 passes for 199 yards and a 20-yard touchdown to tight end Greg Dulcich, though he added another fumble to a turnover tally that now stands at five through two games. Tight end Michael Martinez had UCLA's other turnover, fumbling the ball after making a catch in the first quarter.
Kelly could only stare blankly with his arms folded across his chest after one fourth-quarter drive ended with a turnover on downs, his Bruins headed for a third consecutive defeat going back to last season.
Lake vowed that happier days remained ahead despite the early parallels to 2018.
"Our record is going to be better this year," Lake said, "and you'll see us start changing our mindset and mentality."
UP NEXT >>> The Sooners (2-0), who hung a 49-21 loss on the Bruins last season, are coming off romps over Houston and South Dakota in which they averaged 59.5 points.
Get the latest on L.A.'s teams in the daily Sports Report newsletter.
You may occasionally receive promotional content from the Los Angeles Times.