UCLA uses huge second half to stun Washington State, 67-63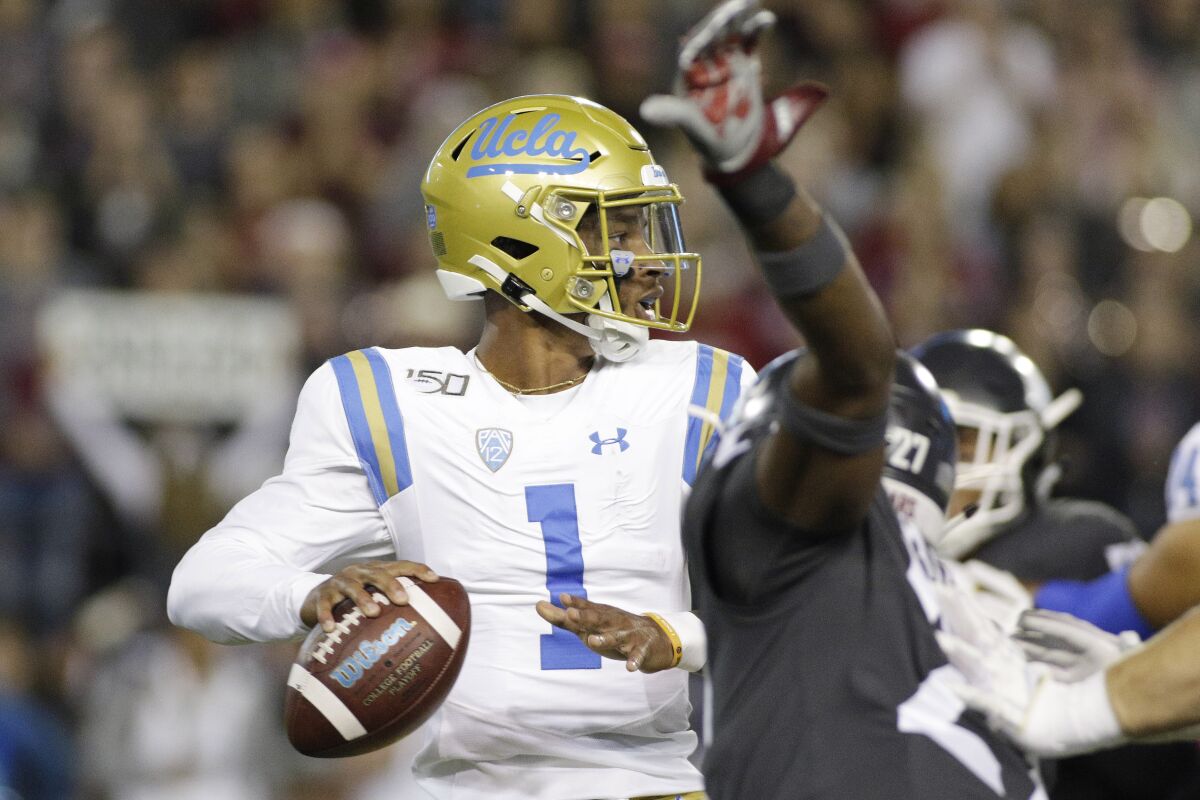 PULLMAN, Wash. —
The secondary was sunk. The season was in ruins. The coach was outmatched.
The story was all but written midway through the third quarter Saturday night at Martin Stadium, UCLA on its way to another low under Coach Chip Kelly while getting blown out by a superior opponent.
Then a gutty breed of Bruins materialized against No. 19 Washington State, forcing turnovers and scoring touchdowns, a blur of 29 unanswered points turning a runaway into an unexpectedly breathless Pac-12 Conference opener.
All UCLA needed to rewrite the narrative and complete the second-biggest comeback in school history after turning a 32-point laugher into a three-point deficit was another score from its suddenly humming offense.
Demetric Felton provided it, catching a short pass from quarterback Dorian Thompson-Robinson and weaving through defenders for a 15-yard touchdown with 67 seconds left, lifting the Bruins to a wild, 67-63 victory that felt like more than a singular triumph.
"I just kept on telling our guys just to keep fighting," Felton said. "You know, if we keep fighting, keep on doing our jobs, there's nothing that can stop us."
Thompson-Robinson celebrated the game's final score by spinning in glee, arms raised over his head. It was the night that changed everything for a once-slumping sophomore who helped his team wipe out a 49-17 deficit. He threw for a career-high 507 yards and five touchdowns while running for two more touchdowns despite hobbling his way through much of the game.
"I was probably the happiest man in the world for my boys," said Thompson-Robinson, whose 564 total yards of offense were a school record, breaking the 515 yards that Cade McNown generated against Miami in 1998.
"And, you know, I couldn't [help] but cry, just knowing how hard, seeing these guys work every day. We put in so much time and effort into this and to see it all pay off finally is definitely special."
Bruins linebacker Keisean Lucier-South, making his season debut after serving an academic suspension, preserved the lead a few moments later when he blindsided Washington State quarterback Anthony Gordon, forcing a fumble that linebacker Josh Woods recovered for his third takeaway of the game.
USC must be considered the Pac-12 South favorite after a big win over Utah, and Clay Helton probably bought himself at least eight more games as coach.
UCLA players poured onto the field in celebration of a comeback topped only by their 34-point rally against Texas A&M in September 2017.
The Bruins (1-3 overall, 1-0 Pac-12) made it happen by scoring 50 points in the second half, more than they had scored in their first three games combined.
"It's crazy, huh?" said Kelly, whose offense had been widely panned in the season's early going. "I always thought we could be a good football team if we can be consistent."
UCLA looked like it was headed for disappointment with 2 1/2 minutes left in the game when Thompson-Robinson's fourth-down pass was broken up.
But Washington State (3-1, 0-1) couldn't run out the clock. Receiver Easop Winston Jr. fumbled after making a catch on the Cougars' next play and having the ball stripped by UCLA linebacker Krys Barnes before Woods recovered.
"Our defense, obviously, you look at the points and all the other stuff they gave up," Kelly said after his team surrendered 720 yards, a school record in the modern era, "but they came up with turnovers, and that was huge for us."
The improbable seemed possible when punt returner Kyle Philips had given the Bruins a 60-56 lead midway through the fourth quarter when he broke a tackle, cut back and weaved through would-be tacklers for a 69-yard touchdown.
That put the onus on the Bruins' defense, not the best place for the team to be.
Gordon, who had continually shredded UCLA's secondary, did it again, throwing a 65-yard touchdown pass to running back Max Borghi, who benefited from a defender slipping as he skirted the sideline.
Gordon finished with a school-record nine touchdown passes to go with 570 passing yards. None of it mattered on a night Thompson-Robinson made the plays that mattered most.
One of his touchdown runs was a three-yard scamper into the corner of the end zone that pulled the Bruins to within 56-53 with 8:10 left.
There were many other UCLA highlights.
California gets a game-saving tackle at the one-yard line on the final play to defeat Mississippi; No. 16 Oregon beats Stanford.
Felton zigzagged his way to a 100-yard kickoff return and stiff-armed a would-be tackler on a 94-yard touchdown catch. The defense forced six turnovers, tripling the two takeaways it had generated in the season's first three games.
"I couldn't even believe it myself after that," Felton said of his kickoff return. "I was like, what just happened, you know?"
The Bruins were asking themselves that a lot over the game's final minutes, always finding a satisfactory answer.
---
Get the latest on L.A.'s teams in the daily Sports Report newsletter.
You may occasionally receive promotional content from the Los Angeles Times.