Joshua Kelley has a field day as UCLA upsets No. 24 Arizona State
He plowed, he bulled, he plunged.
Joshua Kelley made the most of short-yardage situations Saturday night at the Rose Bowl. Actually, he made the most of every situation.
Whatever UCLA needed, the running back provided while helping the Bruins blitz No. 24 Arizona State in a 42-32 victory that was so lopsided until the final minutes that it never felt like an upset.
Early spark? Kelley delivered it on his team's opening drive by breaking a handful of tackles during a 24-yard run that gave the Bruins a first and goal at the five.
Goal-line opportunity? Kelley completed that drive when he lunged for a one-yard touchdown.
Knockout blow? Kelley furnished that as well, scurrying for a two-yard touchdown early in the third quarter that gave the Bruins a 35-7 lead on the way to their first home victory of the season before a small but appreciative crowd of 39,811.
UCLA's latest victory — a 42-32 triumph over No. 24 Arizona State — signals that just maybe the Bruins are figuring out things under coach Chip Kelly.
"It's just good to get the win," Kelley said after repeatedly familiarizing himself with the end zone while scoring a career-high four rushing touchdowns. "Individual success, that's fine and all, but the things you'll forever remember is the winning plays, winning moments, sharing the moment with those guys, that's the stuff I play for."
Kelley piled up 164 yards in 34 carries to help the Bruins (3-5 overall, 3-2 Pac-12 Conference) notch their most complete victory of the season on a day they scored more points than any other team against the Sun Devils (5-3, 2-3) in the Herm Edwards era.
"The baby Bruins are growing up," an unusually buoyant UCLA coach Chip Kelly said after another strong showing from an offense that has averaged 38.2 points over its last five games.
The only significant downer for the Bruins was quarterback Dorian Thompson-Robinson having to leave the game early in the fourth quarter with an apparent left leg injury. The extent of the injury was not immediately known afterward.
UCLA's second consecutive triumph allowed it to match last season's victory total with four games remaining. Next up is another home game against Colorado, which has lost four consecutive games, including a pair of blowouts on the road.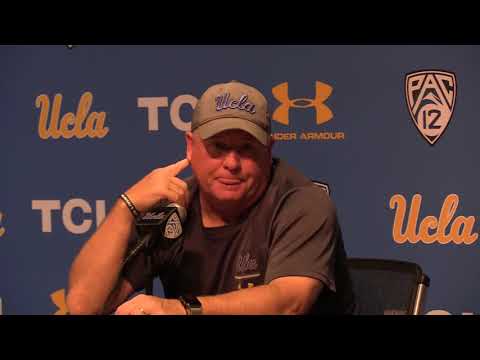 After starting the season 1-5, the Bruins trail USC by only one game in the Pac-12 South and control their destiny in the race for the division title.
UCLA's offense has been humming for more than a month, but its recent success has largely been triggered by a surge in defensive production.
Arizona State scored 21 points thanks in large part to three Bruins fumbles and rolled up much of its 383 yards of offense after falling behind, 42-10, late in the third quarter.
Quarterback Dorian Thompson-Robinson appeared to injure his left leg and had to be helped off the field, never to return during the Bruins' 42-32 victory.
"We cannot turn the football over consistently and win games in the Pac-12," Kelly said. "You need to understand that.… But I'm really happy with how our defense played last week against Stanford and I'm happy with how they played today. We need to continue to build on that."
Among UCLA's big defensive plays, defensive lineman Odua Isibor stripped the ball from Arizona State running back Eno Benjamin in the first quarter and cornerback Darnay Holmes stopped Sun Devils quarterback Jayden Daniels short on a fourth-down play in the fourth quarter, celebrating the play with a flying body bump with Thompson-Robinson.
Daniels completed 20 of 29 passes for 267 yards and three touchdowns, though the scores were largely meaningless because they came in catchup mode.
UCLA's offense relied heavily on its ground game, which generated 217 yards against a defense that had been allowing just 100.1 rushing yards per game before Saturday. Kelley has gained 100 yards rushing in three of his last four games, helping the Bruins top the 200-yard mark in four consecutive games for the first time since 2014.
The former walk-on receiver has three catches for 45 yards against Sun Devils in the Bruins' 45-32 win on Saturday at the Rose Bowl.
"When everybody in the stadium knows you're going to run the football and you're still able to run the ball," Kelly said, "I think that's really a credit to the whole group, but really to the mind-set Josh has. When Josh plays well, I think we have a shot. Obviously, Josh played well tonight."
As the Bruins joyously bounded toward the tunnel leading to the locker room while holding a 28-7 halftime lead, fans in that section of the stadium provided a standing ovation. It was quite the contrast from the boos that serenaded UCLA earlier this month during a home loss to Oregon State.
Little about those Bruins seems to resonate anymore.
Get the latest on L.A.'s teams in the daily Sports Report newsletter.
You may occasionally receive promotional content from the Los Angeles Times.