UCLA gambles and loses big to Arizona State, halting Bruins' Pac-12 resurgence
His team finally holding some momentum after so much struggle, UCLA coach Chip Kelly had a decision to make early in the fourth quarter.
Facing fourth and one while trailing Arizona State by nine points, the Bruins had the ball at the Sun Devils' two-yard line.
Should Kelly go for a touchdown or a field goal?
He went for seven points. He got zero.
"They made a play," Kelly would later lament, "and we didn't."
UCLA matched Arizona State's offense score for score in the first half, but the Sun Devils pulled away and handed the Bruins a disappointing home loss.
On the play that essentially clinched the No. 20 Bruins' 42-23 loss Saturday night at the Rose Bowl, UCLA quarterback Dorian Thompson-Robinson faked a handoff to running back Zach Charbonnet and tried to cut outside.
He didn't make it, getting wrapped up by freshman defensive back Eric Gentry for a one-yard loss. The quarterback didn't try to disguise his regret, saying his decision whether to hand off the ball started with his read on the defensive end.
"The guy was pretty close to the box to hold the ball," Thompson-Robinson said, "but again, it's fourth and one, we got one of the best backs in the country, so just knowing the situation, I think I should've just handed the ball off."
The second-guessing revved into overdrive after the Bruins' bid to take sole possession of first place in the Pac-12 South went splat. UCLA's leaky defense, penalties galore and a missed field goal helped the Sun Devils (4-1, 2-0 Pac-12) assume the top spot in the division after they throttled the Bruins (3-2, 1-1) with one big play after another.
Arizona State won handily despite running only 51 plays to UCLA's 83 because it averaged nearly a first down on every play. The Sun Devils rolled up 458 yards of offense and averaged nine yards per play while repeatedly victimizing a UCLA defense that played most of the game without injured safeties Quentin Lake and Kenny Churchwell III, forcing walk-on Alex Johnson onto the field.
"We had some depth issues at safety today and they did a good job of exploiting that, taking advantage of that," Kelly said. "You have to give them credit, they knew what we had in there and then they went after it."
Arizona State quarterback Jayden Daniels passed for 286 yards and two touchdowns against a defense that was unable to generate any sacks or prevent him from rushing for 45 yards on six carries. His touchdown passes came on 65- and 54-yard passes to wide receiver Ricky Pearsall in a span of less than six minutes in the second quarter.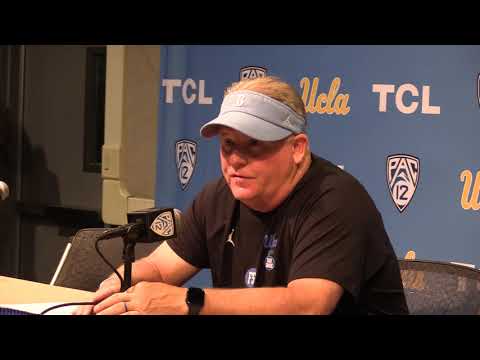 Meanwhile, a UCLA offense that scored on five of its first seven possessions came up empty the final five times it had the ball. It was the first time the Bruins were shut out in the second half since a loss to Utah in November 2019.
Penalties were part of the issue, left tackle Sean Rhyan twice called for holding and tight end Greg Dulcich once called for offensive pass interference.
"Unacceptable," Kelly said of his team's eight penalties for 89 yards. "We've got to clear that up. … We have to learn how to play with emotion, not let emotion play with us. I think some of them were out of frustration and you just can't do that against a good football team."
A big night from Dulcich (a career-high nine catches for 136 yards) and solid across-the-board play from a slightly hobbled Thompson-Robinson (235 yards passing, 93 yards rushing) couldn't compensate for so many other issues. Charbonnet finished with 89 yards rushing on 21 carries, averaging 4.2 yards per carry, but didn't get a chance to add to his total on the game's most pivotal play.
The Bruins were so out of sorts midway through the third quarter that cheerleaders ran along the sideline with giant flags spelling "UCLA" in celebration of a field goal that sailed wide left.
UCLA's quest to chisel out a place at the top of the Pac-12 South sustained a big setback Saturday in the Bruins' loss to Arizona State at the Rose Bowl.
Unbeaten Oregon's loss earlier in the day had given UCLA fans a sliver of hope that the Bruins could overtake the Ducks as the Pac-12's best hope for a berth in the College Football Playoff, provided they won the rest of their games.
They couldn't even get through the day without stumbling. Goodbye, playoff hopes. Farewell, chance to control your own destiny in the Pac-12 South.
Hello again, criticism of Kelly and his veteran team. If the Bruins can't break through now, with a roster stacked with veterans, when might they ever?
A second consecutive home loss deprived UCLA a chance for its best start in conference play since 2013. It also revived doubts about Kelly's future as well as the present for a team that will likely fall out of the rankings while quieting any remaining buzz about its potential.
"I think every game is an opportunity lost," Thompson-Robinson said, "if you lose it."
Get the latest on L.A.'s teams in the daily Sports Report newsletter.
You may occasionally receive promotional content from the Los Angeles Times.