No. 4 UCLA delivers on defense, defeats Marquette after harrowing trip
MILWAUKEE —
About 90 minutes into UCLA's chartered flight here, an announcement came over the loudspeakers.
The plane needed diverting. No reason was given. Everyone was told to put on their seat belts.
T.J. Wolf, the team's director of player personnel, rushed through the aisle, repeating the request and making sure everyone had clicked their seat belts into place.
Players eyed one another, wondering what was coming next. Turbulence hit as the plane approached the Denver airport.
"We don't know what's going to happen, if we're going to live or if we're going to die," Bruins guard Jaime Jaquez Jr. recalled a day later, "we're just, you know what, at least we're with our teammates and let's crack some jokes, see what we can do."
After all the drama and delays, the diverted flight leading to an unscheduled overnight stopover in Denver and pushing back tipoff of the Bruins' game against Marquette by seven hours, the gratification came early Saturday evening.
Fourth-ranked UCLA built such a massive cushion in the opening half that some Marquette fans headed up the aisles. They were presumably going to get something to eat or make a stop at the restroom but might as well have kept going all the way out of Fiserv Forum. Their Golden Eagles were already down by 23 points and the restlessness inside the arena was palpable.
There were boos. Students who had chanted "overrated" in the opening minutes were silenced. Marquette coach Shaka Smart was running out of timeouts.
UCLA couldn't sustain the runaway pace but had already forged more than enough of an edge on the way to a 67-56 victory that soothed a jittery start to the trip.
UCLA's game at Marquette, scheduled for 11:30 a.m. PT, was pushed back to 6:30 p.m. after a cracked windshield delayed Bruins' flight.
"I was just hoping our guys could get their mind on the game instead of emergency landings," Bruins coach Mick Cronin said after his team won comfortably despite shooting 36.4% because it held Marquette to 33.3% shooting and outrebounded the Golden Eagles by 11 while committing only two turnovers in the second half. "I'll just say, it was real. We had to land as fast as possible, so we were able to do that and we all know how fortunate we are."
The team's flight was rerouted after pilots discovered a cracked windshield in the cockpit. The plane landed without incident and the team spent the night at a hotel near the Denver airport while searching for a flight out with Midwestern storms canceling a slew of flights.
Marquette officials agreed to move back the game originally scheduled for 1:30 p.m. local time to 8:30 p.m. so that UCLA could fly on a different aircraft to Milwaukee on Saturday morning.
The Bruins (9-1) were headed home in a more relaxed mood after Jaquez scored a season-high 24 points in his return from banging his head on the floor and being forced to leave his last game. Johnny Juzang and Tyger Campbell added 12 points apiece for UCLA.
Applause could be heard outside the Bruins' locker room afterward, as players finally exhaled after their harrowing midair experience. They were not told about the crack in the windshield until the flight landed.
"A lot of people were saying, 'Oh, we're going down, we're all going to die,' kind of joking, not really knowing that that could have happened," Jaquez said. "I think that's the irony of it."
Everybody handled the stress differently over the flight's final 30 minutes after the announcement. Some players were nervous, Jaquez said, and others slept through it.
No. 4 UCLA expects to be tested when it faces Marquette in a hostile environment. Coaches Mick Cronin and Shaka Smart share a history of pulling off upsets.
"I thought about a way to maybe get some messages out, which is kind of crazy to think about, how I'd get the messages out," Juzang said, "but luckily everything was fine. We're blessed."
The only drama in the game came when Marquette (8-3) finally got within nine points, the only issue being there were only 47 seconds left. Greg Elliott led the Golden Eagles with 22 points.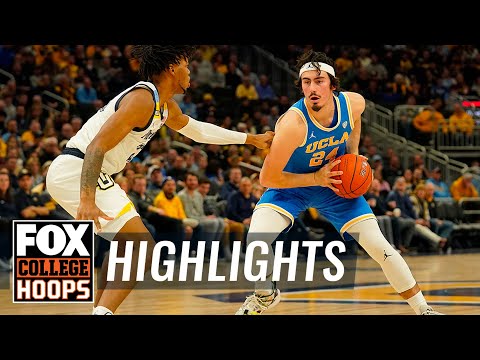 UCLA continued to play without redshirt senior forward Cody Riley, who warmed up before the game but did not return from the sprained medial collateral ligament in his left knee that has sidelined him since the first half of the season opener. He could return as soon as Wednesday, when the Bruins face Alabama State at Pauley Pavilion.
After what they endured the last few days, it will feel good to be home.
"I don't even think it's like hit us what happened," Jaquez said, "but it's in the past now. It's just one of those stories that you can tell later on in life."
Get the latest on L.A.'s teams in the daily Sports Report newsletter.
You may occasionally receive promotional content from the Los Angeles Times.