Dante Moore's arrival at UCLA is ultimate Hollywood tale, scripted on his own whiteboard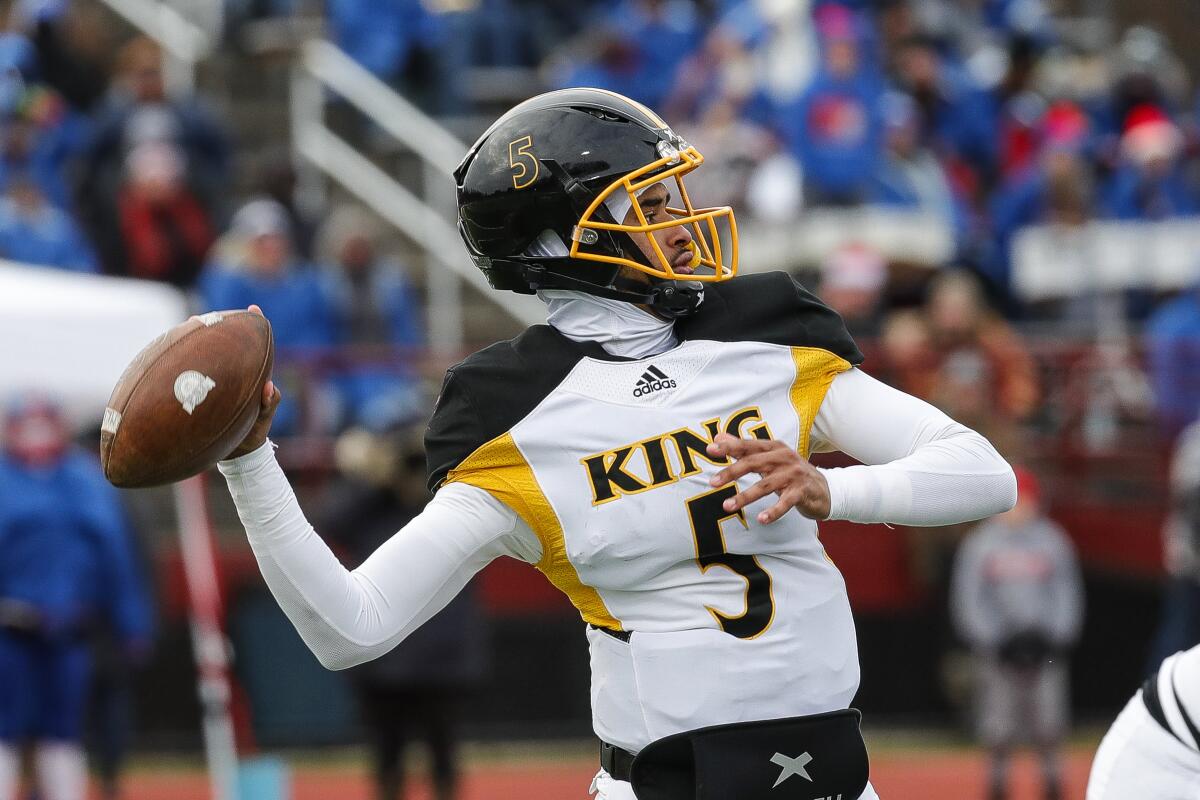 On a whiteboard in his room, Dante Moore laid out the possibilities for his future, one marker stroke at a time.
His top college choices. Positives and negatives for each place. The reasons one school might develop him as a quarterback better than another.
UCLA found itself in the running alongside Ohio State after Oregon, the school Moore had initially committed to, suffered a huge setback in its pursuit of the five-star prospect from Detroit's King High.
Offensive coordinator Kenny Dillingham left the Ducks in November to become Arizona State's head coach, a game-changer in Moore's calculus. Yes, quarterback Bo Nix also said he would return for one more college season, but it was Dillingham's departure that ultimately removed Oregon from consideration.
Dante Moore, Grant Gray, Ethan O'Connor, Ty Lee and R.J. Jones all picked UCLA on early signing day, giving Chip Kelly the best class of his tenure.
Ohio State was attractive because of its promising group of receivers and history of producing big-time playmakers that made a quarterback's job easier. A strong contender, the Buckeyes couldn't match the Bruins because of one factor.
They didn't have Chip Kelly.
"The biggest positive," Moore told The Times in a telephone interview when asked why he picked UCLA, "was Coach Kelly."
Having watched Kelly cultivate his quarterbacks into stars at Oregon long before the coach developed Dorian Thompson-Robinson into one of the Pac-12 Conference's top players, Moore foresaw similar success for himself in Westwood. That's why he agreed to sign with the Bruins last month, becoming the highest-rated high school player Kelly had ever lured in his nine college seasons.
There's no need to rehash what feels like another lost UCLA football season. Instead, let's examine how Chip Kelly and the Bruins can improve the program.
"He really knows what he's doing," Moore said of his new coach. "He's coached in the NFL. He's seen many great things, really tough games. He has a really strong resume, and I really felt that going into a system with a great head coach, that would be the best development for me."
Moore said he called Kelly after learning Dillingham was leaving Oregon, reigniting the Bruins' pursuit after they were among his many initial suitors. Kelly's palpable excitement, followed by an in-home visit, only intensified Moore's interest in playing for the coach who's widely considered an offensive savant.
"That's when I really knew he was serious that he would be able to take my commitment," Moore said.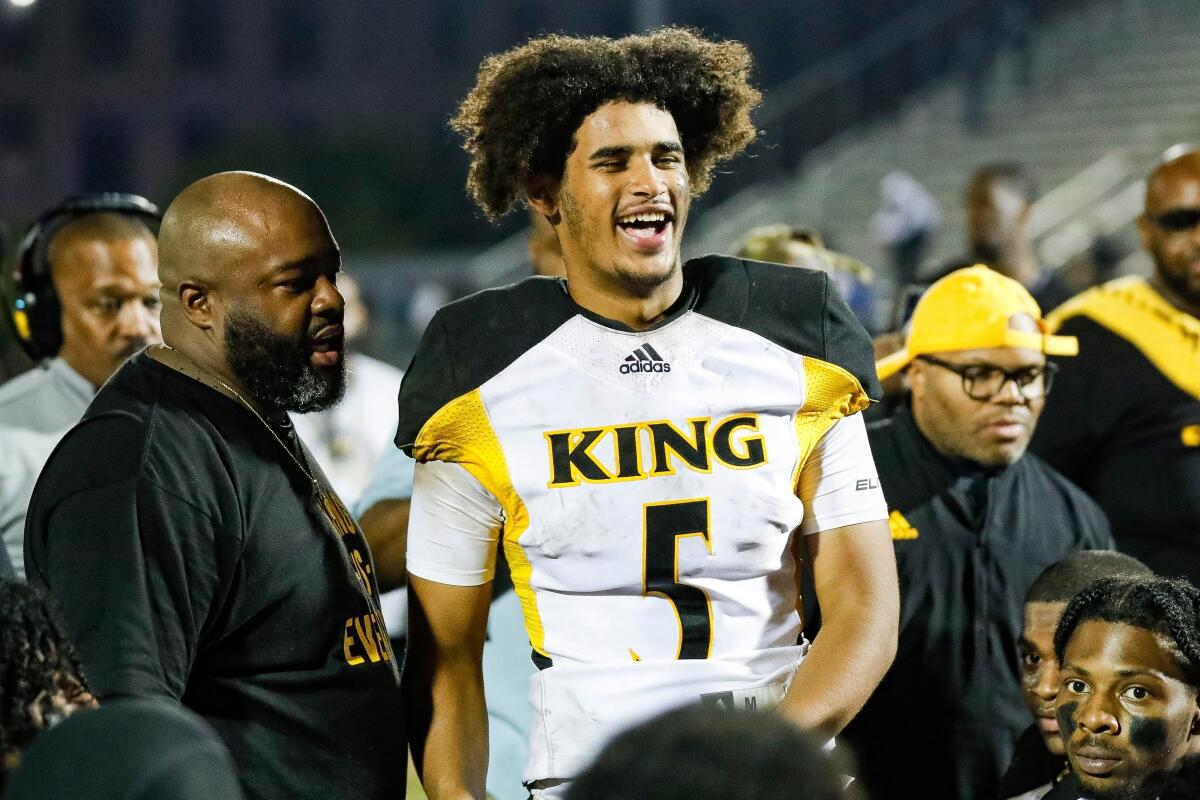 A campus visit solidified his decision. UCLA wide receiver Jadyn Marshall helped sell Moore on the many benefits of becoming a Bruin. Attending practice helped Moore envision what it would be like to be part of a dynamic offense in need of a new quarterback.
The battle for the starting job figures to be intense, especially with the 6-foot-2, 210-pound Moore arriving in time for spring practice. He will join Kent State transfer Collin Schlee, redshirt junior Ethan Garbers and promising redshirt freshman Justyn Martin
as part of a quarterback room that, barring transfers, will be standing-room only.
"With Dorian leaving," Moore said, "they said the quarterback position was open — not saying I can come in right away and start — but I know I can compete, be the best I can be and we'll just go from there."
Moore said he did not concern himself with the name, image and likeness deals his new school offered, letting his father handle that aspect of his recruitment. When it was time for an NIL meeting during his visit, Moore said he declined the invitation, instead watching more film in an effort to better understand how he might be able to thrive in UCLA's offense.
New UCLA coach Janelle McDonald has gone back to basics, emphasizing fundamentals and fun as she helps rebuild the elite Bruins program.
"I feel that as an athlete, you go in, you compete and do great things, have great stats, win games and I feel that's when the money comes in," Moore said. "So all the numbers that get thrown around and everything like that, I don't ever listen to or believe, so that's why I just want to go in and be the best I can be."
Having visited USC earlier in his recruitment, Moore was already sold on the L.A. weather and lifestyle. A bonus he learned on his UCLA visit was that Tampa Bay's Tom Brady and Dallas' Dak Prescott were among the NFL quarterbacks who regularly trained at the Bruins' practice facility, providing additional mentors.
Moore might go down as the first UCLA recruit of the Big Ten era given that the school's conference switch in August 2024 was a big selling point. Becoming part of a conference that would allow him to play several games each season near his hometown was a factor, as well as the Big Ten's ability to challenge the Southeastern Conference for national supremacy in a way the Pac-12 could not.
Jaylen Clark's three-pointer and David Singleton's free throw with seconds left helped UCLA hold off USC's 18-point comeback in the 60-58 win on Thursday.
"I was talking to [former Carolina Panthers quarterback] Cam Newton about everything that was going on with my decision and really one thing that he told me is that's actually a great thing, that's national exposure," Moore said. "In college football, you need as much national exposure to put you on the map for NFL scouts or NFL coaches."
Asked to describe his style for those who had never seen him play, a quarterback known for his touch and accuracy on short and deep routes, as well as his willingness to remain in the pocket until the last possible second, mentioned something that had nothing to do with his passing skills.
"If somebody was to come see me play," Moore said, "the first thing they would say is that you can tell he's a kid, he loves to enjoy the game of football, loves to have a great time and enjoy it with his teammates."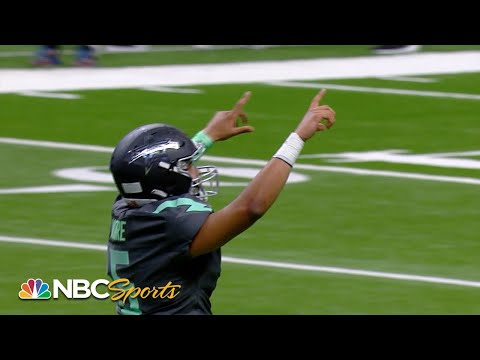 Fun is definitely high on Moore's agenda. After completing 14 of 19 passes for 156 yards and four touchdowns on the way to being selected most valuable player of the All-American Bowl on Saturday in San Antonio, he's booked on a flight to Los Angeles scheduled to arrive Sunday morning. His first UCLA class is Monday, part of a whirlwind that he hopes deposits him on the doorstep of greatness.
Among other things, he said he wanted to see the Hollywood sign and visit the Griffith Observatory, a college kid doing college things.
Just like someone had scripted it all on a whiteboard.
"Just really trying to get there, live the college student life," he said. "Just being on campus, going to classes, building bonds with great people."
Get the latest on L.A.'s teams in the daily Sports Report newsletter.
You may occasionally receive promotional content from the Los Angeles Times.