'Oh, he's on another level right now.' How Jaime Jaquez Jr. took over in UCLA's win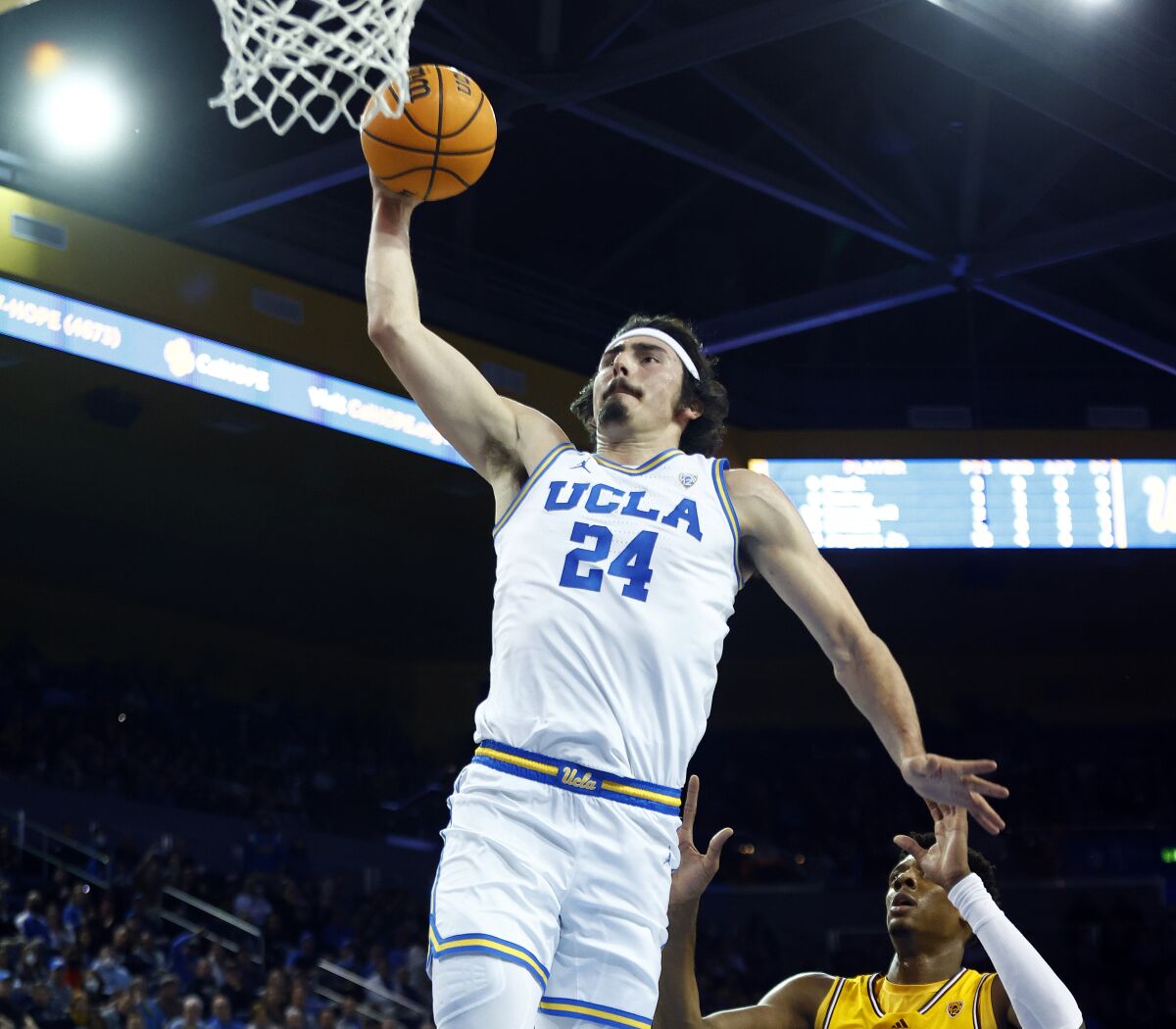 For the briefest of moments as he dribbled on the wing, UCLA's Jaime Jaquez Jr. saw an opening. A screen by teammate David Singleton had cleared a tempting path to the basket.
Accelerating with a quick burst, Jaquez commenced liftoff.
Three Arizona State defenders converged on the airborne intruder, Desmond Cambridge Jr. daring to challenge Jaquez at the rim.
Bad decision. There was no stopping Jaquez on Thursday night.
Soaring with the ball in his right hand, Jaquez threw down a vicious dunk over the helpless defender.
No. 4 UCLA clinched the Pac-12 regular season title, but the Bruins know the job isn't finished and hope to clinch a No. 1 West seed come NCAA tourney time.
As the crowd's roar inside Pauley Pavilion washed over him, Jaquez paused for a moment after he landed to savor one of his final highlights on his home court.
It was Jaquez's third ferocious dunk of the game and another sign that the Bruins were not going to suffer the letdown their coach had feared with the Pac-12 Conference's regular-season championship already theirs.
Fourth-ranked UCLA showed plenty of passion on the way to a 79-61 victory over the Sun Devils that solidified Jaquez's candidacy for the conference's most valuable player award in his last college season.
"I know he's not gonna say it, but he deserves the damn award, if you get what I mean," UCLA guard Jaylen Clark said after Jaquez scored 19 of his 26 game-high points in the first half. "He's sizing people up, he rebounds, he defends, he stays in front of the ball, challenging shots above the rim, he scores in three ways. I mean I've guarded all the best and he's the hardest person I've had to guard by far, not even close."
"Facts," point guard Tyger Campbell added.
Jaquez's latest scoring barrage helped the Bruins (26-4 overall, 17-2 Pac-12) overcome another sluggish start in which they fell behind by 10 points to log their ninth consecutive victory.
Campbell added 18 points and Clark had 15 points and 11 rebounds as UCLA also remained in the running for a No. 1 seed in the NCAA tournament going into its Saturday showdown against eighth-ranked Arizona.
"I'm not getting into it," Bruins coach Mick Cronin said when asked about the possibility of a top seed. "I'd like to be in the West [Region], you know, and I'd like my team to be treated the way they deserve to be treated, that's all I'll say on that."
L.A. Times college basketball experts Ben Bolch, Ryan Kartje and J. Brady McCollough project the Pac-12 tournament and national championship winners.
DJ Horne scored 13 points to lead the Sun Devils (20-10, 11-8), who could not enhance their NCAA tournament standing five days after they stunned Arizona on Cambridge's 60-footer at the buzzer.
The Bruins gave the crowd of 10,132 plenty of highlights despite a season-high 19 turnovers, including 24 fast-break points. It only seemed like Jaquez had all of them.
For much of the first half, UCLA's offense consisted almost entirely of its small star forward.
When Jaquez took an outlet pass from Amari Bailey for his second breakaway dunk, Jaquez had 15 points while making six of eight shots; everyone else on his team had combined for four points while making one of 11 shots.
His teammates were content to step aside and watch him roll.
"It's just one of them things where I feel like if you play any type of basketball, someone rips off one, two, three, four, five, you gotta keep going until they burn out," Clark said. "And he wasn't burning out. When I saw him sizing people up and playing around and shimmying, I was like, 'Oh, he's on another level right now.'"
Jaquez's offensive repertoire was impressive. It included a putback layup, a one-handed dunk, a turnaround jumper, a three-pointer in transition, a jumper with a defender in his face and a fast-break layup in addition to four free throws.
Those dunks were a result of Jaquez believing the ankle issues that bothered him last season were in the rear-view mirror.
"After last season I kind of had a little PTSD about jumping, whether it be for rebounds or dunking; I didn't really trust myself," Jaquez said.
"That's why I would lay it up a lot of times on the fast break because I was just scared I was gonna come down and tweak something again. Finally I was like, 'F— it, I'm just gonna try to dunk it.'"
Smart decision. There was no stopping him on this night.
Get the latest on L.A.'s teams in the daily Sports Report newsletter.
You may occasionally receive promotional content from the Los Angeles Times.