UCLA shows a mix of potential and inexperience during close loss to No. 4 Marquette
HONOLULU —
Unleashing NCAA-tournament-level intensity in the first half, unranked UCLA showed that it could be an unexpected force in March.
Almost fully unraveling in the second half, the Bruins displayed how much work remains to get there.
After a wildly vacillating game against No. 4 Marquette in which the Bruins' 12-point lead became a seven-point deficit, they gave themselves a chance in the final minute.
With his team trailing by two with 21 seconds left, UCLA coach Mick Cronin called time out to set up a play. It was disrupted after the Golden Eagles tipped the ball out of bounds with 8.8 seconds to go.
UCLA got two more chances but came up empty both times. Lazar Stefanovic's three-pointer missed and a wild Sebastian Mack shot off his offensive rebound was off the mark, leaving the Bruins with a 71-69 loss Monday night at the Stan Sheriff Center in the opening round of the Maui Invitational.
UCLA graduate Matt Kovach had many concerns when his island house was threatened by the devastating fire in August, but none bigger than this: How is mom?
"Obviously, we didn't finish the job tonight," UCLA sophomore center Adem Bona said. "We plan to finish the job next time."
The Bruins (3-1) will play tournament host Chaminade on Tuesday afternoon in a losers' bracket game.
Mack finished with a career-high 25 points, making all 13 free throws, and Bona added 13 points for the Bruins, who allowed Marquette (4-0) to shoot 54.2% in the second half.
The Golden Eagles reclaimed the lead and scored the game's final points when Sean Jones made an open three-pointer with 36 seconds left. Forward David Joplin led Marquette with 19 points, making five of 11 three-pointers.
Cronin said the inexperience of a team featuring seven freshmen showed in the Bruins getting rattled during Marquette's 17-0 run that included too many defensive breakdowns against penetration.
"You play smart, solid defensively 80% of the time, you don't got enough," Cronin said. "Not against this team. You'll get exposed. As the competition changes, the margin of error shrinks."
UCLA appeared on the verge of a stunning upset early in the second half when Bona drove for a vicious two-handed dunk, giving his team a 43-33 lead. The cushion grew to 12 points after Mack drove for a tough, contested layup.
Everything was going the Bruins' way. Then nothing was.
Marquette's Oso Ighodaro drove for a dunk over Bona and Berke Buyuktuncel, igniting his team on its massive run that included an assist from Bona for a ferocious elbow that earned him a technical foul. By the time Ighodaro threw down another dunk over Buyuktuncel, the Golden Eagles were up 46-45 and their contingent of fans that included alumnus and former Miami Heat star Dwyane Wade was roaring.
Cronin said he had reviewed the defensive plan to prevent dunks like those for five days. Those efforts failed at critical moments.
"I would say we got distracted a little bit and we lost sight of the game plan we had," Bona said. "Toward the end of the game, we got back into the game plan."
What had been a UCLA runaway was suddenly tilting heavily in the other direction. Marquette later took a 50-45 lead before Bruins freshman guard Ilane Fibleuil buried a three-pointer. UCLA kept fighting back, eventually going ahead 69-68 on a Bona spin move for a layup with 53 seconds remaining.
Cronin suspected his team might be prone to lulls like it endured in the second half.
The blue Hawaiian shirt and traditional stone necklace that he wore on the eve of the tournament couldn't hide the strain on his face knowing the challenges facing his young team.
UCLA freshman forward Berke Buyuktuncel was cleared to play by the NCAA on Saturday and will be eligible to play Monday against Marquette.
Establishing a rotation and divvying minutes were the least of the coach's concerns. The Bruins arrived here prone to turnovers and an inability to sustain defensive intensity, not to mention mastering the concepts of their coach's complex scheme.
For 25 minutes, it appeared Cronin was worried for no reason.
Looking nothing like the team that doodled its way to season-opening wins over three no-name teams, UCLA surged into a 35-30 halftime lead thanks to a rare level of early season intensity, particularly on defense.
Making his first appearance and start after getting cleared by the NCAA, Buyuktuncel was a formidable presence on both ends of the court even if he missed all seven shots. He blocked a shot to go with four rebounds and two assists in 27 minutes.
"He's going to be a big player for us," Cronin said, "so might as well throw him in there and get him ready."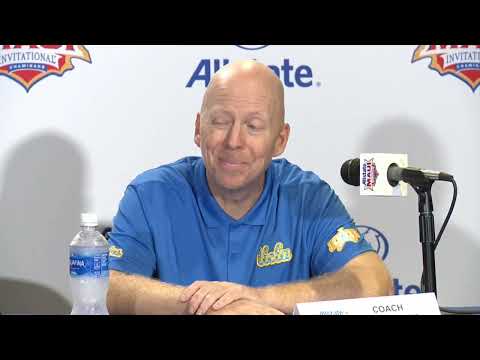 Relying heavily on Stefanovic's baseline jumpers and Mack's ability to get to the free-throw line, the Bruins built an eight-point lead in the first half. They got a surprise boost from sophomore guard Will McClendon, whose three three-pointers on five attempts exceeded his total from all of last season, when he made just two of 28 shots from beyond the arc.
Defensively, the Bruins gave Marquette almost nothing easy inside, providing some open opportunities from long range. The Golden Eagles finally capitalized, making six of 16 in the second half, including the one that prevented an upset.
UCLA lost a game but won some admirers along the way.
"If they keep getting better," Marquette coach Shaka Smart said of the Bruins, "they're going to be a heck of a team."
Get the latest on L.A.'s teams in the daily Sports Report newsletter.
You may occasionally receive promotional content from the Los Angeles Times.