USC Coach Lane Kiffin to close practices during season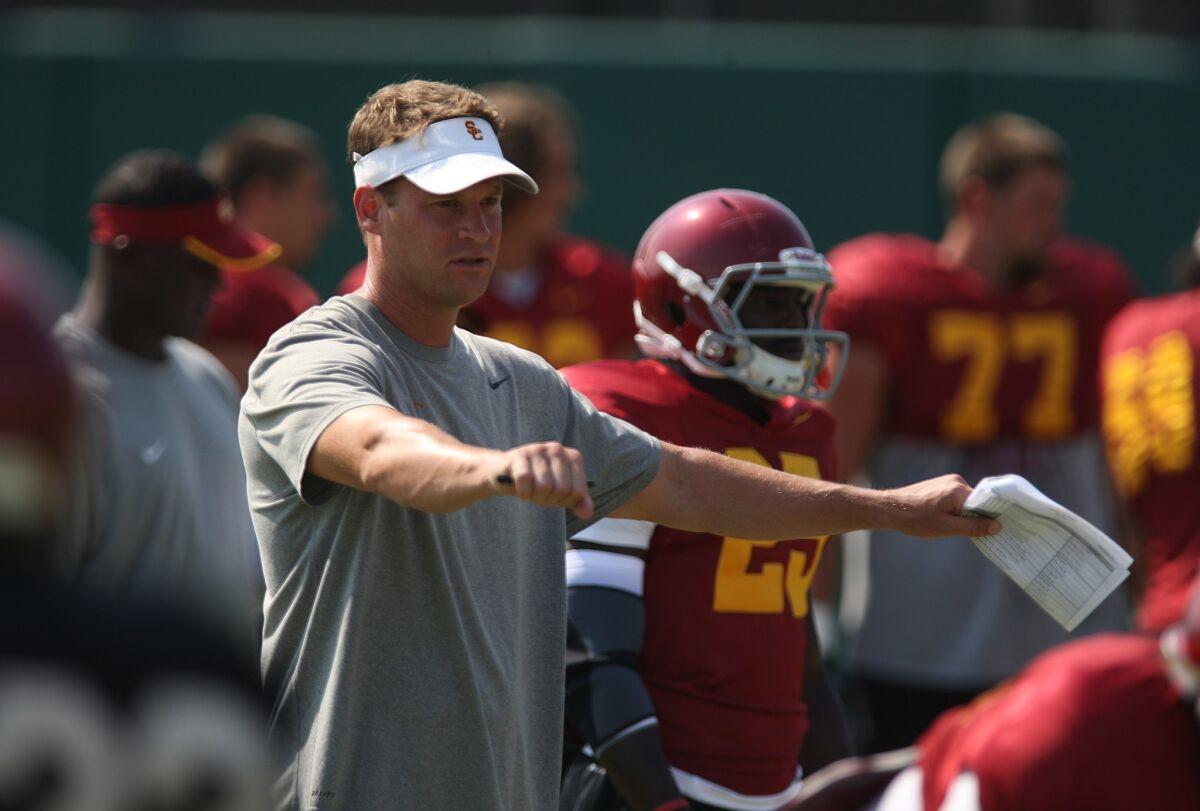 Paranoia, or putting his team on par with the rest in college football?
USC Coach Lane Kiffin, who is coming off a 7-6 season in 2012, said Monday that Trojans practices would be closed to the media during the season.
"We've decided to finally follow the majority of all teams in college football and close our practices to the media during the season," Kiffin said.
Practices will be open to media during training camp, which begins Saturday in preparation for the Trojans' Aug. 29 opener at Hawaii. Workouts also will be open during spring practice.
Players and coaches will be made available to the media after regular-season practices, Kiffin said.
Most major college programs conduct closed practices. But USC has a long tradition of workouts open to the media. Former coach Pete Carroll allowed media and fans to attend practice. An athletic department spokesman could not recall the last USC coach to close practices to the media.
Kiffin said that leaving practices open would be in his best interests, "but it's my job to do what's best for our team."
That could become Kiffin's mantra this season.
Athletic Director Pat Haden last week released a video in which he said Kiffin was not on the "hot seat." The next day, when addressing his decision not to relinquish play-calling duties, Kiffin said, "It's in the best interest of our football team for me to continue to call plays."
USC's practice policy under Kiffin changed last season when he declined to discuss injuries and prohibited reporters from writing about injuries that occurred during practice.
Last September, Kiffin barred a reporter from practice for reporting that kicker Andre Heidari had undergone knee surgery. The ban was lifted when it was pointed out that the reporter had not violated USC's policy on reporting injuries that occurred during practice.
Editors at The Times and other media outlets subsequently decided not to have reporters attend practices.
USC is still operating under NCAA sanctions that require practices be closed to the public, the athletic department spokesman said. However, a limited number of fans were allowed to watch spring workouts from a rooftop of the adjoining baseball stadium, and Kiffin anticipates there will be similar access during training camp, the spokesman said.
---
Get the latest on L.A.'s teams in the daily Sports Report newsletter.
You may occasionally receive promotional content from the Los Angeles Times.