USC's Bennie Boatwright is playing his best basketball as he nears final home games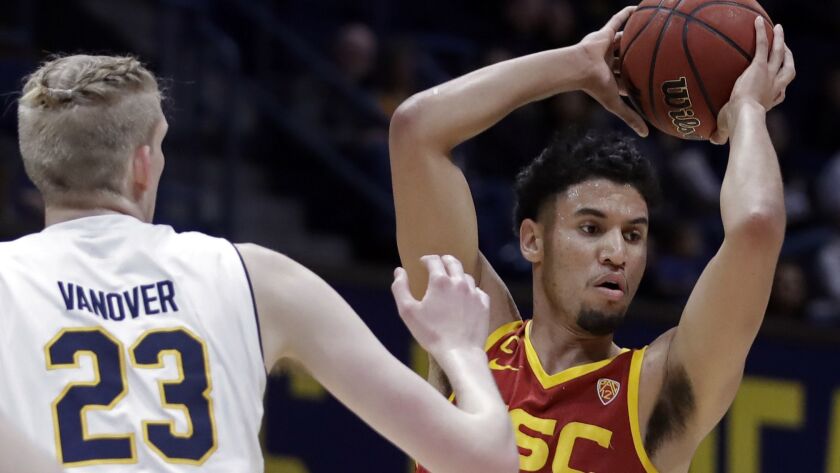 Twenty-five games into a lost senior season, facing a winless Pac-12 opponent in a near-empty barn, it finally came easy for Bennie Boatwright.
After his first two three-pointers swished through the net Saturday night at California's Haas Pavilion, Boatwright began to get the sense that he was not going to miss. And, as long as his teammates were willing to keep finding him, he was going to test it.
"It's like everything you touch is going in," Boatwright said. "It doesn't matter where I am. When you're in the zone, you don't really think too much."
By the end of USC's 89-66 win over Cal, Boatwright had set a USC record and tied a Pac-12 record with 10 threes. He was taking them from all over the court. He made a couple from well into NBA three-point range. Somewhere along the way, Boatwright felt young again.
"My whole life growing up," he said, "I had games where I'd make eight, nine, 10 threes in a game. It's really nothing new. I haven't had it in college.
"Coach used to get mad at me for shooting those [NBA] threes when I was a freshman. But now I'm knocking them down, so he can't really say too much."
A healthy chuckle followed that last part. Indeed, Andy Enfield was just fine with Boatwright letting loose in Berkeley. These four years have flown by, but they have not been without their share of roadblocks for Boatwright, who has battled injuries off and on, and started this season as a shell of the player he could be after offseason knee surgery.
As Boatwright approaches his last two games at Galen Center this week — Thursday night against Oregon and Saturday afternoon against Oregon State, his official senior day — he is playing the best basketball of his career.
In another year, Boatwright's 21.3 points and 6.6 rebounds per game in Pac-12 contests would place him in the running for conference player of the year.
"I think we have to win more games down the stretch for that," Enfield said. "Usually the player of the year is on a team that competes for the championship or is close to it. Unfortunately, we've lost three at the buzzer in the Pac-12. If we win two or three of those, there might be more push for that. He's certainly an all-conference player."
After Boatwright's sophomore season, in which the Trojans won two NCAA tournament games, it would have been hard to fathom that he would have returned for his junior and senior seasons, and that neither would have resulted in a trip to the tournament.
Last year, USC finished second in the Pac-12 regular season and runner-up in the conference tournament and had a legitimate gripe for being left out of the field. But this year, the Trojans have not built any resume to speak of and will need something close to a miracle run through the Pac-12 tournament in Las Vegas.
"It's been a tough year as a team," Boatwright said, "but we're going to go out swinging. There's a chance we can make the tournament. We don't have the best resume, but if we come out and play well these next couple games and go into the [Pac-12] tournament playing well, we can make the [NCAA] tournament."
Boatwright characterized Saturday's senior day, which is expected to bring an estimated 30 to 40 of his friends and family to Galen Center, as "bittersweet." He said the only way to get through it is to enjoy his moments on the court.
"Just take it all in, just have fun," Boatwright said.
If he can carry any of his mojo from last weekend, that shouldn't be a problem.
He won't get much resistance from Enfield to keep shooting.
"He's such a terrific shooter when his feet are set," Enfield said, "and he just kept extending his range against Cal. He felt so confident. It was fun to watch."
Sign up for our daily sports newsletter »
UP NEXT
VS. OREGON
When: Thursday, 6 p.m.
Where: Galen Center.
On the air: TV: ESPN; Radio: 1110.
Update: The Ducks (15-10, 6-6) handed USC its worst conference loss of the season, 81-60 at Matthew Knight Arena on Jan. 13. Oregon's Louis King scored 19 points in that game, and the Trojans will look to slow the talented freshman wing Thursday.
Twitter: @BradyMcCollough
---
Get the latest on L.A.'s teams in the daily Sports Report newsletter.
You may occasionally receive promotional content from the Los Angeles Times.