USC fires administrator and coach arrested in college admissions fraud scheme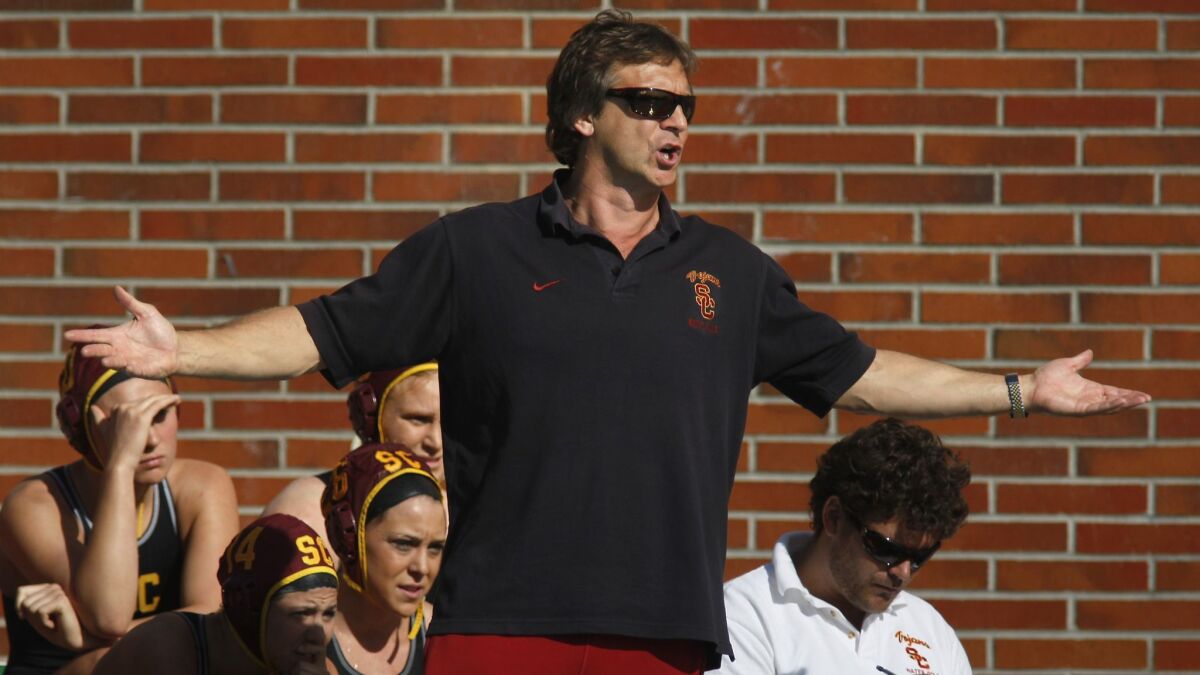 Two USC athletic department employees — a high-ranking administrator and a legendary head coach — were fired Tuesday after being indicted in federal court in Massachusetts for their alleged roles in a racketeering conspiracy that helped students get into elite colleges and universities by falsely designating them as recruited athletes.
Senior associate athletic director Donna Heinel and men's and women's water polo coach Jovan Vavic were fired after allegedly receiving bribes totaling more than $1.3 million and $250,000, respectively, to help parents take advantage of the relaxed admissions standards for athletes at USC even though their children were not legitimately being recruited as athletes.
Former USC women's soccer coach Ali Khosroshahin, who was fired in 2013, and his former assistant coach, Laura Janke, who left the school in 2014, were also named in the indictment for allegedly fabricating athlete profiles for the prospective students. Khosroshahin and Janke allegedly received payments totaling nearly $350,000 sent to their private soccer club.
Federal prosecutors on Tuesday indicted dozens of people — including UCLA men's soccer coach Jorge Salcedo and actresses Felicity Huffman and Lori Loughlin — in connection with an elaborate scheme aimed at getting students into elite colleges.
The scheme centered around the owner of a for-profit Newport Beach college admissions company that wealthy parents allegedly paid to help their children cheat on college entrance exams and falsify athletic records of students to enable them to secure admission to elite schools for which they otherwise might not qualify, according to court records.
"We are aware of the ongoing wide-ranging criminal investigation involving universities nationwide, including USC," the university said in a statement. "USC has not been accused of any wrongdoing and will continue to cooperate fully with the government's investigation. We understand that the government believes that illegal activity was carried out by individuals who went to great lengths to conceal their actions from the university.
"USC is conducting an internal investigation. Donna Heinel and Jovan Vavic have been terminated and the university will take additional employment actions as appropriate.
"USC is in the process of identifying any funds received by the university in connection with this alleged scheme. Additionally, the university is reviewing its admissions processes broadly to ensure that such actions do not occur going forward."
Full coverage: Dozens charged in connection with college admissions scheme »
The other athletic departments named in the alleged racketeering conspiracy are Yale, Georgetown, Wake Forest, Stanford, Texas and the University of San Diego. The indictment states that, by accepting bribes to falsely designate students as recruited athletes, the coaches and administrators were "in the violation of the duty of honest services … owed to their employers, thereby facilitating the children's admissions to the universities."
Heinel was USC athletics' chief administrative officer and senior woman administrator.
Vavic led the Trojans' water polo teams to a combined 16 national championships and is a 15-time national coach of the year.
Vavic was arrested without incident in Hawaii. The USC women's water polo team is scheduled to play Hawaii on Saturday. Heinel, Khosroshahin and Janke were arrested in the Los Angeles area, also without incident.
Times staff writer Matt Hamilton contributed to this report.
---
Get the latest on L.A.'s teams in the daily Sports Report newsletter.
You may occasionally receive promotional content from the Los Angeles Times.