Ed Orgeron left USC but stayed in spirit, and he'd love to return now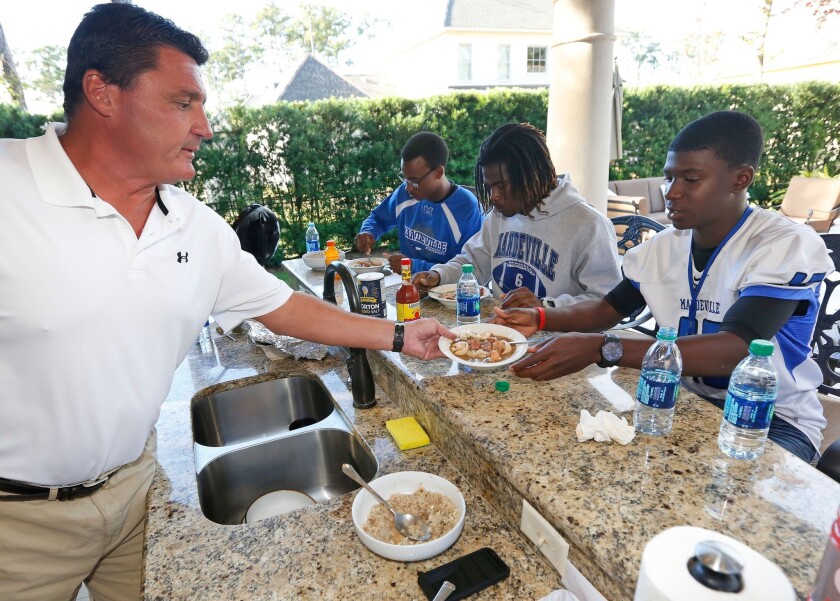 COVINGTON, La. —
The Friday night lights bounce off the thick pine trees that ring the bayou football stadium, bathing the faded field in an eerie, murky glow.
Through the chilled mist descend the tiny bits of gravel that could only be the voice of Coach O.
"Wrap him up! Wrap him up! Atta baby! Let's go baby, wrap him up!"
One year after leading the USC football team through two of most energized months in recent history, Ed Orgeron is coaching again, only this time it's from the eighth row of the aluminum bleachers at a high school football game where the concession stand is run by mothers and the one public restroom is shared by the players.
He is no longer wearing a headset, but a frumpy hooded sweatshirt. He is no longer a leader of one of America's highest-profile college football teams, he is Dad, watching his son Parker play wide receiver for the Mandeville High Skippers against the host Covington High Lions.
Here among the fellow parents who munch on M&M's and spread blankets on the bleachers to ward off the late-autumn cold, there are no traces of the sweeping Trojans aura that Orgeron projected in leading the team to six wins in eight games before the job was yanked from him by an administration that didn't think his giant presence was the right fit.
Then, midway through the first quarter, Parker limps off the field with a sprained ankle. He sits on a folding table behind the bench with his left foot propped on ice. He calls a teammate to bring him his sweatshirt, which he pulls over his head and wears for the rest of the game.
It's a USC sweatshirt.
Orgeron's voice drops to a pained whisper.
"That right there, that's my family forever,"' he says.
He's not only talking about his son.
::
The hands that once clutched USC shoulder pads as he was carried across a football field by adoring players are now busy above a backyard stove, stirring a giant metal pot filled with bottomless chicken-and-sausage gumbo.
"The third bowl will put you to sleep, so feel free to go upstairs and take a nap," says Ed Orgeron, smiling outside his wooded retreat on a bright Friday near the shores of Lake Pontchartrain.
The eyes that once lighted up the Coliseum as he swung the sword and directed the USC band are now dancing at the sight of a tray full of Cajun boudin sausage he pulls from an outdoor oven.
"This here is all the good stuff mixed together," he says.
A year ago, Orgeron thought he had all the good stuff mixed together — a head coaching job at the school of his dreams, the love of players he viewed as his children, the embrace of fans he adored. As a popular USC assistant-turned-interim-coach who returned fire to the program after replacing the fired Lane Kiffin on Sept. 29, he was the people's choice to lead the floundering Trojans into the future.
But what he didn't have were victories against the school's two biggest rivals, Notre Dame and UCLA. What he also didn't have was the approval of buttoned-down athletic officials who just couldn't envision this giant emotional Bayou bear leading their sophisticated football program.
At around 7 a.m. on Dec. 2, two days after a dispiriting loss to a UCLA team with far more talent, Orgeron was informed by Athletic Director Pat Haden that he would not be retained as head coach. He was, however, offered a job as new Coach Steve Sarkisian's top assistant, and a chance to continue coaching the Trojans through their appearance in the Las Vegas Bowl.
What happened next was pure Coach O, as unvarnished as the Cajun filé powder he sprinkles on his gumbo.
He returned to Room 112 at the Radisson Hotel — his cramped home for the previous four years — and he wept. He consulted with his wife Kelly. He wept some more. Two hours later, they made a decision that reverberates throughout Trojan nation still.
"My heart and soul were so empty, it was like being a father who is told you can't have your children anymore," Orgeron says. "So we decided to go home."
He held a mid-afternoon meeting with his team, tears everywhere, from players and coach. Then he and Kelly walked out a back door to avoid the media, jumped in an SUV, were driven to LAX, and hopped on a 6:10 p.m. nonstop flight to New Orleans.
Shortly after landing, they drove 24 miles across Lake Pontchartain — the world's longest bridge suddenly feeling like the world's shortest — to the stately brick home in Mandeville, La., where they have lived for six years. The next morning, Orgeron woke early, made breakfast for his 15-year-old twin sons, and he's been a stay-at-home dad ever since.
"Had to find out who I was as a man," Orgeron says. "Who are you? Where is your heart? I had to come home and find out."
He found out it was in watching his son Cody win a second straight Louisiana state tennis championship, then watching Parker lead the Mandeville High football team into the playoffs. He has attended every game and every practice and also brought the boys a hot lunch every day, from Popeye's to jambalaya.
"Seriously, every day my dad shows up in the office with food, sometimes enough to feed the whole team," Cody says.
He also found it in hanging out with son Tyler, a student at LSU, during Tyler's visits home to the stately neighborhood located in a former swamp. Although not that stately — 16-foot alligator was recently killed down the street. The mosquitoes are so bad, Orgeron's house has automatic outside bug sprayers. Around the close-knit community, Orgeron is known by a Cajun nickname, "Ba-Ba," pronounced Bay-Bay.
"My dad has loved just being, you know, a dad," says Parker.
Orgeron has stayed home even though Sarkisian called him after the Trojans' bowl victory over Fresno State and personally offered him an assistant's job. He has stayed home through numerous inquiries about small-college head coaching jobs and big-school coordinator positions.
"Pat Haden was gracious and kind and generous to me, Sark is a friend who made me an outstanding offer, everyone there has been nothing but classy and professional with me," Orgeron says. "But it just hurt too bad to suddenly not be their head coach. Maybe me staying for the bowl game, being positive, that could have helped me in the long run, but I was heartbroken and I couldn't fake it."
::
For nearly a year, he has lived in small-town seclusion as perhaps the most popular coach in the country without a job — who wouldn't be interested in a guy who went 6-2 at USC? — while placing a higher priority on rediscovering himself.
"I never planned this, I never thought I ever would do this," says Orgeron, 53. "But what's happened to me down here has been a miracle. I've been re-energized through my family. I've been reminded what was important. I've added 10 years to my coaching career."
Oh, yeah, about that coaching career. As you might have guessed by now, Orgeron is ready to come back. And, while he is expected to receive plenty of national attention for a variety of positions, his preferred destination remains clear. It is visible not only on his son's sweatshirt, but in the emotion of his voice.
"I will be a USC Trojan forever, and, I don't know what they're thinking, but the door to come back there is always open in my mind," Orgeron says. "If the right situation comes up this year and they ask me to go back, I'd be more than happy to listen."
Even though Sarkisian has struggled in his first season, losing much of the energy revived by Orgeron, he deserves a chance to find his footing, meaning there will be no head coaching opportunity there for Orgeron. But he says it doesn't matter.
"I'd come back as an assistant," he says. "I love the people there. I'm with my family now, but I miss my family there. I miss 'em right now. In the belly."
Can you imagine? Could USC really bring him back? If the Trojans don't find a spark this season in a schedule that still includes UCLA and Notre Dame, how could they not bring him back? He could be the emotion that the Sarkisian regime is missing. While the Trojans will never replace the great Marv Goux, Orgeron is the type of coach who could carry his legacy.
Remember last season's emotional win at Oregon State where his players carried him from the field? Remember the home upset of then-fifth-ranked Stanford that featured a gutsy fourth-down conversion followed by a postgame swarming of the field in a Coliseum that had not felt that much energy since the days of Pete Carroll? Have the Trojans and their fans equaled that joy since?
After the Stanford win, Orgeron returned to the head coach's desk in a darkened office in the McKay Center and remained there until 2 a.m., pondering his Trojans head coaching future while rapping his fingers on the wood.
"I kept saying to myself, 'Maybe . . . maybe . . . maybe,'" Orgeron said.
Then, after a 35-14 loss to UCLA, it was absolutely not. While other USC coaches have lost to both Notre Dame and UCLA in their first season and survived — most notably Ted Tollner in 1983 and John Robinson in his second tour in 1993 — Orgeron was on an interim leash, and never had a chance.
"I knew, and I understood it, and I even explained it to the team, you can't lose both those games and survive here," Orgeron says. "But that didn't make it hurt any less."
So he disappeared, and he hasn't resurfaced since, watching the Trojans on television and visiting Southern California twice, steering clear of the campus for fear of being a distraction, once venturing as close as a table at the Redondo Beach Cheesecake Factory.
"There were three older couples, they came over to my wife and I, they said they didn't have any connection to the team but wanted to thank me for taking such good care of the USC kids. It meant so much to me, what could I say?" recalls Orgeron, his voice melting into the bubbling of the gumbo. "I told them, hey, it's still my school. I left, but I will never leave."
Twitter: @billplaschke
---
Get the latest on L.A.'s teams in the daily Sports Report newsletter.
You may occasionally receive promotional content from the Los Angeles Times.