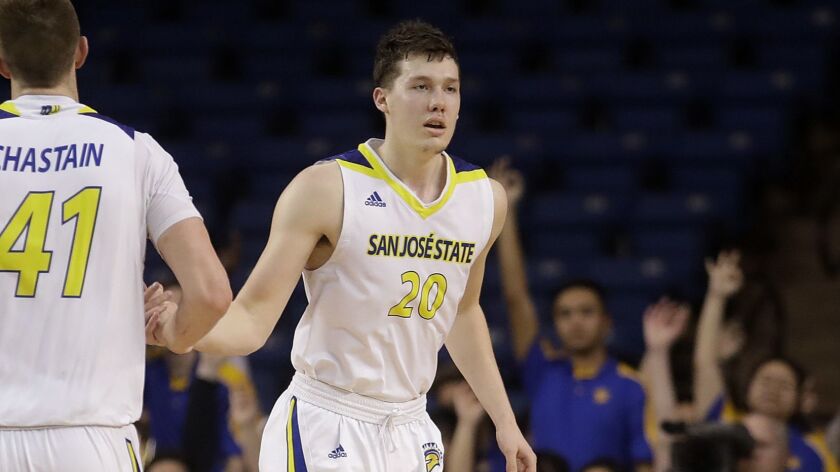 The USC men's basketball roster for 2019-20 appears to be set after the program added two more transfer guards Tuesday that reinforced a clear theme for what coach Andy Enfield felt the Trojans needed this offseason: experience and scoring from the outside.
Daniel Utomi, a 6-foot-6 wing who played three seasons at Akron, announced he will be a graduate transfer for USC after consecutive All-Mid-American Conference honorable mention seasons. Utomi led the Zips in scoring with 14.1 points per game and also grabbed 5.6 rebounds this past season.
Utomi, who led the conference with 89 three-point baskets in MAC play, shot 37.3% from three-point range for the season and joins fellow USC graduate transfer Quinton Adlesh from Columbia as one-year rentals who have a proven ability to score from deep. Adlesh committed to the Trojans on April 1.
Utomi and Adlesh will be expected to compete for immediate playing time on the wing with senior Jonah Mathews and junior Charles O'Bannon Jr., who missed last season with a hand injury and will seek a medical redshirt to give him three remaining years of eligibility.
Talented incoming freshmen Max Agbonkpolo and Drake London will also add depth at the position where the Trojans had to replace senior Shaqquan Aaron and one-and-done NBA draft entry Kevin Porter Jr.
Enfield filled out his 13-scholarship allotment with Noah Baumann, a high-percentage three-point shooter who played two years at San Jose State and announced Tuesday from his Twitter account that he will transfer to USC.
Baumann, a 6-foot-5 guard, will sit out a year because of NCAA transfer rules and have two years of eligibility remaining with the Trojans beginning in the 2020-21 season.
In 2018-19, Baumann averaged 10.8 points and 2.7 rebounds per game as a starter for the Spartans. Within his last five outings, he had games scoring 26 and 27 points. During both years at San Jose State, Baumann established himself as a three-point specialist, shooting 46% and 45.5% from three-point range, respectively.
---