Former USC linebacker Porter Gustin pushes through doubts, concerns for NFL combine
Two weeks ago, the brace and the tape came off Porter Gustin's right ankle. On a recent morning, he deadlifts so much weight he maxes out the bar's capability, nearly 600 pounds. Practicing his vertical jump, he is finally free to scale tall buildings in a single bound, but Gustin still feels like a man in shackles.
He wants to do more. At USC, he seemingly always could, sneaking into the dungeon of the McKay Center no matter the hour, but now he employs a trainer to protect him from his baser instincts.
"I worked a miracle," Traison Lewis says.
If keeping Gustin from pushing himself to the limit of what a human body is meant to handle requires divine intervention, then yes, Lewis, a former Wisconsin football player who trains athletes in Upland and Rancho Santa Margarita, has achieved omnipotency.
Lewis says that Gustin's full rehabilitation from ankle surgery is a "secret" and that "everybody is writing him off" heading into this week's NFL scouting combine. His client is buying into the underdog story, too.
"People think I'm still running in pools," Gustin says.
The only people who think Gustin isn't going to compete at the combine haven't been paying attention. For those who followed his USC career, Gustin coming back from injury faster than anticipated is the expectation, not a surprise. It is the essence of Gustin, and he is following that instinct again, for better or worse.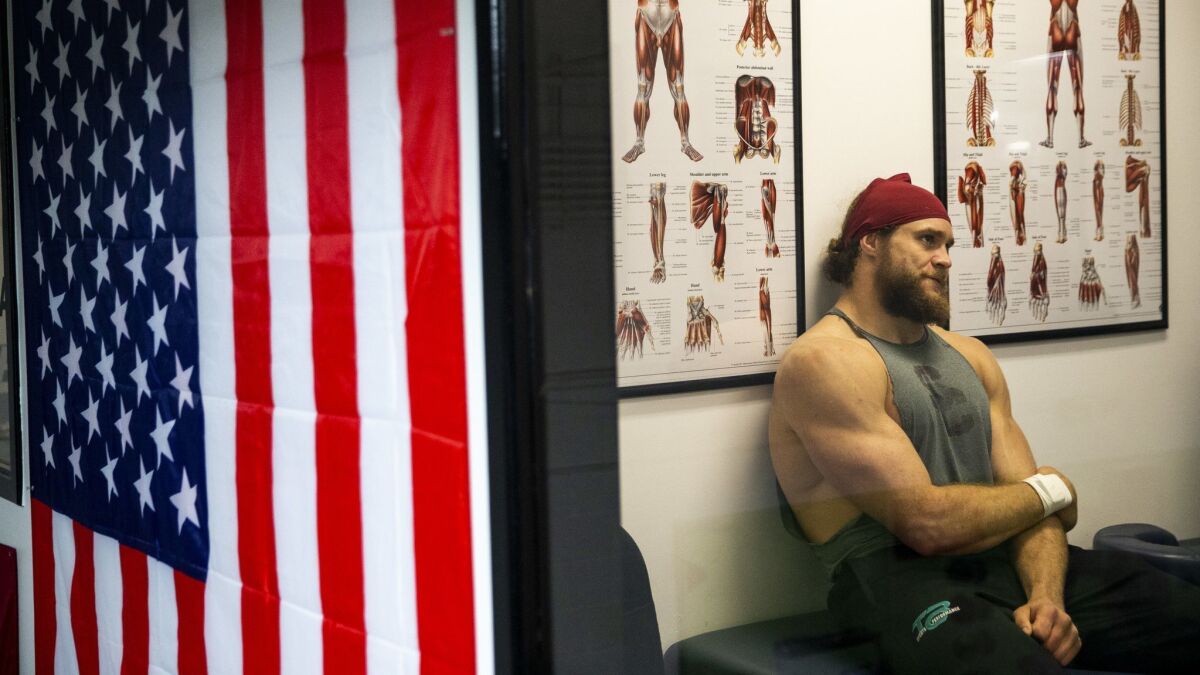 "It's hurt me before," Gustin acknowledges. "I've talked to teams. They say if you're not 110% going into the combine, wait until pro day."
Gustin is not waiting, of course. He swears his mentality is different now, that Lewis has helped him learn patience, to focus on the quality of his repetitions over quantity.
Gustin has passed the tests he's been given thus far, and the ankle has responded well. A week out from the combine, though, he has not clocked an official 40-yard dash, only working on the 10-second and 20-second intervals and a "flying 40" that allows him a running head start.
He is behind the competition because of the injury that stole the last half of his senior season from him and the USC fans who loved watching him maul opposing quarterbacks. But Gustin has been preparing for the combine for the last decade with every move and every decision he has made. How long have the other guys devoted themselves to becoming physical freaks? Three months?
Sign up for our daily sports newsletter »
This week is made for Gustin, the gritty and chiseled 6-foot-5, 260-pound outside linebacker, and his intention is to enjoy the fruits of his labor.
"It's something I've always planned on, you know, just dominating," Gustin says. "Which makes it tough, because I feel like if I would have stayed healthy, I would have been training for this 100% full go since the end of the season and it would have given me a big advantage."
It is Lewis' job to watch out for Gustin at this crucial time, with millions of dollars potentially on the line, but he can't resist the temptation of turning Gustin loose in Indianapolis.
"There's no bigger stage to be able to put on a show, no bigger stage to be able to improve your draft stock," Lewis says. "I'm ready to unleash him. Our goal is to have everybody be like, 'Who stole the show at the combine? Porter Gustin.' I want him all over every station, ESPN, I want everyone to say, 'This is amazing. We weren't expecting him to run,' so everyone wakes up again. In my opinion, there's no better pass rusher in the 2019 draft than this kid."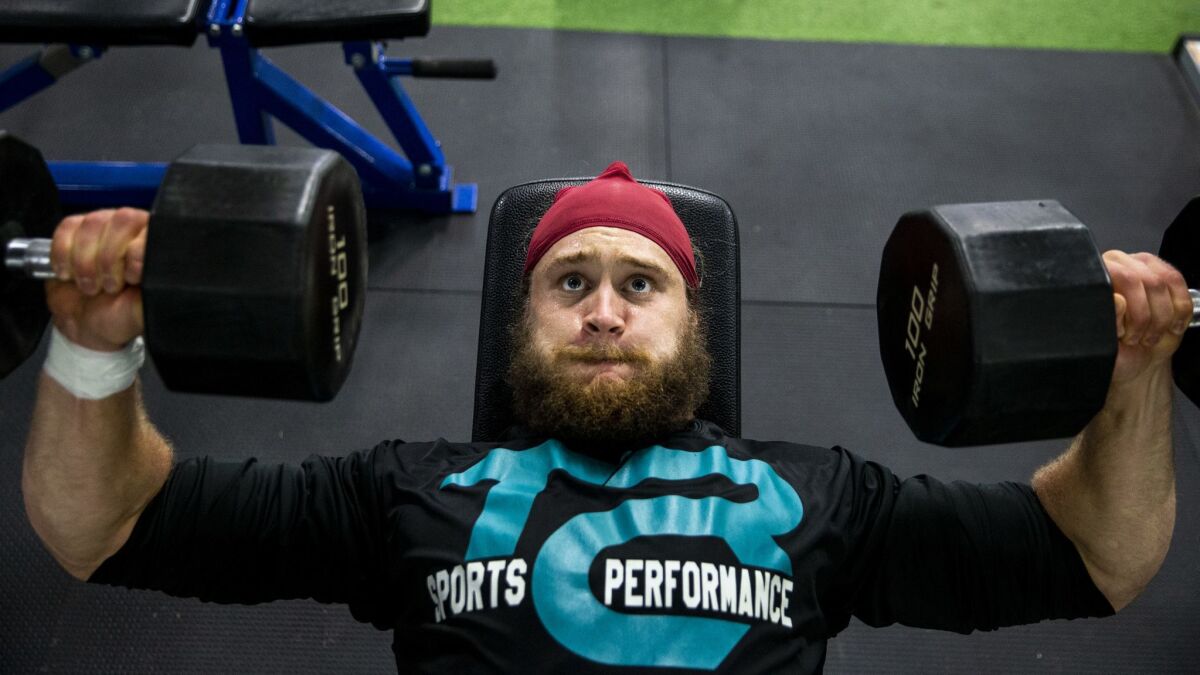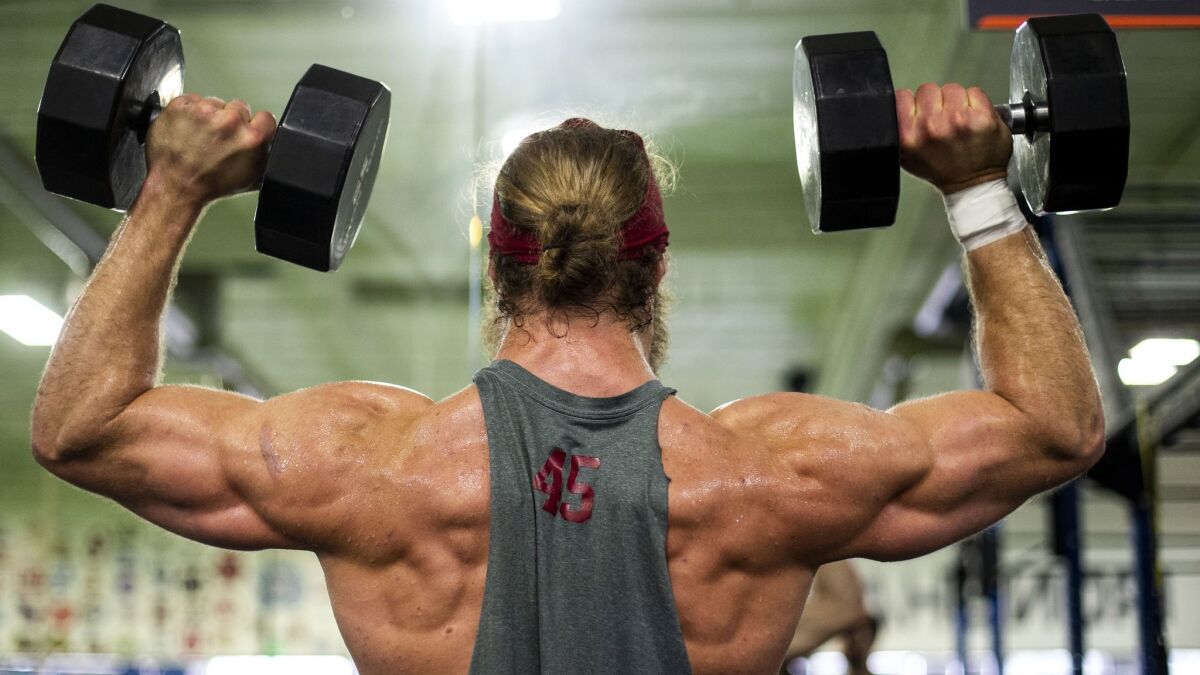 Due to his injury-riddled USC career, there is limited video to back up that assertion. Gustin was certainly on the way to an All-Pac-12 or possibly All-America type season with seven sacks in five and a half games.
Gustin spent much of last summer working with Lewis on top of his training at USC, hoping to prove he could stay healthy for a full season after missing the last 10 games of his junior season because of toe and biceps injuries. But Gustin tore the meniscus in his knee a week into camp and had surgery. It was only a two-to-three-week recovery, which was viewed as a victory. Gustin was back for the season opener, but he says the knee injury led to overcompensation in other areas.
A bone spur developed near the front of his right ankle, but that did not keep him from playing against Colorado on Oct. 13 in the Coliseum. USC had the game in hand in the fourth quarter, so Gustin thought he was done for the night. But the Buffaloes recovered an onside kick late and, all of a sudden, Gustin's coaches were asking him to help them finish the game. He would never say no to that.
Soon, a Colorado lineman pushed him awkwardly, and Gustin felt his ankle snap.
"Just a chain of unfortunate events," Gustin says. "It's something you can't really control. It's crazy. Who would have known?"
Gustin, to a fault, is always ready to roll. Saying no to any extra rep — much less the chance to play in one of 12 college football games a season — is akin to saying no to the skinny eighth-grade kid who still lives inside of him.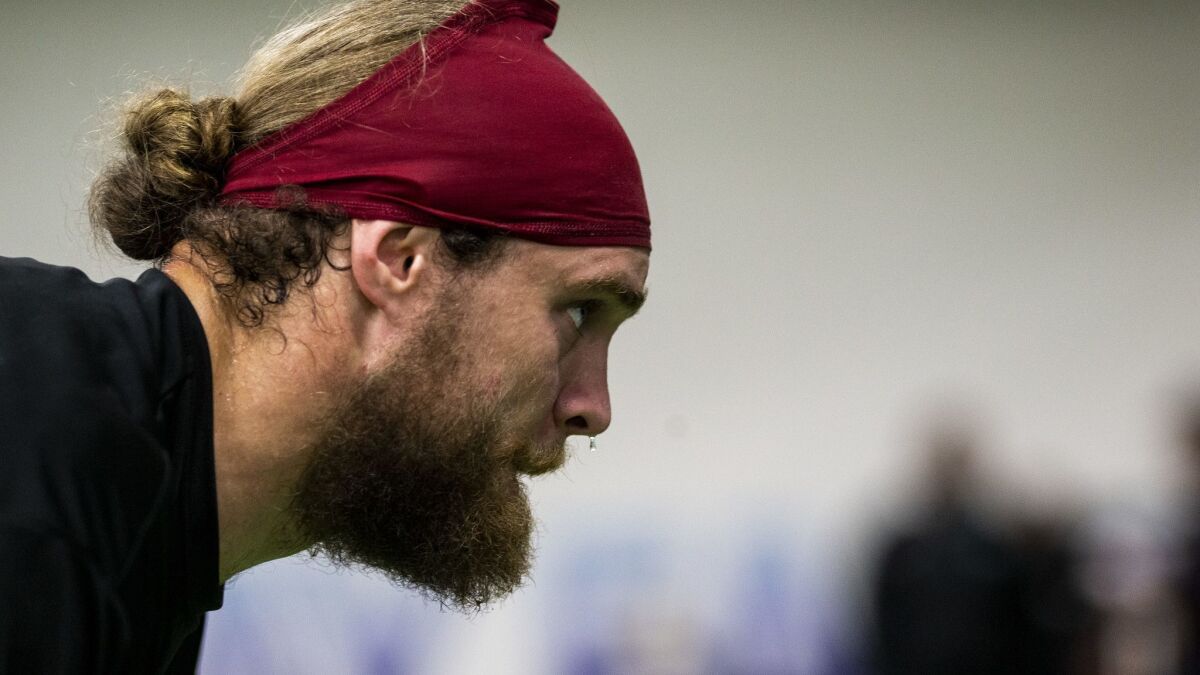 Gustin was not born with the genetics to be a Greek god. Growing up in Salem Hills, Utah, he was a thin boy who played wide receiver and quarterback until he decided that he was going to do whatever it would take to become the first kid from his hometown to play major college football. He gave up eating all junk food and started lifting weights.
"I was a late bloomer," Gustin says. "Everybody kind of started to become a man before me. It kind of clicked for me that you're going to have to do something that's uncomfortable."
His junior year, Gustin was still built like a quarterback, but he also played outside linebacker. That season, he broke both his hands on a quarterback sneak gone horribly wrong, which forced him to focus on defense. He started to see his work pay off on defense, and his first scholarship offers started to come in.
Over the next five years, he'd put on about 50 pounds of muscle. He quickly figured out that, due to his natural size, he would have to eat 10 to 12 meals per day to train the way he wanted to train and still keep the weight on.
Because there are only so many minutes in the day to eat, Gustin blends half his meals into shakes using Muscle Milk. He carries a Ninja blender with him all day, finding electrical outlets on the go. Before a recent workout, Gustin blended and chugged two meals — one with shrimp and pasta and another with turkey, rice, broccoli and quinoa.
After the second chug, remnants of his shake were caught in his scraggly beard.
"Worst thing about having a beard," he said with a laugh.
Gustin has chosen to spend the majority of his days working out in front of a mirror, the reflection of his sculpted body staring back at him, serving as a monument to his sacrifice. But his body has also let him down, again and again. Has he asked too much of it?
He can't think about that now, with so much at stake and so little time to prepare for what will be the most important workout of his life. Lewis is limiting his reps, so Gustin is having to train his mind as much as his body.
"It's frustrating," Gustin says. "I need to do this now so I can do it at the combine. But more reps is not the answer when you're coming back from something like this."
Gustin needs rest to recover, but his nerves are affecting his sleep now.
"It keeps me up," he says. "I'm sitting there watching film of me doing it over and over again and watching other guys and seeing what I can do better. I'm taking mental reps because I can't take all these physical reps.
"When I do it, I only have a couple reps to get it right. I'm thinking about it all hours of the day. That's how it has to be."
Twitter: @BradyMcCollough
---
Get the latest on L.A.'s teams in the daily Sports Report newsletter.
You may occasionally receive promotional content from the Los Angeles Times.