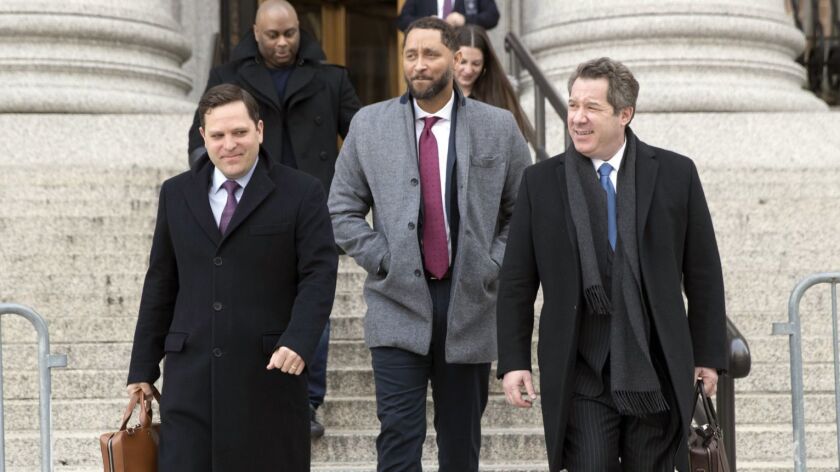 The attorney for Tony Bland contended Wednesday that the former USC associate head coach shouldn't serve prison time after pleading guilty in the federal investigation into bribery and corruption in college basketball.
In an 18-page letter filed in U.S. District Court in Manhattan, Jeffrey Lichtman asked Judge Edgardo Ramos to be lenient.
"A life filled with extraordinary good deeds, overcoming a bleak childhood and rising above his family's poverty has been marred by his criminal actions," Lichtman wrote. "He is the rare defendant who has given so much to others — when no one was watching, when he had no need to impress a judge deciding his fate."
Bland pleaded guilty in January to a felony count of conspiracy to commit bribery as part of a deal with prosecutors. He is scheduled to be sentenced May 29.
The former coach admitted to accepting a $4,100 bribe during a Las Vegas meeting in July 2017 in exchange for directing USC players to use a sports management company led by aspiring chief executive Christian Dawkins and financial advisor Munish Sood.
Though the sentencing guideline in Bland's agreement with prosecutors calls for six to 12 months in prison, Lichtman noted the term can instead be fulfilled with probation. He cited a variety of mitigating factors, including Bland's lack of a criminal history, community service and a difficult childhood when he was "exposed to violence and mental illness" at home.
Three men convicted of wire fraud and conspiracy to commit wire fraud in October in a trial linked to the investigation — Dawkins, Adidas employee Jim Gatto and former Adidas employee Merl Code — each received between six and nine months in prison despite substantially more money being involved.
Dawkins and Code were convicted this month of bribery and conspiracy to commit bribery in a second trial stemming from the investigation. The jury acquitted the defendants of charges they victimized universities including USC.
"Of all the defendants charged in the investigation of crimes involving college basketball, there can be no question that Tony Bland is the least culpable," Lichtman wrote. "In addition, we think it fair to suggest that the University of Southern California … is not the usual crime victim in a typical federal bribery or fraud case."
Three other former college assistant coaches — Lamont Evans (Oklahoma State), Chuck Person (Auburn) and Book Richardson (Arizona) — have also accepted plea deals and will be sentenced later this year.
Twenty letters from Bland's friends and family attached to Lichtman's filing emphasized the former coach's remorse for becoming entangled in the scheme that led to his arrest by FBI agents in September 2017 and eventual termination from USC.
Sign up for our daily sports newsletter »
"He recognizes how his actions have hurt his family, friends, the university, NCAA and the young athletes that were involved," one friend wrote.
Prosecutors originally charged Bland with accepting a $13,000 bribe from an undercover FBI agent posing as an investor in the sports management company during the Las Vegas meeting. Bank records previously detailed by the Los Angeles Times, however, showed Dawkins deposited $8,900 in cash the same day.
The $4,100 Bland eventually pleaded guilty to accepting is the difference between the Dawkins deposit and the bribe amount.
"His life has been forever changed," another longtime associate of Bland's wrote, "and, as we have talked, I can see the maturity this experience has caused him to accept."
Twitter: @nathanfenno
---