USC quarterback Sam Darnold spreads the ball around in rout of Arizona State, 41-20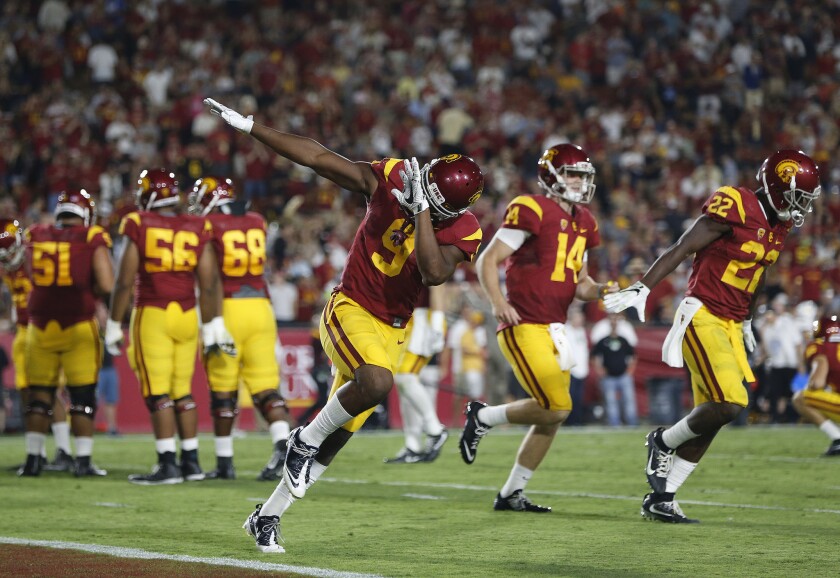 Like a man kicking off a slipper, JuJu Smith-Schuster stepped out of an ankle tackle after receiving a short pass in the second half of USC's 41-20 win over Arizona State on Saturday evening.
He ran along the numbers, then knifed all the way across the Coliseum field, adding considerable distance onto what was, officially, a 67-yard touchdown. Half of USC's offense joined him in the end zone.
USC was up four scores, and making it look easy. Finally, here was a commanding performance, in its fifth game of the season. Smith-Schuster embraced his teammates, smiled and breathed in big. Then, he exhaled.
By Saturday, tension had been ratcheting. USC's season had launched on a trajectory toward oblivion, with an embarrassing blowout to Alabama, two losses to start Pac-12 play and a growing sense of dissatisfaction around the program that threatened to swallow the season.
"That September is one I don't want to remember, to be honest with you," USC Coach Clay Helton said afterward. "This was an important game for us."
USC (2-3, 1-2 in Pac-12) earned a needed reprieve, quashing those questions, at least for the evening, with a therapeutic performance against the Sun Devils (4-1, 1-1). The game provided an antidote to most of what ailed the Trojans all season.
USC hadn't applied pressure. It sacked Arizona State three times, all in the first half, tying a season high.
USC hadn't figured out its running back rotation. It fed the ball to Justin Davis, who ran 14 times for 123 yards and a score.
USC hadn't been able to get out of its own way. It avoided any turnovers, and committed only four penalties for 35 yards.
And then there was Smith-Schuster, the Trojans' most combustible offensive weapon, who had been held in check through the first third of the season. He'd suffered the indignity of four straight games of fewer than 100 yards. Earlier in the season, he'd fought with teammates at practice and fumed off the field.
Against the Sun Devils, the worst passing defense in the the nation, Smith-Schuster found cavernous gaps in the secondary. He caught seven balls for 123 yards, and three touchdowns, the other two on a slant near the goal line and a wide-open reception in the corner of the end zone.
Smith-Schuster's reawakening has coincided with the ascendance of quarterback Sam Darnold, who replaced Max Browne as the starter before last week's loss to Utah. Darnold, a willing improviser in possession of a powerful arm, completed 23 of 33 passes for 352 yards and three touchdowns. He rushed for another touchdown.
One of his most useful skills has been avoiding the rush, at times with balletic grace, at others by throwing around his large frame. He wasn't sacked all evening. In the second quarter, when the hole collapsed on a designed quarterback draw, he pulled up and found an attentive teammate, Deontay Burnett, near the sideline. The ad-libbed completion went for 15 yards.
"It's easy to spread the ball around, and when you can do that it makes JuJu that much more valuable," Darnold said.
The Trojans solved their rotation quandary at running back by mostly abandoning it. Davis tore through a defensive front considerably more capable than Arizona State's secondary.
His 49-yard, knee-buckling run in the first quarter set up USC's first score. It was, perhaps, USC's best drive of the season: eight plays, 95 yards, covered quickly in big chunks.
Davis' weaving, toe-tapping, 21-yard reception in the second quarter set up USC's second score. He finally got a touchdown for himself later in the period by scything 37 yards for the score.
The Trojans led 27-6 at halftime.
The defense, meanwhile, released the frustration from a fourth-quarter collapse a week ago on the Sun Devils, who entered the game running a head-spinning 80.5 plays per game and were ranked seventh in the nation (and first in the Pac-12) in scoring offense, with almost 49 points a game.
On Saturday, Arizona State managed 75 rushing yards, a season low by a wide margin. USC outgained the Sun Devils, 522-303, another season low for Arizona State. Its 16 first downs and 70 plays were, again, a season low.
The Sun Devils didn't manage a touchdown until the fourth quarter, when they scored two against USC's backups.
The win was Helton's first against a Pac-12 foe since he became the full-time coach last season. He nudged his official record as USC's full-time coach to 2-5.
The halting start had rankled former players, and the discontent had seeped into USC's locker room. Davis said current players had begun to grow agitated.
"We're at USC and we're 1-3. That's just — it's outrageous," Davis said. He said USC's players felt as though they were letting down their forbears.
"You don't lose at USC. Period. That's just how it is," Davis said.
Helton said he was relieved to earn the win. He said the coaching staff decided to be "ultra-aggressive," as if it had nothing to lose. Early in the game, he opted to go for it on fourth and three behind the 50-yard line. It didn't work, but it was a departure from past games.
Still, USC is tempering the meaning of one evening.
"It's just one win," cornerback Adoree' Jackson said. "We can't celebrate and have a jolly old time because we won a game."
Follow Zach Helfand on Twitter @zhelfand
---
Get the latest on L.A.'s teams in the daily Sports Report newsletter.
You may occasionally receive promotional content from the Los Angeles Times.