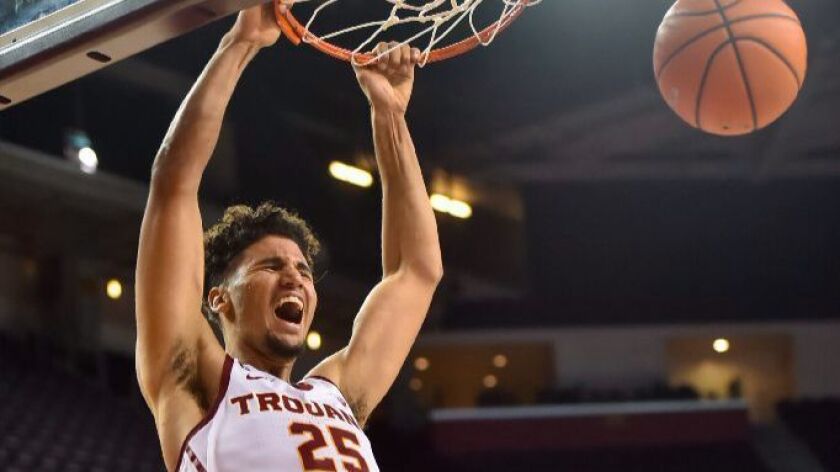 At one point in USC's nervy 75-65 win over North Dakota State on Monday, forward Bennie Boatwright missed a free throw, got the ball back and began speaking at it.
Later, he explained that he thinks of the ball as his girlfriend. Communication, he said, is key.
"Her name's Spaulding," Boatwright said — overlooking the fact that USC uses Nike basketballs. "Sometimes you gotta talk to her and make sure she goes into the basket. She doesn't want to listen. She's hardheaded."
The ball listened on Monday. In a game when North Dakota State (0-2) led USC by 10 points in the first half, and five points midway through the second half, Boatwright was there to bail out the Trojans.
He made 10 of 17 shots. He grabbed eight rebounds. He scored 28 points to set a career high, breaking the previous mark of 24 he scored against Providence in the opening round of the NCAA tournament last season.
He needed just one three-pointer. Thirteen of his 17 attempts came in the paint.
"He's becoming a more versatile player," coach Andy Enfield said.
Otherwise, it was a listless offensive game for USC. North Dakota State finished second in the Summit League last season but lost by 19 points to UC Santa Barbara in its season opener and is ranked No. 210 in the country in Ken Pomeroy's ratings. Yet the Bison led by five points with about 10 minutes to go.
They would score just four points over the next eight minutes. USC embarked on a 19-4 tear powered by its three rocks: Boatwright, guard Jordan McLaughlin and forward Chimezie Metu. It gave No. 10 USC (2-0) enough cushion to absorb a brief North Dakota State spurt in the final two minutes.
McLaughlin scored 12 points to go with eight rebounds and four assists. Metu contributed 14 points with seven rebounds.
At this time a year ago, Boatwright was sitting on the bench with back spasms, the first injury in a season marred by them. Enfield said that a fully healthy Boatwright is a different player.
"If you look at his body and his conditioning and his explosiveness and his quickness, it's much better," Enfield said.
For the second game in a row, guard De'Anthony Melton watched from the sideline in a sweatsuit, out of uniform, held out because of eligibility concerns following the indictment of associate head coach Tony Bland. Bland was accused by federal prosecutors of, among other things, facilitating a payment to the relatives of a USC player.
Melton's attorney said at the time that she hoped the matter would be resolved this week so Melton would be able to return to the court.
USC could've used his defensive skills against North Dakota State's Cameron Hunter. He scored 24 points. No other North Dakota State player managed double figures.
Hunter helped North Dakota State make 10 three-pointers total. USC had just four. Its free-throw shooting was worse: 55%.
Much of USC's first half was consumed with missing everything: three-pointers, mid-range, free throws.
"We did not play well offensively," Enfield said. "We missed open shots, we missed layups, we missed dunks and we missed 14 free throws."
The Trojans went one stretch, just shy of six minutes, without making a field goal. The Bison pounced. During USC's drought, the Bison hit four three-pointers. For several minutes, their bench made more noise than the rest of the 2,402 in attendance at Galen Center. They led by 10 points with three minutes left in the half.
Boatwright lined up a three-pointer from the top of the key. He made it, drew a foul and made the free throw, too. USC was off.
Boatwright made another basket. McLaughlin contributed a two. Then Boatwright again, on a putback. North Dakota State held for the last shot of the half. But guard Elijah Stewart purloined a lazy dribble. He dished to McLaughlin, who made a layup as the clock expired. The teams went to halftime with the score tied at 33.
North Dakota State owned large swaths of the game, but USC controlled the closeout.
By the time Shaqquan Aaron threw down a dunk, the game's final points, with 26 seconds, USC could exhale. USC was up by 10. The feeling was relief. The public address annoucer decided Destiny's Child was the proper tone for the mood. The announcer played their song "Survivor."
Follow Zach Helfand on Twitter @zhelfand
---