USC's Andy Enfield continues search for game-changing point guard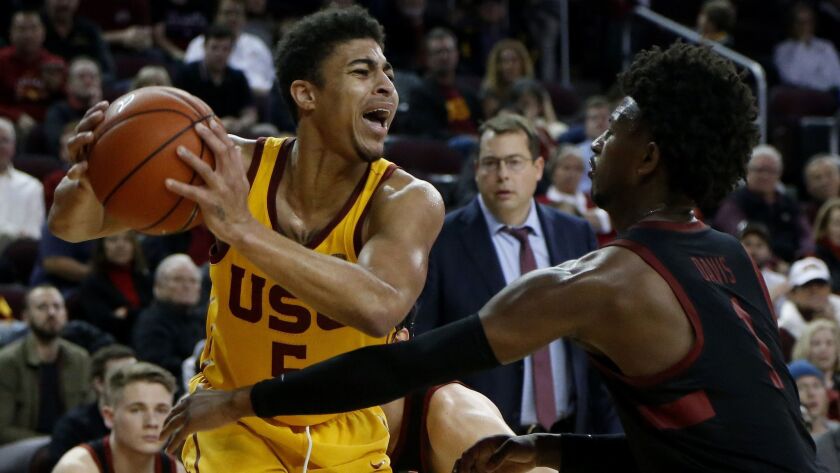 The best of USC basketball under Andy Enfield had a distinctive look. There was Jordan McLaughlin bringing up the ball and initiating the pick-and-roll action. There was Chimezie Metu coming to set the screen for McLaughlin and then diving toward the basket. Or, if Bennie Boatwright was the pick man, McLaughlin would more likely look for him to pop out for an open jumper.
No matter what ended up happening on a possession, Enfield expected McLaughlin would make the right read at the right time.
The vision for the future of Enfield's program, despite undergoing what has thus far been a setback season, will have pieces in place that could take the Trojans to the next tier, from annual NCAA tournament hopefuls to contenders.
A consensus top-five recruiting class in the nation arrives at USC next fall. It is conceivable to see five-star center Onyeka Okongwu of Chino Hills stepping into the Metu role, along with would-be senior Nick Rakocevic, and five-star forward Isaiah Mobley of Temecula Rancho Christian functioning as an even more athletic version of Boatwright. But there is one role that remains unassigned, and it's the most crucial one to fill.
The whole scene falls apart rather quickly if the Trojans don't have a lead guard to serve as the unquestioned front man.
"Correct," said USC assistant coach Chris Capko, who has spent the last few years scouring the country for the Trojans' next floor general. "Andy gives point guards a lot of freedom, and it's a gift and a curse sometimes. Everyone wants the freedom, but when it comes to winning, not everyone can handle it and still win games. At the same time, that's what helps you grow, when you make mistakes and learn on the fly and reflect back."
Twenty-five games into Enfield's search for McLaughlin's replacement, the sixth-year USC head coach has not found that man and has had no choice but to grimace through the growing pains of junior Derryck Thornton and freshman Elijah Weaver.
Thornton, who transferred after one season at Duke and is in his first season as a starter for USC, has shown flashes of getting it — like the opening weekend of Pac-12 play when he had a combined 21 assists in wins over California and Stanford — but appears to have hit a wall. In the Trojans' current three-game losing streak, he has not registered an assist in any first half and more notably has not made the winning plays down the stretch.
In USC's 79-76 loss at Stanford on Wednesday night, the Trojans led by four points with 58 seconds left and Thornton going to the line for two free throws. He missed both, and Stanford hit a three-point shot to pull within one. With 13 seconds left, Stanford guard Bryce Wills blew by Thornton for a game-winning layup that was all too reminiscent of the consecutive layups Colorado point guard McKinley Wright IV scored by beating Thornton off the dribble late in USC's loss to the Buffaloes on Saturday night.
USC blew a 14-point first-half lead against the Cardinal and now sits at 13-12 overall and 6-6 in the Pac-12 entering Saturday's game at Cal.
In USC's conference wins, Thornton has averaged 9.5 points and 7.3 assists. In its league losses, he has averaged 5.5 points and 2.5 assists.
Weaver, a four-star recruit from Cocoa, Fla., who created a buzz during summer workouts, has a good excuse for not making an instant impact. He underwent ankle surgery in August and missed three months, including all of the Trojans' training camp. He's been learning on the fly ever since.
Weaver's injury gave Thornton a window to assert himself as the answer at point guard stretching into his senior season, but it hasn't happened.
"It's a huge key to success of any team," Enfield said. "It's a difficult position to play, and when you have a good one, or a couple good ones, it certainly makes a huge difference. If you look at our wins, our point guard play has been very, very good. When we lose games, our point guard play has been sub-par. We just need more consistency from that position.
"These guys are young players, and we're being patient. We know there's a lot of improvement in both those players, and we're excited about their future. But at the same time, we need to win right now."
To get through his current frustration, Enfield can lean on the past. At Florida Gulf Coast, he recruited a little-known point guard named Brett Comer and handed him the keys from Day 1, knowing that was the only way Comer would learn Enfield's ball-screen-heavy system. As a freshman, Comer averaged 4.3 turnovers per game. The next year, the turnovers went down, the assists went up, and suddenly Comer was the swaggering, lob-throwing point guard leading "Dunk City" to the Sweet 16 of the NCAA tournament.
"He let me take my lumps as a freshman," said Comer, a graduate assistant at Dayton University. "It was really the first year I had ever played point guard. He helped me get situated, taught me the ropes of what I had to do to be the best player I could be."
Once at USC, Enfield handed the team to freshman point guard Julian Jacobs. The Trojans won 23 games combined in two seasons before Jacobs emerged as an All-Pac-12 first-team guard and led USC to the NCAA tournament as a junior.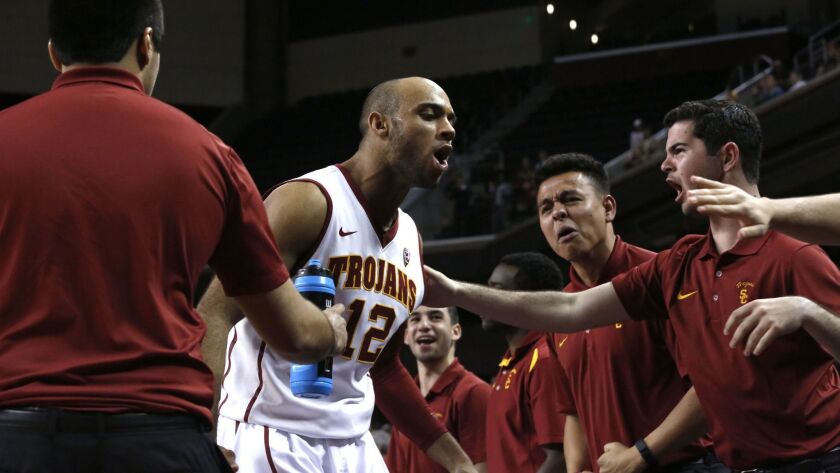 "Julian Jacobs and Jordan McLaughlin and DeAnthony Melton, they were all dynamic players that took time to develop," Enfield said.
Capko played point guard at South Florida from 2004-07 and recruits in the South for USC. He found Weaver, who picked the Trojans over Florida in a bit of a shocker.
"When you miss three months as a freshman, that's a lot," Capko said. "By the time he was ready to go, we probably had 40 to 50 plays already in. You've sat on the side trying to watch them, but now you've got to play and get other people in their spots. His head is spinning a little bit."
Said Weaver, "That's what my freshman year has been about. It's been a learning curve. There's an opportunity for me to come into practice and be consistent and show them they can trust me, and that will give me more minutes."
If Thornton and Weaver haven't progressed enough by the summer, Kyle Sturdivant, a four-star USC signee out of Norcross, Ga., will be there to push them. Capko was at Norcross two years ago to see a teammate of Sturdivant and basically offered him a scholarship on the spot.
"Kyle is a great decision-maker," Enfield said. "He's got a good change of speed, and the most impressive thing about him is he makes the right pass at the right time. He has an ability like an NFL quarterback to see things as they're happening and make the pass in advance, before a guy might cut. We expect him to be college-ready and help us."
Sturdivant said he always liked USC because of O.J. Mayo and was sold by Enfield on the way his point guards get to feel the flow of the game and read and react.
Sign up for our daily sports newsletter »
On a visit to Los Angeles last year, he met McLaughlin, and the two have kept in touch. Sturdivant said he texted with McLaughlin this week about life in the NBA G League.
At the very least, Sturdivant understands Enfield's expectation for the role to which he's applied — a role that remains open for anybody to take.
"Most importantly," Sturdivant said, "he wants the point guard to be a leader. He feels like everyone feeds off him. If I come out selfish and jacking shots, everyone else will do that. If I come out and play hard and have energy, everyone will follow."
UP NEXT
AT CALIFORNIA
When: 5 p.m.
Where: Haas Pavilion.
On the air: TV: Pac-12 Networks; Radio: 710.
Update: The Golden Bears remain winless in the Pac-12 at 0-12 after a 75-67 overtime loss to UCLA on Wednesday night. Cal is led by guard Justice Sueing, who averages 14.9 points and six rebounds per game. Point guard Paris Austin sets the team in motion with 4.5 assists per game. USC is looking to snap a three-game losing streak and stay within striking distance for a top-four finish and a first-round bye in the conference tournament.
Twitter: @BradyMcCollough
---
Get the latest on L.A.'s teams in the daily Sports Report newsletter.
You may occasionally receive promotional content from the Los Angeles Times.