Former USC safety Bubba Bolden reveals reason he left the Trojans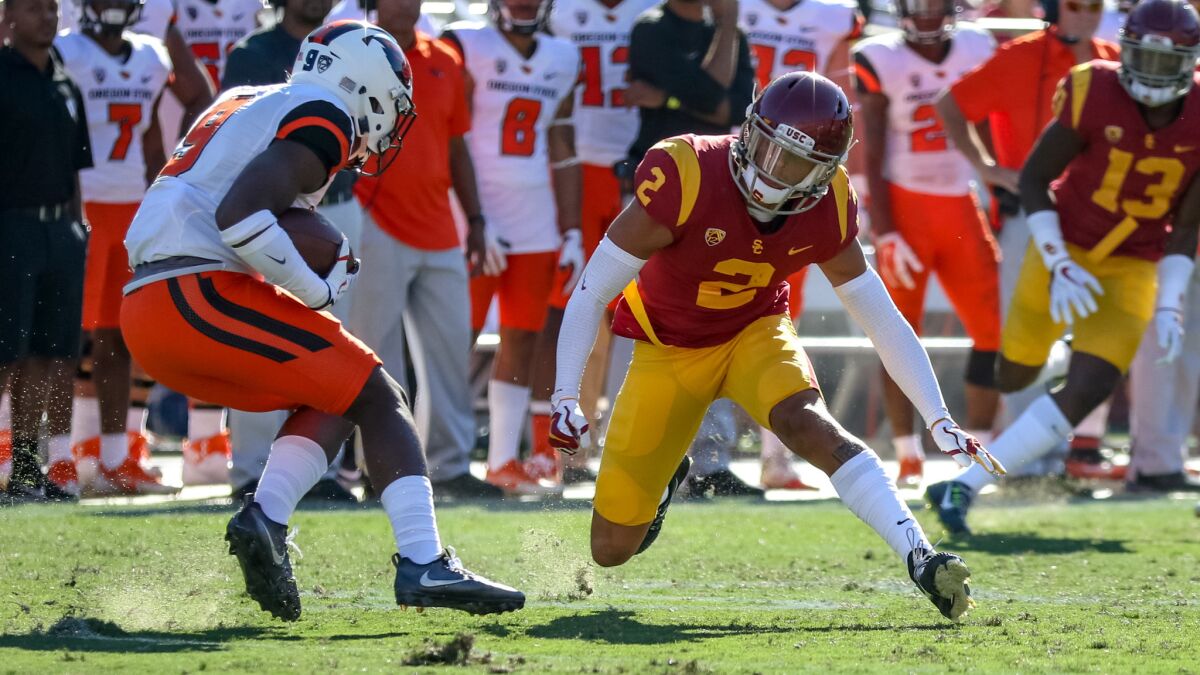 A day after the USC football team officially removed Bubba Bolden from its roster, saying he was no longer enrolled at the school, Bolden posted an explanation for his departure on his Instagram account, ending weeks of speculation about his unexplained absence from the team.
Bolden said that USC's office of Student Judicial Affairs and Community Standards (SJACS) "believes that I am responsible for violating the student code of conduct pertaining to underage drinking at an off-campus party back in February 2018 wherein I participated in mutual trash-talking with fellow partygoers. As the vibe at the party turned unfriendly, I left with several friends. Approximately nine days afterward, the party hosts reported feeling threatened by me that night, which sparked a USC SJACS investigation."
Bolden said that USC's chief threat assessment officer did not find him to be a threat. But, "USC's Title IX Office declined to even open an investigation. I was not charged with any criminal activity and several party-goers refuted the allegations. SJACS sanctioned me with a 28-month suspension based on the projected graduation date of the party hosts."
USC coach Clay Helton has declined to discuss the matter. Bolden earned a starting job at strong safety entering the season opener, but two days before the game, Helton announced Bolden did not practice and the Las Vegas native would not be available against Nevada Las Vegas.
Bolden said he has a "heavy heart" to withdraw from USC, his dream school.
"My behavior at the party was not reflective of my character which my family, friends, teammates and many more admire, and for this I am truly sorry," he said. "At this point, I'm 100 percent committed to ensuring that the lessons I've learned on and off the field will carry me to the next level."
Twitter: @BradyMcCollough
---
Get the latest on L.A.'s teams in the daily Sports Report newsletter.
You may occasionally receive promotional content from the Los Angeles Times.