Former USC safety Bubba Bolden is reinstated by the university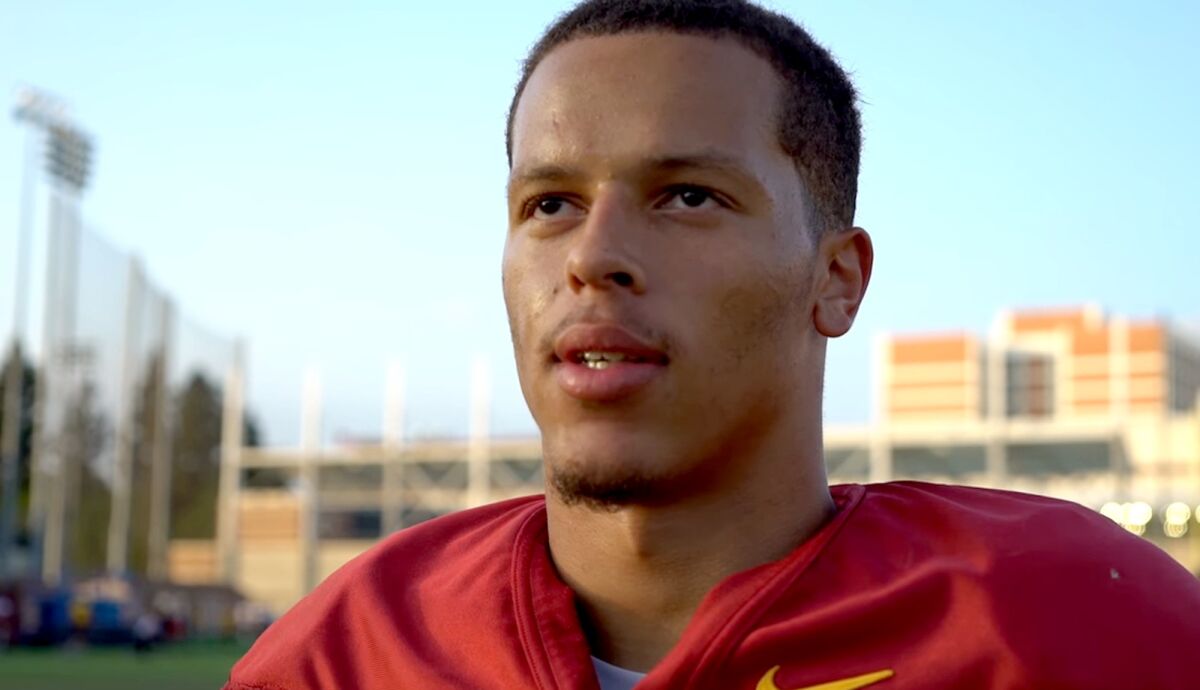 Former USC safety Bubba Bolden has been reinstated to the university, the school said in a statement Monday afternoon.
The question now is whether Bolden, who left USC in October because of a 28-month university suspension for an alleged violation of the student code of conduct, will enroll for spring classes at USC or continue on his current path toward transferring to another school for the 2019 season.
"Because of recent state court rulings changing the procedures required during an investigation, the office that oversees student discipline at USC is reopening an investigation involving Bubba Bolden, a former safety on the football team," the university statement said. "As a result, he will be permitted to return to classes for the spring semester if he so chooses, pending the outcome of the reopened investigation. Because the case involves student disciplinary matters that are protected by privacy laws, USC is unable to provide additional details."
A USC spokesman said it is up to Bolden to choose to return to the school. The spring semester begins Jan. 7.
Bolden had earned a starting position in 2018 fall camp, but, just days before the season-opener, USC coach Clay Helton announced Bolden would not be available for the game and said he could not provide any more details on the matter.
On Oct. 7, a day after USC officially removed Bolden from its roster, the sophomore from Las Vegas posted an explanation of what had happened to his Instagram account.
While USC says an investigation into Bolden will be reopened, Bolden said there was not much of an investigation to begin with.
Bolden said that USC's office of Student Judicial Affairs and Community Standards (SJACS) "believes that I am responsible for violating the student code of conduct pertaining to underage drinking at an off-campus party back in February 2018 wherein I participated in mutual trash-talking with fellow partygoers. As the vibe at the party turned unfriendly, I left with several friends. Approximately nine days afterward, the party hosts reported feeling threatened by me that night, which sparked a USC SJACS investigation."
Bolden said that USC's chief threat assessment officer did not find him to be a threat. But, "USC's Title IX Office declined to even open an investigation. I was not charged with any criminal activity and several partygoers refuted the allegations. SJACS sanctioned me with a 28-month suspension based on the projected graduation date of the party hosts."
Bolden was rated a four-star recruit out of high school and the No. 7 safety in the nation.
His return to the team, if the SJACS investigation were to go his way, would be huge for a Trojans secondary that loses cornerbacks Iman Marshall, Ajene Harris, Jonathan Lockett and Isaiah Langley and safety Marvell Tell III to graduation.
Bolden would likely start at safety alongside either Talanoa Hufanga or Isaiah Pola-Mao.
Twitter: @BradyMcCollough
---
Get the latest on L.A.'s teams in the daily Sports Report newsletter.
You may occasionally receive promotional content from the Los Angeles Times.