Appellate court overturns Title IX finding against former USC tight end Bryce Dixon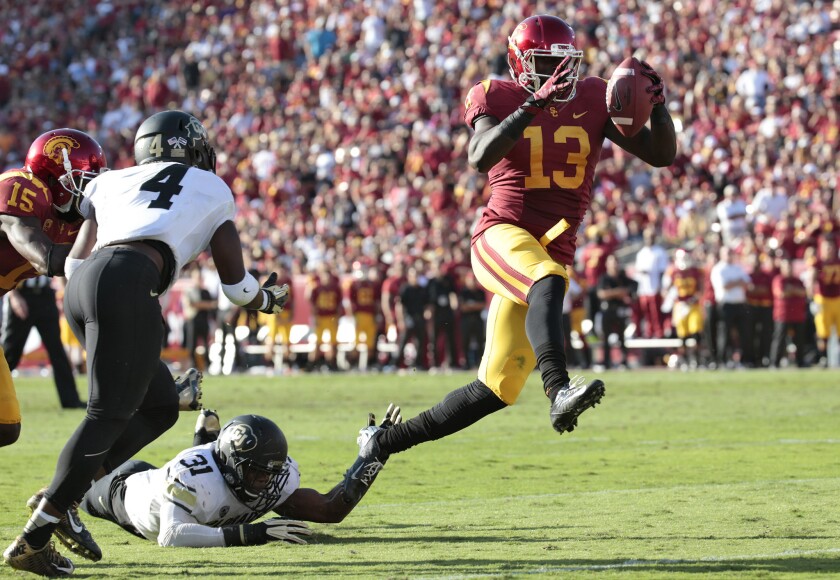 Almost four years after USC expelled tight end Bryce Dixon because a Title IX investigation found he engaged in nonconsensual sex with a student athletic trainer, the decision was overturned by an appellate court that found the school's process to be "fundamentally flawed."
The three-justice panel in California's 2nd District Court of Appeal wrote in an opinion published last week that USC "failed to provide a fair hearing" to Dixon.
"In [Dixon's] case, he was accused of sexual misconduct for which he faced serious disciplinary sanctions, and the credibility of witnesses was central to the adjudication of the allegations against him," the 52-page opinion said.
"In those circumstances, he was entitled to a procedure in which he could cross-examine witnesses, directly or indirectly, at a hearing at which the witnesses appeared in person or by other means before a neutral adjudicator with the power to make finding of credibility and facts. Because USC failed to provide such a procedure, the adjudication findings that he committed sexual misconduct ... cannot stand."
Dixon arrived at USC in 2014 as one of the country's top-rated tight end prospects. But the school found Dixon violated its "affirmative consent" policy on sexual activity during an encounter that fall. USC expelled Dixon in May 2015. He challenged the decision in L.A. County Superior Court, alleging the school's investigation lacked due process. A judge put the expulsion on hold, but Dixon wasn't allowed to rejoin the football team.
Authorities arrested Dixon in January 2016 in connection with a two-day series of violent robberies. Four months later, he pleaded no contest to carjacking and two counts of second-degree robbery and is serving a six-year sentence in state prison.
USC expelled Dixon in August 2016 for the robberies.
"Bryce is paying a necessary, but heavy price for the things he did," Mark Hathaway, Dixon's attorney, said Monday. "But it's apparent USC didn't take care of Bryce in any way. If it had, it's unlikely he would've been in the situation he's been in."
Judge Howard Halm denied Dixon's petition against USC in April 2017 — writing that "substantial evidence" supported USC's decision — and he appealed.
The appellate court's opinion, which examined the differing versions of the October 2014 encounter in graphic detail, faulted USC for giving one person "the overlapping and inconsistent roles of investigator, prosecutor, factfinder, and sentencer" in the matter.
"The university's investigation in this matter was conducted in compliance with its student conduct policies and with state and federal laws in place at the time of the investigation," USC said in a statement. "When this case was investigated and at the time the Superior Court heard the petition, no case in California required a private university to conduct a live hearing or to permit the responding student to confront and cross examine either the complainant or witnesses.
"The courts are making substantive changes to the requirements for Title IX investigations. USC will keep abreast of these evolving judicial interpretations and requirements, and most importantly, remains committed to preventing all forms of misconduct on our campuses, to providing outstanding care to all students, and to ensuring we have policies and procedures that prioritize respect for our students and our entire university community."
Dixon is currently housed at the California Rehabilitation Center in Norco. He is eligible for parole in June 2021.
The three-justice panel ordered USC to pay the costs of Dixon's appeal, but noted he isn't eligible to be reinstated to the school because of the robberies.
"The court decision makes it easier for him to rehabilitate himself," Hathaway said.
The attorney represents two other former USC football players, kicker Matt Boermeester and safety Bubba Bolden, challenging Title IX findings against them.
Boermeester's case is on appeal, following a similar legal path to Dixon, while Bolden is deciding whether to accept USC's offer to return to campus while a new investigation is conducted.
"They're providing no assurances a new investigation won't lead to the same conclusion," Hathaway said.
Bolden petitioned the L.A. County Superior Court in October for a writ of mandate overturning the Title IX decision. The next hearing is scheduled for February.
Twitter: @nathanfenno
---
Get the latest on L.A.'s teams in the daily Sports Report newsletter.
You may occasionally receive promotional content from the Los Angeles Times.