USC stays unbeaten with win over BYU, 91-84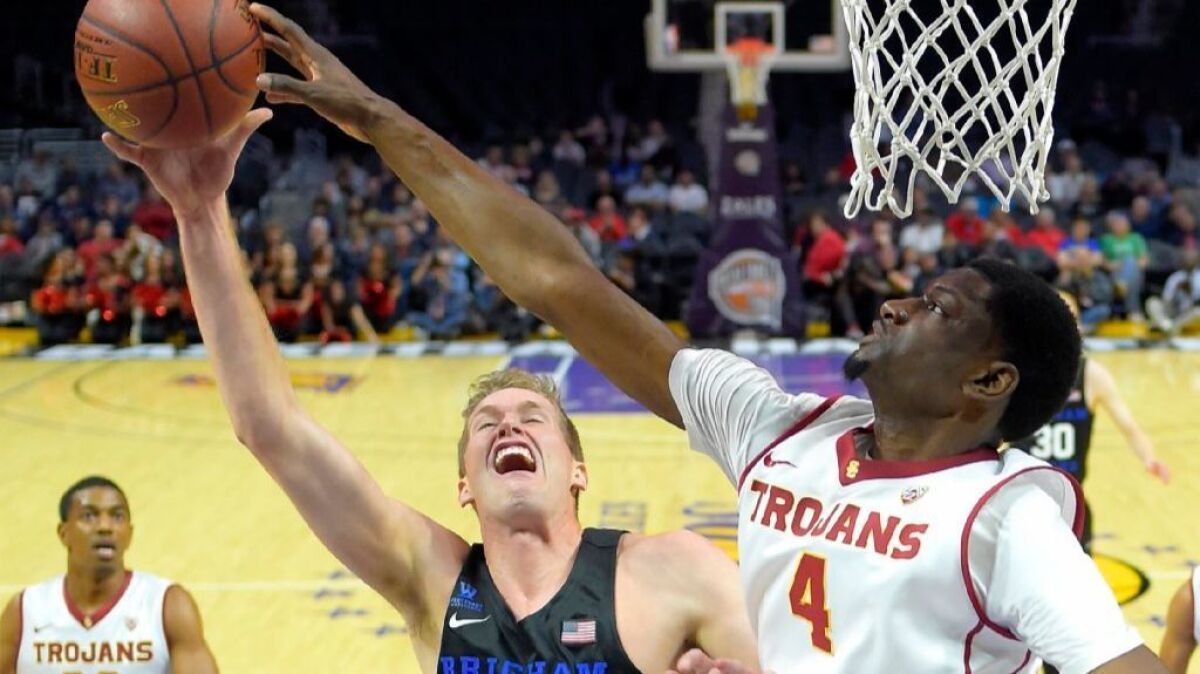 The USC basketball team has endured a string of losses since the end of last season. Four players transferred. Two unexpectedly left for the NBA draft. Last week, its best offensive weapon, forward Bennie Boatwright, sprained his knee, knocking him out for six weeks.
"You see all these gray hairs?" Coach Andy Enfield said, pointing at his head Saturday evening.
Enfield could afford to laugh. He added: "We have very good players."
Those players have found sanctuary on the court, where USC has marched on undisturbed by the turbulence. Only 12 undefeated teams are left in the country. USC remained one of them with a breezy 91-84 victory over Brigham Young on Saturday at Staples Center.
USC (8-0) tied the program's best start to a season since 2000. Another win would mark USC's best start since 1971.
The Trojans' nonconference schedule is mostly toothless, but they did schedule three legitimate tests: on the road at Texas A&M and in Los Angeles against Southern Methodist and BYU. The Trojans have survived all three. Only the game against Texas A&M was in doubt late.
Five games remain in the nonconference slate. Among them, only Missouri State (86) ranks within the top 150 in the USA Today Sagarin ratings.
Boatwright's absence was felt like the loss of an appendage early in Saturday's contest. USC began out of sorts. It made only one of its first 17 shots.
In that span, the Trojans missed seven layups, two dunks and "a lot of easy shots that we usually get," guard Shaqquan Aaron said.
USC scored only two points in almost eight minutes, but BYU's biggest lead was only 10. USC's defense had been enough to keep from drowning.
Enfield gained notoriety for his "Dunk City" offense at Florida Gulf Coast. But the early-season winning streak has been marked by defense. The Trojans had 11 steals against BYU and four blocks. BYU (5-3) turned the ball over 16 times.
"We've been defending well all season," Enfield said. "It's why we're 8-0."
But BYU had been averaging 88 points per game. USC knew it would need to outgun the Cougars. Earlier in the week, Enfield theorized that no single player was capable of replacing Boatwright's scoring. It would have to be a team effort, he said.
Players took turns Saturday. First it was Aaron, who made four three-pointers in the first half to drag USC from its early deficit to a 39-32 halftime lead. Aaron finished with 19 points.
Then point guard Jordan McLaughlin reignited. His scoring average dipped to 10 in USC's first seven games, but against BYU, he made eight of 12 shots for 24 points, six rebounds and two steals, all season highs. He also added four assists.
"I just go with the flow of the game," McLaughlin said. "If I'm open, I have the confidence to knock down shots."
When BYU threatened late, freshman point guard De'Anthony Melton hit a momentum-killing three-pointer.
Elijah Stewart also contributed 15 points and five rebounds.
"When a man's down," Aaron said, "everybody's got to step up."
Without Boatwright, Enfield said, USC's system has mutated. Boatwright's combination of size and ball skills cannot be replicated, so USC compensates by going bigger or smaller. When it goes big, the offense slows down, shifting from the perimeter to more heavily inside. When it goes small, its defense must compensate with zone.
"It's doesn't mean we have to be a worse team without him," Enfield said. "We can still play well like we did today. But it's just different."
The Cougars attacked USC's short-handed frontcourt with its talented forward Eric Mika. Mika made 10 of 16 shots for 29 points in 28 minutes along with nine rebounds.
"We couldn't stop him," Enfield said.
Mika was largely responsible for freshman forward Nick Rakocevic, who started in place of Boatwright, fouling out in just 10 minutes. Forward Chimezie Metu also fouled out trying to slow down Mika, though Metu lasted 31 minutes.
But by then, USC had built itself a comfortable lead, and the missing forwards didn't stop its march to an eighth-straight win.
Follow Zach Helfand on Twitter @zhelfand
---
Get the latest on L.A.'s teams in the daily Sports Report newsletter.
You may occasionally receive promotional content from the Los Angeles Times.