Is USC's offense improved? The Trojans are about to find out
USC coach Clay Helton's successful return to calling offensive plays last weekend came with an asterisk: The Trojans were playing against Oregon State's sieve-like defense.
A homecoming affair Saturday night with California will present a much more accurate reading of whether the USC offense has improved. The Golden Bears, coached by former USC defensive coordinator Justin Wilcox, are 19th nationally in total defense, allowing just 323.2 yards per game. In their last two games, they held Washington to 10 points and Washington State to 19, falling just short of consecutive upset wins last Saturday in Pullman.
There were a few noticeable tweaks to USC's attack with Helton back in his old role as play caller. The Trojans went with a quicker tempo in an effort to create better flow. They also had quarterback JT Daniels playing under center more often, which made it easier for the running backs to hit the hole. On third-down passing situations, more intermediate routes were available to Daniels, who depended less on throwing downfield to move the chains.
Those changes could help again against California, but to Helton, the formula for sustained success Saturday is pretty simple.
"What I'm hoping for from this offense is a level of consistency week in and week out, and it starts with the running game," Helton said. "It always will. When you look up and see 500 yards in a day, it's usually because we ran the ball very well, and that opens up the passing game."
Against the Beavers, who are 125th nationally in rush defense, the Trojans were able to assert their will. USC's running backs were hardly touched before they got to the second level. That won't be the case against the Golden Bears, who are 39th against the run and will aim to force Daniels to beat them in predictable third-down passing situations.
Wilcox and California defensive coordinator Tim DeRuyter are aggressive-minded in their scheming and excel at confusing opposing quarterbacks with their pre-snap and post-snap adjustments in coverage.
"This was probably the toughest game for Sam [Darnold] last year," Helton said, "because of coverage disguises. They do a tremendous job of showing you one thing and bailing to another. Coach Wilcox is a masterful defensive coach, and you put Coach DeRuyter with him, that combination, they make it hard for you."
When USC can run the ball, it can create easy scenarios for Daniels with play-action passes in favorable down-and-distance situations.
"Their scheme is as good as we've seen," USC quarterbacks coach Bryan Ellis said. "They give you nothing easy. As a coach, when you're game planning, that's the first thing you look for, what formations do I get the simple ones? And there are no simple ones. It's going to be a great challenge for us to run the football and to be able to play-action off of that stuff to find some throws."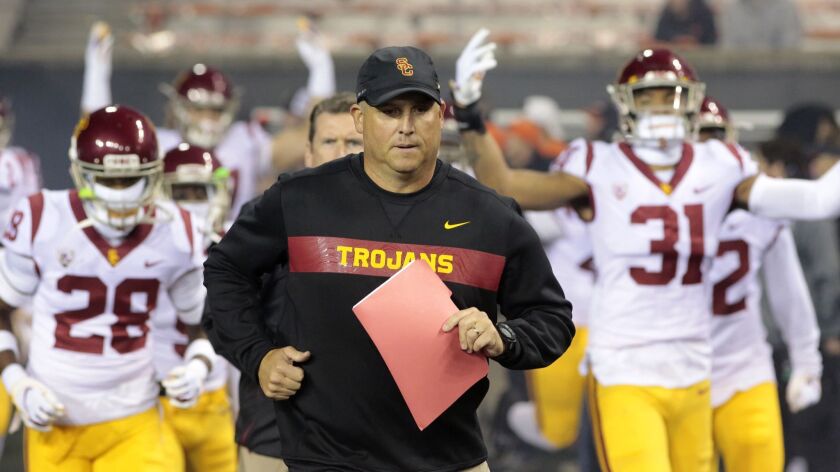 The Trojans are going for their 15th straight win against the Golden Bears. Bigger than that, though: A win will keep them in the mix for the Pac-12 South Division crown entering next weekend's game at UCLA.
USC is joined by Utah and Arizona at 4-3 in Pac-12 play, but Arizona State, with wins over USC and Utah, controls its destiny with a 3-3 record.
"I just keep trying to stack up wins, stack up little victories, and add them all up at the end," Helton said. "And you never know. Two weeks ago, we were in a lot different scenario than we are now. Keep working and keep grinding, and hopefully you're playing the best football by this time of year."
Twitter: @BradyMcCollough
---
Get the latest on L.A.'s teams in the daily Sports Report newsletter.
You may occasionally receive promotional content from the Los Angeles Times.