USC shuts down Porter Gustin again, raising questions about USC's handling of his toe injury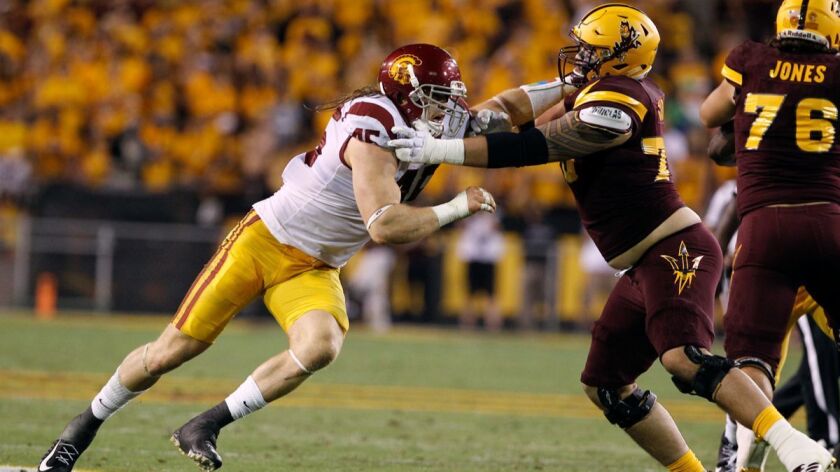 Linebacker Porter Gustin has been ruled out for USC's game against Arizona on Saturday, a move that deals another setback to Gustin in his on-again, off-again recovery from surgery to repair a fractured big toe and raises questions about USC's handling of the injury.
Coach Clay Helton did not give a timetable for Gustin's return this time but said it would be evaluated on a weekly basis.
Gustin initially injured his toe before USC played Texas in Week 3. Doctors surgically inserted two screws into the toe on the Wednesday of that week. USC did not initially expect him to be available, but he was a full participant until a halftime x-ray showed the screws had shifted. He also suffered a torn biceps, and USC shut him down.
Gustin didn't play again until last Thursday's practice, when he was a limited participant for the first time in six weeks. Helton said if Gustin played against Arizona State, he probably would be limited to 15 to 20 snaps. Gustin played 20 in the first half alone.
Afterward, Gustin reported that he felt fine. But Helton said Tuesday that doctors had re-evaluated the toe and moved to shut him down again.
"Just based on their evaluation, what they looked at after two days, did not feel it was in his best interest to go this week," Helton said.
Helton said he did not regret playing Gustin against Texas or Arizona State.
"You don't do anything until the doctors clear, and they're as good as they get," Helton said. "And you hope and pray that everything goes well. With toes, whether it's a broken toe, turf toe, they're so finicky. And credit Porter. He's a warrior. He was chomping at the bit two, three weeks ago. And until the doctors clear you, you can't even go that route. And [we] felt good about it from a medical standpoint, a player standpoint, and we're always going to do what's right for the kid."
After the game Saturday, Gustin said that last week "was the first week I was able to run on it without limping too much. So I think this week I was really able to help the team for the first time, so they let me play."
Gustin's primary backup, Christian Rector, fractured his hand last week in practice. Jordan Iosefa, Connor Murphy and Oluwole Betiku Jr. will all be options to play at the "predator" linebacker role.
USC did not practice in full pads Tuesday, but in full team drills, one player delivered a pop to USC's defense. He could be forgiven — it had been a while. It was running back Stephen Carr, back from a foot injury for the first time in four weeks.
"It feels better than ever," Carr reported afterward. "I was out here cutting, spinning, jumping all of that. I could do everything."
The absence of Carr, USC's backup running back and its most impactful freshman, had deprived USC of a potent weapon on offense. He complements Ronald Jones II with big-play ability and dangerous pass-catching ability out of the backfield.
"He brings that level of not only explosive run ability but also pass catching ability," Helton said.
Carr averaged 5.9 yards per carry and 10 yards per reception this season with three rushing touchdowns.
Running back coach Deland McCullough said Carr was near 100% on Tuesday.
"He looked pretty doggone close to me," McCullough said. "He looked good. I think it's just knocking out some rust as far as footwork and different things like that. But as far as ability to run, burst, coming out the backfield, making cuts and everything, he looked real good."
Helton said Carr's workload would depend on any soreness he experienced after Tuesday's practice and how close to "football shape" Carr is.
"If he looks as good as he did today, obviously he'll be playing in the game," Helton said.
USC (7-2, 5-1 in the Pac-12) was ranked No. 17 in the first College Football Playoff ranking released Tuesday. The team with the lowest initial ranking to make the playoff was No. 16 Ohio State in 2014, but Ohio State had only one loss. ... An MRI revealed no structural damage to the injured knee of running back Vavae Malepeai. He is classified as day-to-day. … Cornerback Iman Marshall began moving around on his sprained knee, Helton said, but did not practice.
Follow Zach Helfand on Twitter @zhelfand
---
Get the latest on L.A.'s teams in the daily Sports Report newsletter.
You may occasionally receive promotional content from the Los Angeles Times.