Adapting to different dynamics has been a challenge for USC freshman quarterback JT Daniels
The USC football team needed a savior. Just down the road at an Orange County high school that has delivered the Trojans salvation at the quarterback position twice before, a young man named JT Daniels had every reason to believe he was the right guy for the job.
"At Mater Dei, there's the Mother Mary, and JT is Jesus," said Scot Prohaska, who trained Daniels mentally, physically and emotionally in the six years before he arrived at USC.
Prohaska was quoting a line from a current Santa Ana Mater Dei wide receiver as that program entered life without Daniels. And Prohaska, who works with the Monarchs as a performance coach, did not disagree with the assessment.
Who Daniels was for three seasons at Mater Dei, which also developed Matt Leinart and Matt Barkley on their way to USC, directly colors his experience thus far with the Trojans.
"Because he came from that high of having so much influence on the program," Prohaska said, "so much influence on the play-calling and the offensive scheme, and he had so much influence on the players and their development. To have that kind of omnipotency to make decisions, to try to fix things … he doesn't have any of that right now. And he thinks he has answers to fix things, but he doesn't have any say over it, any power to do it."
Prohaska saw this coming. Back in the spring, as Daniels loaded up on two semesters' worth of classes so he could skip his senior year and join the Trojans this fall, the quarterback's spiritual guru predicted this year would be the first time in Daniels' life he had failed.
It didn't take long to see cracks. After USC's second loss of the season at Texas, Daniels texted Prohaska to express his frustration. He wanted to understand what was happening.
Since then, it has not gotten any easier, and that's not from a lack of effort.
"He's the hardest-working quarterback in the film room I've ever been around," USC quarterbacks coach Bryan Ellis said. "And that's as an 18-year-old kid."
Daniels is 86th in the nation in passer rating, completing 56.6% of his passes with nine touchdowns and seven interceptions. He had a high of throwing for three touchdowns in a win over Washington State, now ranked No. 8, and a low of passing for 89 yards with two interceptions in a loss at Utah that saw him leave the game with a concussion. USC is 5-3 in games Daniels has started and 5-4 overall.
Daniels will face his stiffest test yet Saturday in California's defense, which gives up just 184.2 passing yards per game and has intercepted 13 balls while allowing only eight touchdowns. Daniels will do what he has done throughout his career: When in doubt, go deeper into the film.
"I'm not as good as someone like Sam Darnold, just to be straight up," Daniels said this week. "I can't do what a guy like Sam can do. For me, if I'm going to succeed, I know that I have to be the most prepared to know what's going to happen. I'm also not the tallest guy, so I can't see everything that is happening at all times. But I know based on film study who's going to be where, and I have to know where I got to put the ball."
Not as good as Darnold? Would Daniels, the uber-confident Gatorade national male athlete of the year, have said such a thing before September? Daniels appeared this week to be genuinely humbled by his first year playing at this level.
"It's college football, it's USC football too," Daniels said. "It's a big stage, but I'm doing my best and really love the sport and love the game and love the team. I'm still excited to come out every day."
Ellis said that the transition "shocked" Daniels "a little bit." Ellis said the main issues are his recognition of defenses that are cleverly disguising their coverages and the expected adjustment to the speed of the college game.
Through his deep relationship with Daniels, forged over their weekly Thursday night philosophical chats the last six years, Prohaska can see a bigger picture. They don't talk as much now that Daniels is at USC, which is as much a part of this transition as bigger and faster defensive ends breathing down his neck. Daniels also no longer gets to work with private quarterback coaches Adam Dedeaux, who has tutored many NFL stars, and Jordan Palmer, who specializes in getting quarterbacks ready for the NFL draft.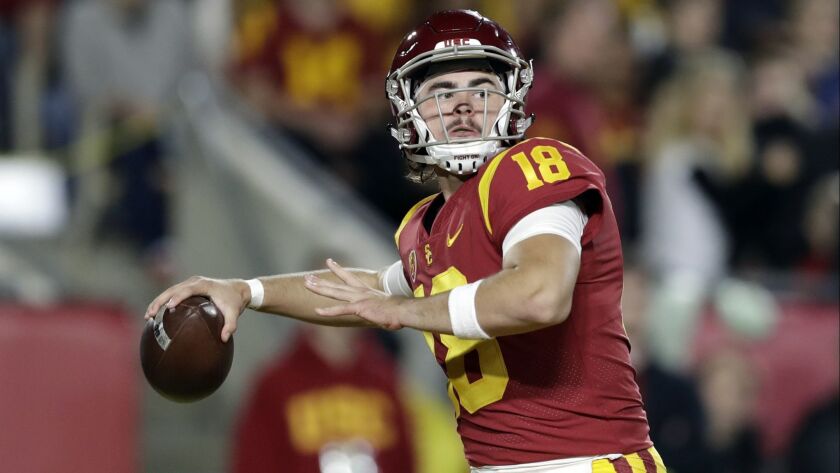 Prohaska, who trains many professional athletes and has helped mold six Olympians, chose his words carefully throughout a conversation this week. But he did not hesitate to be frank on one thing.
"Between me and what I do, Jordan Palmer, Adam Dedeaux, compare it to what they have there at [USC], the proof is in the pudding," Prohaska said. "This kid had a team of people around him that one loved him, knew deeply a lot about him, and we all worked together.
"It's not like another freshman that comes from Cedarwood, Texas, and had an offensive line coach doing his weight training. It's a challenge when the coaches at USC or Texas or Alabama think they're going to definitely be way more upper-level, higher performance than kids have seen before. Not in this case. Sorry."
Asked by a USC spokesman for a response to Prohaska's comments, USC coach Clay Helton declined.
Prohaska said Daniels has had to be political with his thoughts about how to improve the struggling USC offense because he hasn't earned the trust he had at Mater Dei, where he called his own plays. Last week, Helton took over play-calling from offensive coordinator Tee Martin, a move that Prohaska feels will benefit everyone involved.
"Helton will start to realize what he has in JT," Prohaska said, "Like wow, we can start turning the keys over to this race car pretty soon. It would take a lot longer if it goes through Ellis to Tee to Helton. Now Helton can see it himself, JT's processing ability."
Helton said that he has learned this fall that Daniels has an ability to come back each week, no matter what happened the week before, with a clean slate, almost like a coach. Prohaska said that has taken work on Daniels' part.
"My biggest challenge with him right now is how do you not numb yourself?" Prohaska said. "It's a weird thing, because he feels like he has to take a step back and do what he's told. We had the conversation about being detached, and I said, 'No, no, no. Detach from the outcome, the wins and losses. You can't control everything, but it's a damn competition.' "
Daniels was asked what he has learned about himself three-fourths of the way through this season.
"As a person?" Daniels asked. "That's a tough one to answer.
"I guess I'm just so into it right now. You're coming into the home stretch and your body is tired, your mind is tired, you could really use a break, you're not going to get a break. I haven't really taken the time to think about that yet."
Etc.
Helton said that senior cornerback Iman Marshall practiced Thursday with his sprained foot and sprained ankle he sustained against Oregon State. "Looked good," Helton said. "We'll see how much soreness he has after a good practice today and then make a game-time decision." … Helton said freshman cornerback Olaijah Griffin (shoulder) "continued to look good." Griffin will also be a game-time decision. … Wide receiver Michael Pittman Jr. is definitely out Saturday, Helton said. Doctors will perform another scan on his injured shoulder Monday to see how it has progressed.
Twitter: @BradyMcCollough
---
Get the latest on L.A.'s teams in the daily Sports Report newsletter.
You may occasionally receive promotional content from the Los Angeles Times.