From eight-man football to Crenshaw to a USC degree, cornerback Ajene Harris is quite the success story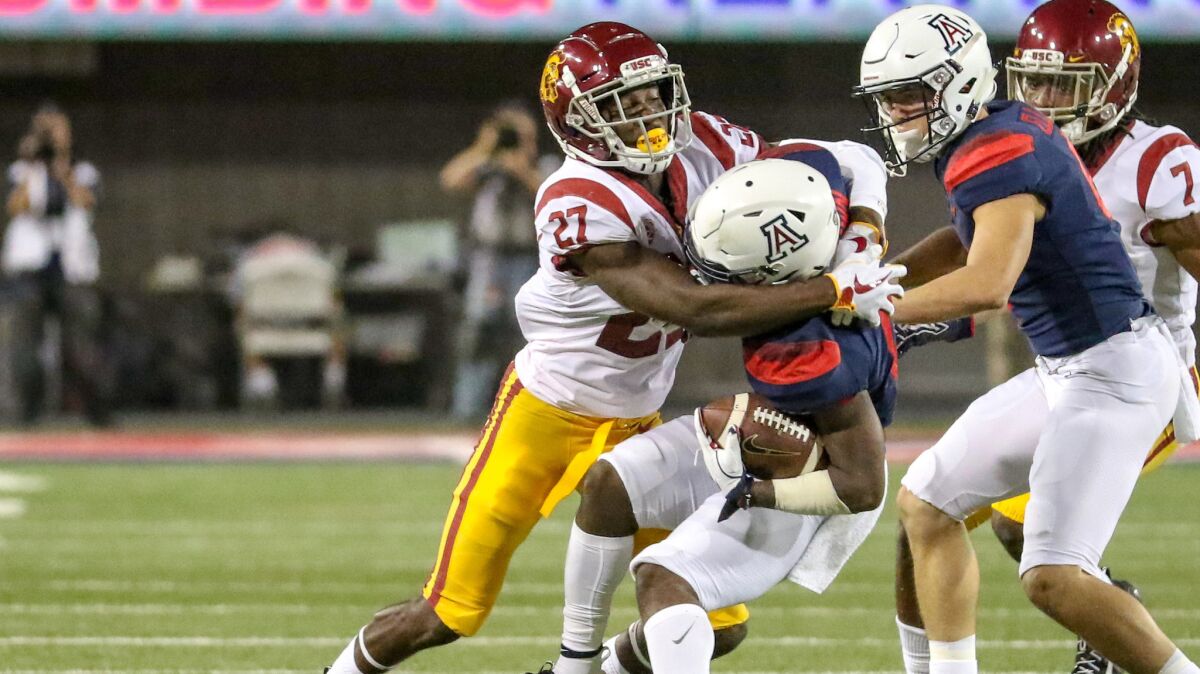 Ajene Harris' name was not circulating in Southern California prep football circles entering his junior season in 2013. He had spent his sophomore year playing quarterback for a small charter school, Animo South Los Angeles, which until 2010 had only been able to support eight-man football.
Eight miles north on the 110 Freeway from Animo South stood the campus of USC, Harris' dream school. Eight miles may as well have been 800, and if he was ever going to make it to the school, he would have to bet on himself and create his own luck along the way.
The first step was to find a bigger program but one that wasn't so successful that he could have to sit and wait. Harris wanted to play, and he wanted to play quarterback. A friend, Mossi Johnson, had been starting at quarterback at Crenshaw High. But Johnson wanted to play wide receiver, and he pitched Harris on coming to Crenshaw to be his quarterback.
Choosing Crenshaw was essentially choosing the hard way. There, Harris would be coached by Robert Garrett, an old-school personality who did not encourage his guys to promote themselves in the recruiting world. To Garrett, seven-on-seven was akin to "skirtball." But what Garrett did promise his kids was a chance to play — a lot.
Crenshaw also offered Harris a brighter stage on Friday nights. In the 2012 opener, the Cougars traveled to Santiago, which meant college recruiters would be watching.
"After we came onto the field to warm up, the athletic director and some more people from Santiago came over and said, 'You gonna get your other kids out of the locker room?' " Garrett recalled with a laugh.
Crenshaw had "20-something" players that season, but one of them was the new quarterback, Harris. The Cougars beat Santiago 43-31. A month later, they won at Oaks Christian 13-2. They'd win 12 games before falling to Narbonne in the City Section final, but none of that led to recruiting buzz for Harris.
At the start of his senior season, he'd gotten one offer, a good one, from San Diego State. In early Sept. 2013, he committed to the Aztecs. In October, Crenshaw traveled to Bellflower to play St. John Bosco. That night, USC assistant coaches Ed Orgeron and Tee Martin were there to scout all that talent on the other sideline.
He's that spark plug a lot of times for the defense. He brings that passion every day and he just gets us going.
— USC senior safety Marvell Tell III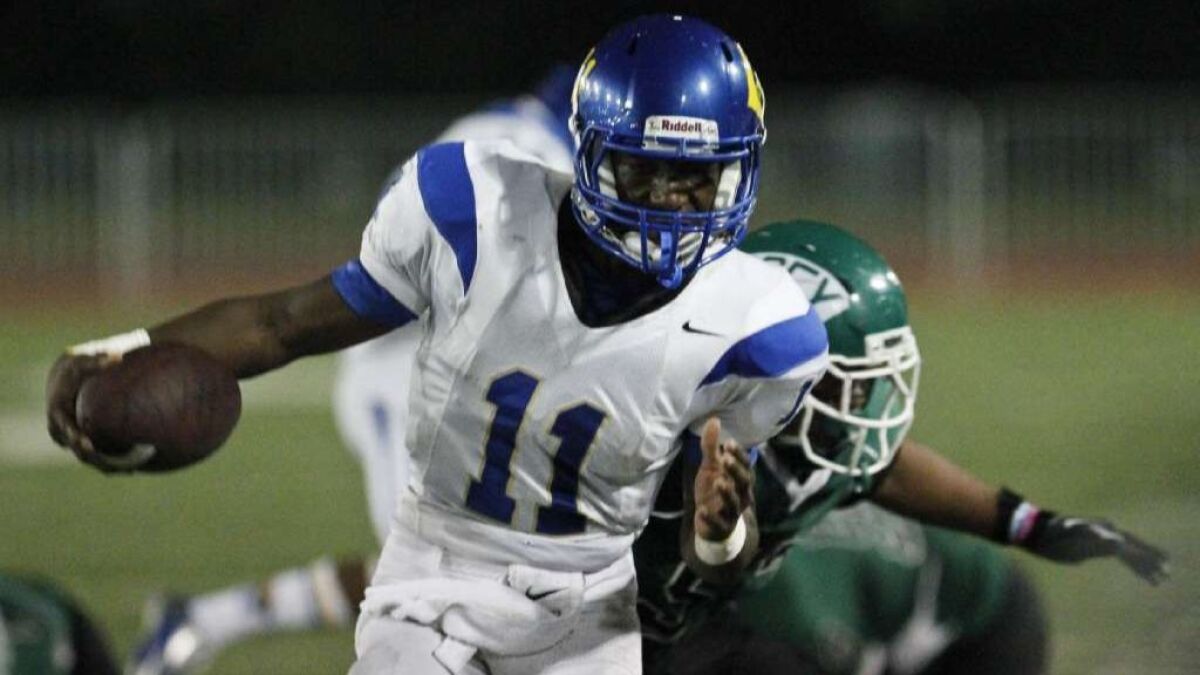 St. John Bosco pounded the Cougars 75-35, but something stuck out to Orgeron, now the head coach at Louisiana State, about the near-heroic performance of that Crenshaw quarterback.
"Ajene would take a licking and keep on ticking," Garrett said. "From that alone, I think Coach O offered Ajene a scholarship. If it had not been for Coach O, I don't think Ajene would have been offered a scholarship at USC."
There are so many what-ifs on Harris' path to becoming a two-year starter at nickel cornerback for the Trojans and holding a USC degree in communications — he finished his undergraduate work in May and is now adding a minor in real estate during his final semester on campus as a fifth-year senior. What if Johnson, who went on to play receiver at UCLA, didn't get Harris to Crenshaw? What if Orgeron was at a different game that night? What if Harris wasn't actually gifted enough to take advantage of those fortuitous curves in the road?
As USC prepares for a big Pac-12 South game against No. 19 Colorado on Saturday at the Coliseum, the Trojans are happy they don't have to consider the hypotheticals.
"He's that spark plug a lot of times for the defense," safety Marvell Tell III said. "He brings that passion every day and he just gets us going."
"He's one of my favorite players," defensive coordinator Clancy Pendergast said. "A gym rat kid."
"He's a pro playing college right now," defensive backs coach Ronnie Bradford said.
Harris, in some notable ways, still acts and thinks like a quarterback. He watches more film than anybody in the secondary and takes it upon himself to know what every player is supposed to do on each play.
"When I see a formation, I know what's coming," Harris said. "I'm usually around a lot of defensive backs and wide receivers, and they look at film differently than I do."
Harris has spent much of this season trying to bring along the young members of USC's secondary who have been thrown into the fire because of the departures of Jack Jones, Bubba Bolden, Ykili Ross and Je'Quari Godfrey.
Redshirt freshman Greg Johnson was a few years younger than Harris in Pop Warner with the South Bay Buccaneers, and the two have kept in touch through the years.
"He helped me learn how to hold myself accountable," Johnson said. "He really molded me into the player I am today. He always tells me to get my degree. I watched him get his degree. That's like a real motivation for me, because if he can do it coming from the area we grew up in, I can do it, too."
As wild as it may have sounded during his prep days, Harris is hoping to play in the NFL next year. He feels immense pride in having a fallback plan with his USC diploma.
When asked where Harris fits in the Crenshaw success stories, Robert Garrett said "top 3%" and chuckled.
"In retrospect," Garrett said, "it is unlikely, highly unlikely. I don't think too many people have done that, to earn a scholarship from USC from South Central Los Angeles, and come and play with the best of the best and graduate. He's a phenomenal leader."
Twitter: @BradyMcCollough
---
Get the latest on L.A.'s teams in the daily Sports Report newsletter.
You may occasionally receive promotional content from the Los Angeles Times.