USC notes: Michael Pittman Jr. finally gets a start while Ajene Harris is back at punt returner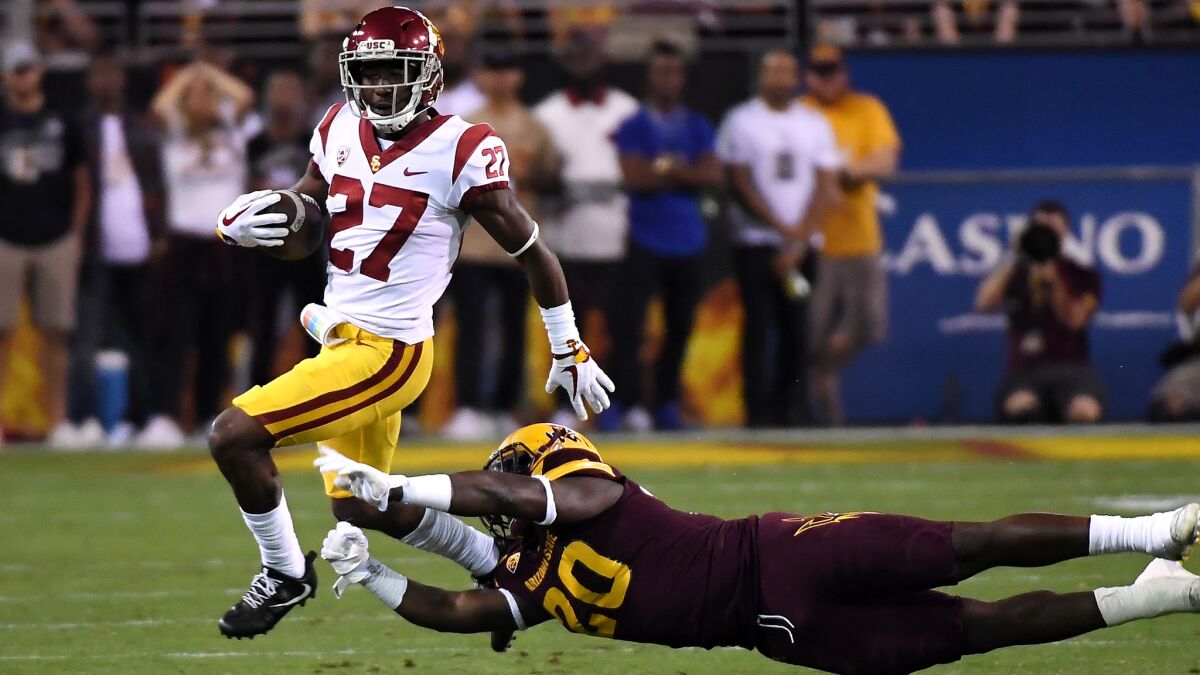 Reporting from Tempe, Ariz. —
Sam Darnold rolled to his right on the second play of USC's game against Arizona State on Saturday night, fired a pass into the belly of Michael Pittman Jr. and thus quashed a briefly simmering dispute.
At the start of the week, Pittman Jr.'s father, Michael Pittman Sr., let loose a barrage of tweets critical of USC's coaching staff and its usage of his son; he hinted that his son might consider transferring.
The lack of playing time, Pittman Sr. tweeted, "really is a shame ... and we're fed up (Myself and his Mother). … I'm beyond disappointed and Michael Jr is too ... I trusted them with my kid and they have let me down."
Depending on how one looks at it, Pittman Sr.'s protestations were premature — or they got results. Five days later, Pittman Jr. made the first start of his career and caught the first completion of the game.
Pittman Jr. was pushing for a starting job at the beginning of the season until he landed atop of cornerback Jack Jones during a preseason drill, and the uneven landing spot buckled his leg, turning his ankle. He fell to the turf in obvious pain.
Pittman Jr. missed USC's first three games, and when he returned, he said, he suffered small but regular setbacks with the ankle. He rarely felt at full strength.
Meanwhile, USC settled into a reliable trio at receiver and struggled to find a fourth. Jalen Greene is the fourth leading receiver, and he started at the beginning of the season.
He has six catches. Pittman Jr. struggled just to find the field. Entering Saturday's game, he had just three receptions.
But an injury that limited Steven Mitchell Jr. boosted Pittman Jr. into the starting role on Saturday and at least for a night put his father at ease.
Gustin is back
Porter Gustin wore a shiny new black shoe on his right foot in warmups before Saturday's game. For weeks beforehand, he hadn't needed one. He'd been in a boot.
After missing five games because of a fractured right big toe and a torn biceps, Gustin returned on Saturday to a limited role. Gustin participated in only one practice this week, on Thursday, and coach Clay Helton said during the week that even if Gustin played, he'd be limited.
Jordan Iosefa started the game at the "predator" linebacker position, shifting from inside linebacker, but Gustin played often on third downs.
Gustin's return comes at a fortuitous time for USC. His replacement, Christian Rector, led the Pac-12 Conference in sacks but sustained a broken hand in practice this week.
Return as returner
A week after Jones supplanted him at punt returner, Ajene Harris was back at the position on Arizona State's first punt.
He seized the opportunity. He returned the punt 21 yards, tied with Jones for USC's longest of the season.
Jones, a week ago, showed explosiveness and aggression but fumbled a punt inside USC's own 10-yard line.
Hot starts
USC scored a touchdown on its first drive. That has become a habit. The Trojans reached the end zone in five of their nine game this season.
Fatu cleared
Defensive tackle Josh Fatu was cleared to play after missing last week's game against Notre Dame with a concussion suffered after he was involved in a car accident.
The Los Angeles Dodgers in the 2017 World Series
Follow Zach Helfand on Twitter @zhelfand
Get the latest on L.A.'s teams in the daily Sports Report newsletter.
You may occasionally receive promotional content from the Los Angeles Times.