Mater Dei's Bryce Young is already working on selling USC to other 2020 recruits
The most important player currently committed to USC football won't sign with the Trojans for a year. Bryce Young felt his importance to the program Sunday as he spent a couple hours with new offensive coordinator and quarterbacks coach Graham Harrell.
Young, the top-rated dual-threat quarterback in the 2020 class according to 247Sports' composite rankings, had been thrilled by the hiring of Kliff Kingsbury to head the USC offense in December. At Texas Tech, Kingsbury had been the first coach to offer Young a scholarship when he was in the eighth grade. Young even went to Lubbock, Texas, for a camp to learn from Kingsbury, so their reuniting in Los Angeles felt too good to be true. In the end, it was.
The one thing the "Air Raid" offense needs to succeed is a competent quarterback, and it can be nearly unstoppable if it has a quarterback who can make plays with his feet like Young. See: Heisman Trophy winner Kyler Murray at Oklahoma and NFL MVP Patrick Mahomes with the Kansas City Chiefs.
It will be Harrell's job to sell Young on what he can do for USC and what USC can do for him as it implements the "Air Raid." Harrell met with Young and his parents for about half an hour and then split off with the quarterback to show him tape of Harrell's offense at North Texas for the next hour or so. He wanted Young, the Santa Ana Mater Dei star, to be able to imagine himself in the scheme.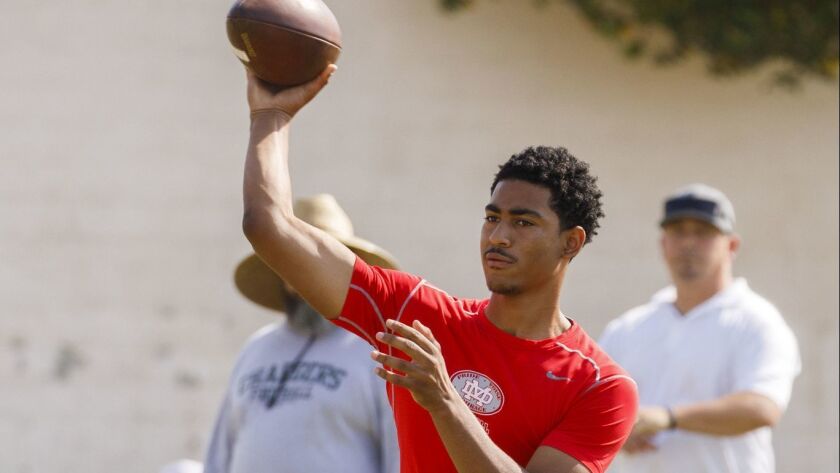 "He is a really great guy, a really fun guy to be around, a really cool coach," Young said. "I really got the chance to kind of sit down and pick his brain, look at what he does, system-wise. We went over a few drives from when he was at North Texas, and he was just kind of explaining how he calls stuff, his philosophy behind the plays he ran. I really like the system that he brings to the table."
USC coach Clay Helton and his staff finished most of their work for the 2019 recruiting class in December's early signing period. Wednesday's national signing day will be a success if elite wide receiver commitments Kyle Ford of Orange Lutheran and Puka Nacua of Orem, Utah, sign with the Trojans and if USC can improve its depth throughout the class with a few late additions.
The work has just begun for 2020's haul, and as it stands Young is the Trojans' lone commitment other than kicker Parker Lewis from Scottsdale, Ariz. Four-star wide receiver Koy Moore out of Metairie, La., decommitted from USC over the weekend.
Young says he is solidly with USC, even though he is still hearing from many schools. He followed JT Daniels at Mater Dei and plans to do so again at USC.
"There's been a lot of negativity and things circulating about USC," Young said. "Despite that, I have complete confidence in and trust in coach Helton and his staff and the school that they know what they're doing. I have complete confidence they'll turn it around this year. Not many places can flip a narrative as fast as USC can. After one good season, they'll be back to praising the school like they did after the Pac-12 championship and the Rose Bowl."
Keeping Young in the fold will help the program regain stability in the next recruiting cycle too. He's already been actively recruiting Ford, a five-star receiver who committed to USC at the U.S. Army All-American Bowl in January, and Nacua, who has opened up his recruitment and taken official visits to Washington and Oregon in recent weeks. They will make their decisions official Wednesday.
"Just trying to convey what I already know, how much I believe in the staff, how much I believe in the school," Young said.
After meeting with Harrell, who guided top-25 offenses in the nation at North Texas the last two seasons, Young has more information to take with him as he continues recruiting future Trojans to join him in the "Air Raid."
"I definitely think that it's a smart decision for the school," Young said. "I think it fits our personnel really well. You see what it can do in the NFL, how teams are going with this type of offense. I'm really glad we're adapting it, and I think we're going to be really successful at USC."
Sign up for our daily sports newsletter »
Twitter: @BradyMcCollough
---
Get the latest on L.A.'s teams in the daily Sports Report newsletter.
You may occasionally receive promotional content from the Los Angeles Times.