Graham Harrell also filled a void left by Kliff Kingsbury while at Texas Tech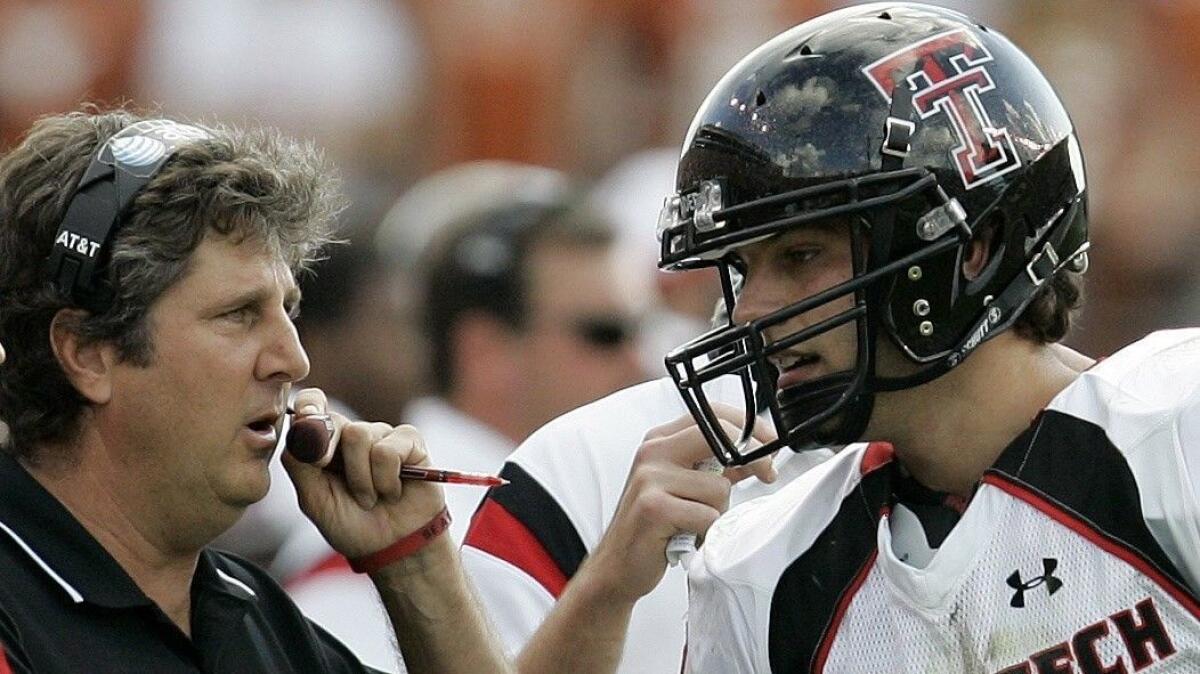 Like most grooms, Cody Hodges had some big decisions to make about the men who would stand next to him on his wedding day.
Two years his senior, Kliff Kingsbury had been like a big brother to Hodges when he arrived at Texas Tech in the summer of 2001, taking him under his wing in Mike Leach's wacky quarterback meeting room. They roomed together for a year in Lubbock too, and remained close in the years that followed.
Then there was Graham Harrell. By the time Kingsbury had graduated and Hodges was a redshirt senior in 2005, Harrell was a hotshot redshirt freshman who had shattered the Texas state passing records at Ennis High outside of Dallas. After waiting four years to be the starter, Hodges had to beat out young Harrell for the starting job. Hodges won the coveted position in Leach's "Air Raid" offense, but Harrell was a good sport about it, which helped them ease into a lasting friendship too.
Kingsbury and Harrell were six years apart in age, but they both ended up making the cut. They stood next to Hodges at First Baptist Church Dallas on May 16, 2009, and between the three of them, they spanned a decade of Red Raiders football.
"People joked that there was 100,000 passing yards represented on stage," Hodges recalled this week. "We took a picture afterwards. It was pretty wild."
On Wednesday, USC announced the hiring of Harrell to replace Kingsbury as offensive coordinator and quarterbacks coach.
Hodges bridged the gap between Kingsbury and Harrell in Lubbock, which makes him uniquely qualified to discuss them and the culture that spawned a bizarre scenario the last two months in which USC went to the same well in West Texas twice to spark its struggling offense.
Clay Helton's decision to go "Air Raid" wasn't surprising when it meant bringing in Kingsbury, the recently fired Texas Tech head coach with the proven track record of innovative offensive thinking in a Power Five league. But after Kingsbury left for the Arizona Cardinals' head coaching job and Harrell was tabbed as his replacement three weeks later, it became an easy crack to say that any quarterback from Leach's Tech tree could be considered at USC.
"Hey USC, sup," BJ Symons, who started for the Red Raiders in 2003, tweeted this week.
"I feel like I missed out," Hodges joked. "I'm doing the wrong thing."
Symons works in business now, and Hodges is a public speaker for youths. Both had short careers in the NFL and smaller leagues before going onto successful post-football lives. Sonny Cumbie, the other Tech quarterback between Kingsbury and Harrell, is the offensive coordinator at Texas Christian.
Something special was happening in that quarterback meeting room — something the Trojans hope to re-create with Harrell and their quarterbacks.
"We look forward to the future of our offense under Graham's leadership," Helton said Wednesday in a statement about Harrell, who coordinated back-to-back top-25 offenses at North Texas.
Leach, reached earlier Wednesday by the Los Angeles Times, wasn't willing to take much credit for how high his former pupils have risen.
"I've never had a dumb quarterback, and I deliberately avoid dumb ones," Leach, the Washington State coach, said in his trademark deadpan, before becoming more serious.
"You've got to have somebody that's smart and commands enough attention of their fellow players. They've got to be assertive enough to believe in themselves and communicate what they see too."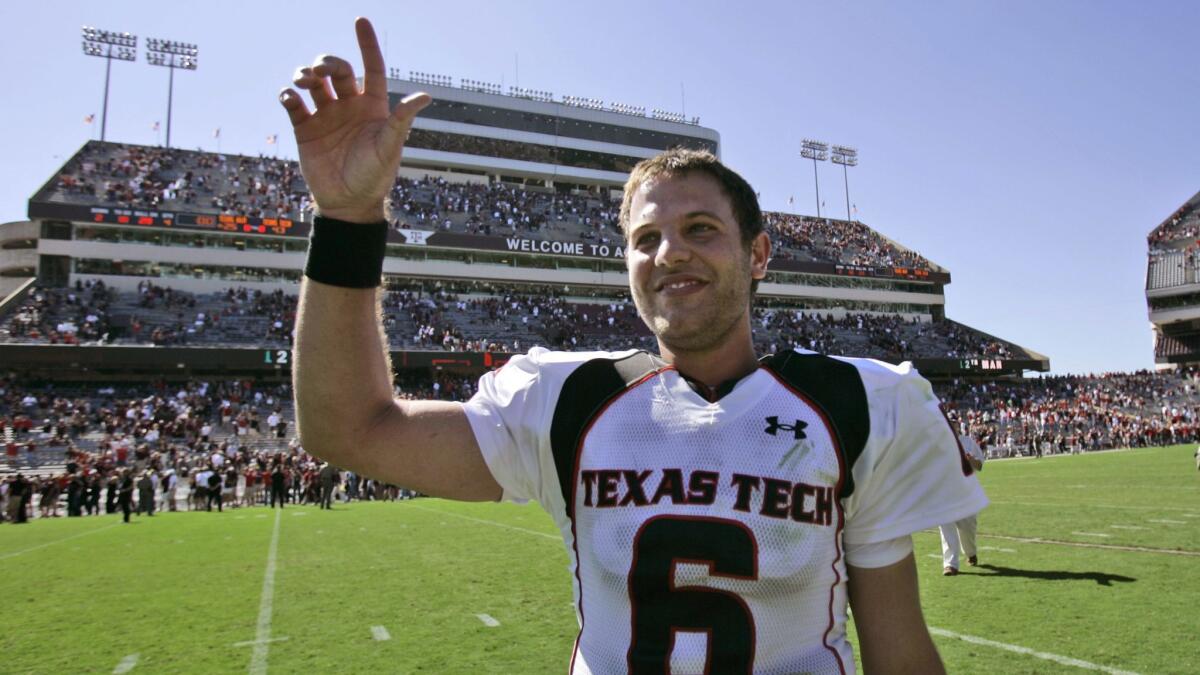 Kingsbury and Harrell were the only Tech quarterbacks to start for three years under Leach. Harrell was the most decorated prep quarterback Leach had brought in, and he took the Red Raiders to new heights his senior season in 2008, leading them to a 10-0 start and a No. 2 ranking nationally before a loss at Oklahoma took them out of the national title hunt.
Leach asked more of his quarterbacks than most. He did not simply want them to make changes to the play call at the line of scrimmage. It was "insisted upon," Leach said. Hodges recalled that, as long as they were able to explain their decision, Leach was good with it, and they easily moved on to the next play or next possession no matter what happened. From a young age, this was no problem for Harrell, the son of Ennis coaching legend Sam Harrell.
"Everybody knew he'd be a coach," said Leach, who brought Harrell to Washington State in 2014-15 as an outside wide receivers coach.
Harrell left Pullman in 2016 to become offensive coordinator at North Texas, which Leach fully supported.
Leach has watched as his former quarterbacks have taken what they learned under him and adapted it with fresh concepts.
"We all came from the same tree, but Kliff and Graham have put their own spin on coach Leach's offense," Hodges said. "My whole time at Tech, we didn't add new plays. We had 20 plays we ran really well. Kliff and Graham have added more of the zone read, the run-pass option stuff, and have done a great job of creatively getting their guys in space against lesser opponents."
As players, the Tech guys were labeled by NFL teams as "products of the system" and had an uphill battle to get opportunities. Hodges said they all felt like rebels bucking the mainstream, which was fun yet frustrating. Today, though, tenets of the system can be seen everywhere, including Sunday's Super Bowl.
"Some guys copy it better than others," Leach said. "The last two Super Bowls were solidly filled with 'Air Raid' concepts from start to finish, and I think it will continue."
Now, Leach will have to deal with Pac-12 foe USC trying to re-create his wizardry with much more talent on the roster. Harrell is only 33, and while he was able to revitalize North Texas' offense in three seasons, getting the Trojans transitioned into his scheme will be the greatest challenge of his young career.
Leach gave one key for Harrell and Helton as they begin their new journey this spring.
"Part of it depends on how supportive everybody is," Leach said, "how committed they are to it. That's the thing. They've got to be committed. If they're not, then it's just going to be people tugging against each other.
"The biggest thing [for Harrell] is just to stick to what you think and believe and communicate it. I wouldn't try to come out of character or be somebody you're not."
USC will never know what kind of impact Kingsbury would have had on the program. Despite Kingsbury's many similarities with Harrell, the Trojans would be mistaken to expect Kingsbury 2.0.
Hodges offered some final thoughts on his groomsmen.
"I think Graham will be less intense," Hodges said. "Which is not a bad thing against Kliff. Kliff doesn't have a family, doesn't have kids. Football is just everything he does. Graham is married, has a kid, so I think there's a little bit more balance there for him, which is not better or worse. Just a difference.
"Graham is Kliff when he went from Houston to Texas A&M, except Graham is going from North Texas to USC. Nothing against the athletes at North Texas, but I can only imagine what he can do with the type of athletes at USC. It's going to be exciting to see what happens."
Sign up for our daily sports newsletter »
Twitter: @BradyMcCollough
Get the latest on L.A.'s teams in the daily Sports Report newsletter.
You may occasionally receive promotional content from the Los Angeles Times.