USC coach Clay Helton shifts focus from him to his players
Earlier this summer, Clay Helton had an idea. He left the McKay Center and headed across the campus common area toward Heritage Hall, looking for a sounding board.
Sitting in his office, Rich Rodriguez heard a knock. Rodriguez, USC's director of video production, was not expecting to see Helton, USC's third-year head football coach, walk through the door.
Helton's thoughts spilled out. The last few years, Helton said, had been too much about Clay Helton. They had been too much about the team's known stars, like Sam Darnold and Ronald Jones, who were now off to the NFL. This year's Trojans were going to be different. The seniors were freshmen when Helton took over for Steve Sarkisian midseason in 2015, and, over three years, they became talented veterans who somehow were still mostly undiscovered. These guys had won a Rose Bowl and a Pac-12 championship, and it just didn't feel right that people may not know them.
"I want to put some of our older players in the limelight and tell their story," Helton told Rodriguez in his south Texas drawl. "Kind of a mini '30 for 30.' I know we can't do 30 minutes, but four or five minutes, let them express who they are and what their story is that would relate to our fans."
For Rodriguez, it was a like a dream — a major college football coach basically begging him to come inside.
Feeling validated, Helton dialed up senior cornerback Iman "Biggie" Marshall, who had put off the NFL for one more year to become a first-round pick.
"Hey," Helton said, "I got this idea, and I want you to be the guinea pig."
Rodriguez went to work, filming interviews with Marshall, Helton and going through hours and hours of footage. When Helton saw Marshall's reaction to what Rodriguez produced, the coach knew he had to keep going. He added seven more Trojans to the list for filming.
One day, at lunch, the title for the series came to Helton and Rodriguez: "One For All."
"Compared to basketball players, these guys are in gear. You don't see them," Rodriguez said. "You don't know who they are. You know them by their numbers. We're trying to humanize them a little bit."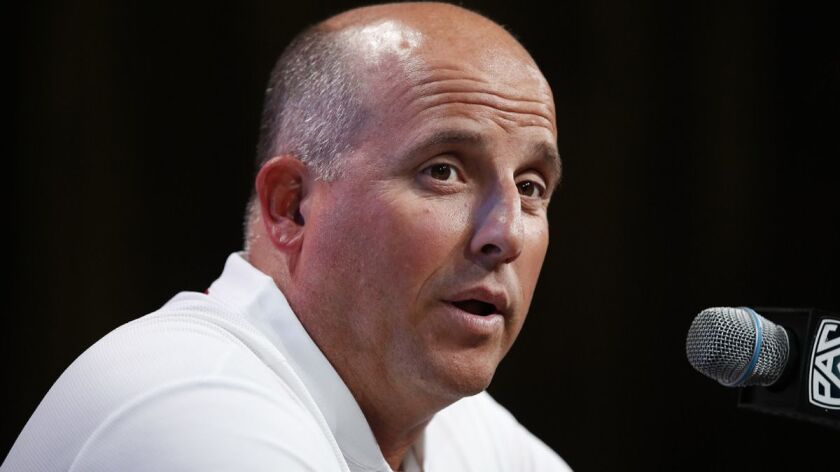 On July 10, Helton posted a teaser video for the series from his Twitter account: "Excited to share the stories of the men who make our football family so special," he said. The next day, he posted another teaser. The next day, Marshall's piece landed. "Watch his story," Helton prodded. A week later, senior linebacker Cameron Smith made his #OneForAll debut on Facebook, Twitter, Instagram and YouTube.
By the time Helton made it to Hollywood for Wednesday's Pac-12 media day at the Loews Hollywood Hotel, he was already far-flung into the process of shining a spotlight on his players.
"I've always felt as a coach you're trying to promote your student-athlete to be as valuable a commodity as he can be when he leaves," Helton said. "I hope more coaches around the country will say I'd much rather make it about the player and have the coaches be out of the spotlight. Our job is to win football games, and that will be evaluated, but really, it's the player's time. And there's only this three- to five-year window that we get to know some special individuals."
Some USC fans still don't know what to make of their teddy bear of a coach, despite his back-to-back 10-win seasons. By focusing on promoting his players — which most college football coaches don't actively do, certainly not at the lengths that Helton is willing to go — he is not passing the buck in any way. He reaffirmed Wednesday that his expectation is to win national championships for the Trojans, and he won't be satisfied until that happens.
"I still wake up at 3 a.m. in the morning, and there is 1:49 on the clock in Pullman, Washington, and we're down three," Helton said, referring to a scenario from USC's 30-27 loss to Washington State last season. "That haunts me because I know that game probably held us out of contention for having a chance at a playoff run."
Helton cares about winning. But he also wants fans to know how deeply he cares for his players, and he would like for them to grow to care about them, too.
This isn't a new thought either. Helton has been a college coach for 24 years, and he watched his father, Kim, do it for decades before that. He has often believed coaches get too much attention, but now he is actually doing something about it.
"He knows what he wants to say more than any coach I've been around since I've been at USC," says Jordan Moore, USC's director of social media. "He's been super accessible, and he's made the players super accessible. The great majority of coaches fall into the category where it's, 'I want to close everything, make everything tighter, restrict, set limits,' but he's as approachable as they come."
This summer, Helton met with Rodriguez every other Monday at 9 a.m. to tape interviews and discuss the project. They decided they would release the videos at the same time each week — Thursday nights — to try to build excitement. Tonight, senior linebacker Porter Gustin's #OneForAll will make its first run.
"I don't know what exactly they're going to throw on there," said Gustin, who along with Smith represented USC at media day, "because there's a lot of stuff. I couldn't tell you. It's going to be a bit of a surprise for me, too."
Smith's profile featured his love of wine and how he spent part of last summer working at Melville Winery in Lompoc. Rodriguez took it seriously enough to travel north to grab footage of the winery.
One of the reasons that Smith, a preseason first-team All-American, came back to the Trojans for his senior season was to build his personal brand and share more of himself with the USC platform behind him. And that was months before Helton ever mentioned his idea.
"That's the benefit of being in Los Angeles," Smith said. "I wanted to get out my passions and interests outside of football. These 'One For Alls' are super cool for people to learn more about us as individuals, not just what we think about the team. You can only answer that in so many ways."
Before the season opener Sept. 1 against UNLV, six more Trojans will see their videos released — Gustin, senior safety Marvell Tell, senior offensive lineman Toa Lobendahn, senior running back Aca'Cedric Ware, junior wide receiver Michael Pittman Jr. and sophomore wide receiver Tyler Vaughns.
Helton, for one, can't wait.
"I love this team," he said, "because it may not have the marquee names right now, but they'll be star names by the end of the year. People are going to get to know these kids and fall in love with them like I have."
NOTES: Helton said that sophomore running back Stephen Carr has been cleared to practice after recovering from back surgery. … The Trojans were picked by the media to win the Pac-12 South Division, followed closely by Utah and Arizona. … Bryce Young, a five-star dual-threat quarterback in the 2020 class out of Santa Ana Mater Dei, committed to USC on his Twitter account Wednesday.
Twitter: @BradyMcCollough
---
Get the latest on L.A.'s teams in the daily Sports Report newsletter.
You may occasionally receive promotional content from the Los Angeles Times.