USC-Notre Dame game has national title implications again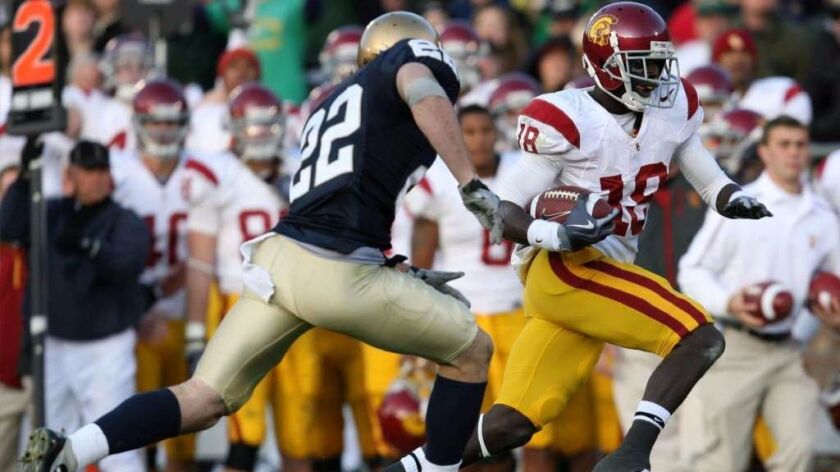 Football coaches hate making a big deal out of any particular game.
The standard line goes: Nothing special. We treat every opponent the same.
This week is different.
With No. 11 USC traveling to No. 13 Notre Dame, with both teams ranked for the first time in a long time, there's no avoiding the magnitude of the matchup.
"It's important not to just bury your head in the sand," Fighting Irish coach Brian Kelly said. "Be aware of it."
Saturday amounts to an early elimination game in the College Football Playoff race. Both teams have one loss, so neither can afford another defeat.
Just as important, this season has put some badly needed sizzle back into a tradition that bills itself as "the greatest intersectional rivalry."
"I think it's great for college football when both teams are doing so well and there is so much excitement around the game on a national scope," USC coach Clay Helton said. "It makes it fun for the coaches, the players and the fans."
USC and Notre Dame have met 88 times since their annual get-together commenced in 1926, the era of Howard Jones and Knute Rockne.
When you think about the things that have happened in this series, you have to be excited.
former Notre Dame coach Lou Holtz
Given the long-standing success of the programs, it shouldn't be surprising that both teams were ranked in 32 of those games. Twenty-one times, they were both in or near the Top 10.
"It's something special," USC quarterback Sam Darnold said.
In 1939, No. 4 USC defeated No. 7 Notre Dame on the way to a national championship. Eight years later, the top-ranked Irish exacted revenge by sailing past No. 3 USC for the 1947 title.
There were other big matchups, including the 1966 game when No. 1 Notre Dame swamped the No. 10 Trojans, 51-0, at the Coliseum.
"I told my team it doesn't matter. There are 750 million people in China who don't even know this game was played," USC coach John McKay said at the time. "The next day, a guy called me from China and asked, 'What happened, Coach?'"
The intensity level rose another notch during the 1970s, when both schools came into the game highly ranked no less than six times. Five times — three for USC, two for Notre Dame — the winner ended up as national champion.
Those meetings included "The Comeback" of 1974, when the Trojans fell 24 points behind and Anthony Davis led them to a 55-24 victory.
"When I first came to Notre Dame, everybody told me this is the game," said Lou Holtz, who took over as the Irish coach in 1986. "When you think about the things that have happened in this series, you have to be excited."
Holtz dominated the Trojans, going 9-1-1 during his tenure. In 1988, he suspended stars Ricky Watters and Tony Brooks for disciplinary reasons, yet still guided the top-ranked Irish to a 27-10 victory over second-ranked USC.
Pete Carroll turned the tables during the 2000s with an 8-1 record versus Notre Dame. That stretch included several top -0 matchups and the famous "Bush Push" game in 2005 — a victory later vacated by NCAA sanctions.
Kelly watched all this from afar, taking over in South Bend in 2010 with a long-standing appreciation for the power of the rivalry.
"Growing up in Massachusetts, there wasn't really a local team you followed," he said. "It had such a grasp on you. It was built up, even on the East Coast, as the college football game."
Though 2009 represents the last time both teams were ranked for the big game, they have continued to benefit from playing each other in the national spotlight over the years. In the business of modern college football, visibility is essential to building a school's brand.
It also helps with recruiting on a national level.
"When you come to USC or Notre Dame, you know you're coming to a great school," Helton said. "But you also know you're coming to a great rivalry."
Thirteen Heisman Trophy winners have emerged from the game, starting with Notre Dame's Angelo Bertelli in 1943 and stretching to Matt Leinart in 2004. Reggie Bush's 2005 trophy was vacated.
That number isn't likely to rise this season, not with Darnold suffering through turnovers and no one on the Irish roster on the list of favorites.
Still, the result could play a significant role in the CFP rankings, which debut later this month.
"This is probably going to be the toughest game of our season so far," USC tight end Tyler Petite said.
The Irish have quietly assembled a 5-1 record, their only stumble coming in a one-point loss to No. 3 Georgia. Saturday marks the start of a tough stretch that includes No. 16 North Carolina State, No. 8 Miami and No. 22 Stanford.
The Trojans have no ranked teams remaining on the schedule unless they reach the Pac-12 Conference championship game. They will need to win in South Bend to outweigh an earlier loss to No. 15 Washington State.
That's why Helton wants to keep his players on an even keel.
Notre Dame is just one more piece of a season-long puzzle, he suggests. This week should not be bigger than any other.
Even if it really is.
"We know this is an important game," the USC coach said. "Not only for our football team but also for our fans and the university."
Times staff writer Zach Helfand contributed to this story.
Follow @LAtimesWharton on Twitter
---
Get the latest on L.A.'s teams in the daily Sports Report newsletter.
You may occasionally receive promotional content from the Los Angeles Times.