No. 25 USC's rally falls short in loss to Oklahoma 85-83 at Basketball Hall of Fame Classic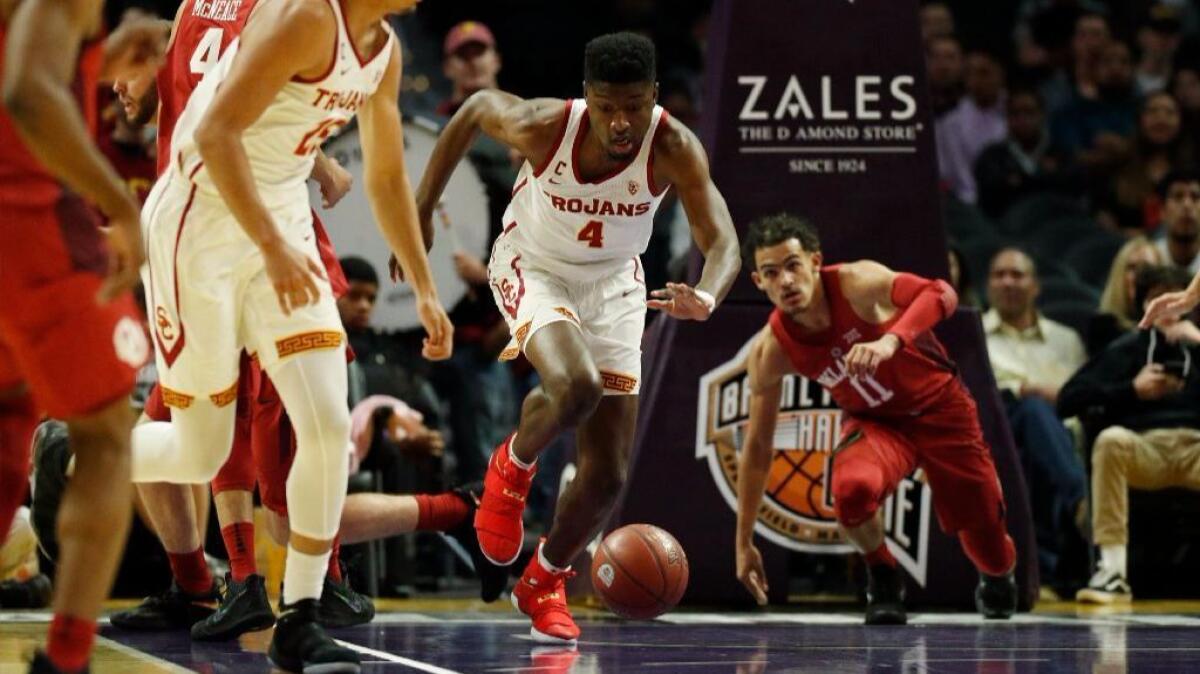 Six weeks into the college basketball season, USC coach Andy Enfield had hoped to see his team making progress.
Instead, the Trojans seemed to be going backward.
USC entered the season ranked 10th nationally; it entered Friday ranked 25th. The Trojans won their first four games by an average of 20 points; they dropped their next two by double digits.
But they may have arrested that slide in the second half of Friday's Hall of Fame Classic game with Oklahoma, played before a cozy crowd in the Staples Center.
Although the Trojans lost 85-83, they went down fighting, rallying from an 18-point second-half deficit and had a chance to pull out a win on Jordan McLaughlin's long shot at the buzzer.
McLaughlin's shot missed, extending USC's losing streak to three, its longest in nonconference play since 2012.
"They never give up," Enfield said of his team. "Sometimes they don't play as well as they should. Or could. But they have a lot of heart.
"It's really surprising that we got down 18 points. But at the same time to have a shot at the buzzer to win the game, they deserve credit for coming back. But we can't get down 18 points."
In the first game of the night, 16th-ranked Arizona State beat St. John's, 82-70, behind a game-high 22 points from forward Romello White. In the late game, No. 20 Texas Christian defeated No. 22 Nevada, 84-80.
USC-Oklahoma, meanwhile, was a game of two halves — the first one belonged to the Sooners and the second one to the Trojans.
Oklahoma (7-1) started quickly, making three-pointers its first three times down the floor and making six of its first nine shots from behind the arc to take a 20-10 lead 5:14 into the game.
The Sooners scored only three points over the next four minutes, though, allowing USC (4-3) to cut the deficit to two. The Trojans wouldn't get that close again until the final minute, going nearly five minutes without a point, and turning the ball over 12 times in the first half to go into the intermission down by 12.
Trae Young, the nation's leading scorer, was especially difficult for USC to contain in the first half, with the freshman guard scoring 20 points. The second half would be a different story, though, with Young making only two shots to finish with a game-high 29 points.
Oklahoma started the second half nearly as quickly as it did the first, going on an 11-5 run in the opening 3 1/2 minutes that upped the lead to 59-41, the largest of the game.
But then the Sooners went cold, going more than five minutes without a field goal, while USC got hot, closing to within 70-66 with just more than seven minutes left.
"We finally looked like the offense we expected to play like," Enfield said. "We came out and played the USC basketball that we've been waiting for."
The rally clearly rattled Oklahoma, which had several opportunities to close out the game but kept leaving the door open for USC. The last chance one came when Young, trying to run out the clock, was ambushed by three Trojans in the corner, sending him to the line for two free throws.
He missed both and USC controlled the rebound, giving McLaughlin a chance to steal a victory. But his shot from half court wasn't close.
Five USC players scored in double figures led by Elijah Stewart with 23 and McLaughlin with 20. Nick Rakocevic, who was key to the second-half comeback, finished with 10 in 18 minutes.
In addition to Young's 29, Oklahoma got 19 points from Christian James and 15 from Brady Manek
The Trojans were once again without De'Anthony Melton, who hasn't played this season while the school investigates a bribery and corruption case.
In the first game, Arizona State held St. John's without a field goal in the final 2:41 to remain unbeaten at 8-0. In addition to his 22 points — on eight-for-10 shooting — White also had a game-high nine rebounds.
Sophomore guard Sha-morie Ponds led St. John's (8-2) with 19 points and seven assists.
In the final game, Jaylen Fisher scored 20 points to help TCU (10-0), which never trailed, extend its nation's-best winning streak to 15 games. Kenrich Williams added 16 points and 11 rebounds, his 11th double-double during the streak.
Cody Martin had 27 points and 11 rebounds for the Wolf Pack (8-2). Jordan Caroline contributed 21 points and 10 rebounds. Martin's twin brother, Caleb, had 17 points.
Follow Kevin Baxter on Twitter @kbaxter11
Get the latest on L.A.'s teams in the daily Sports Report newsletter.
You may occasionally receive promotional content from the Los Angeles Times.