USC bounces back with a dominant run game in 38-21 win over Oregon State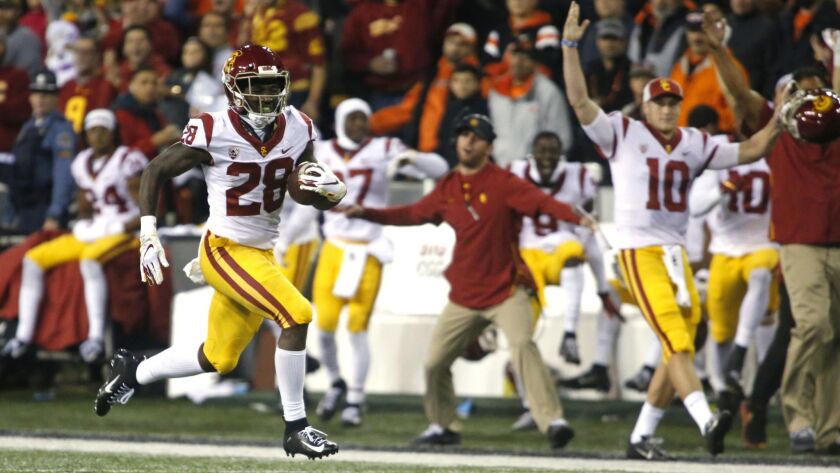 Reporting from Corvallis, Ore. —
Clay Helton had been wanting this feeling again, the full sense of control that comes with a laminated sheet full of offensive plays in his hands and the ability to call whatever comes to mind. Maybe he should have listened to his urges to take over for offensive coordinator Tee Martin earlier.
It's hard to know. The Trojans' final three games, against competent California and rivals UCLA and Notre Dame, will tell the tale of whether Saturday night's offensive outburst in a 38-21 victory over Oregon State was the product of a pathetic defense, an improved USC attack or a little bit of both.
But Helton's offense did everything it had to do in his first game calling plays since he was interim head coach in 2015.
"It's something that is natural," Helton said. "I've done it a bunch over my career, and it's something where I've been very fortunate to have unbelievable people around me. I thought Tee was phenomenal in the box being my eyes. The information I got made it extremely easy. But it felt natural."
The Trojans scored touchdowns on their first three possessions to take a 21-0 lead.
When the Beavers challenged them at the end of the first half with back-to-back touchdowns, USC answered with a scoring drive to start the third quarter, providing relief to the Trojans' porous defense.
USC racked up 509 total yards, including a season-best 332 yards on the ground behind Aca'Cedric Ware's 205 yards and three touchdowns in 17 carries. Vavae Malepeai added 101 yards on 15 carries, and the Trojans averaged 7.5 yards per rush.
"The O-line," Ware said. "Every time the running game has been good, it's been because of them."
The last time USC went on the road, at Utah, it failed to convert its first 10 third downs.
With Helton calling plays, the Trojans converted seven of their first 10. They also converted two short-yardage fourth downs to keep scoring drives alive — something they couldn't do in the fourth quarter of their most recent defeat last Saturday against Arizona State.
After the loss to the Sun Devils, it seemed a near impossibility that the Trojans could recover to win the Pac-12 South, down a game to Utah in the standings with the Utes having the head-to-head tiebreaker. But Saturday was giving to USC, now 5-4 and 4-3 in the Pac-12.
Arizona State beat Utah, creating a three-way tie atop the standings between the Utes, the Trojans and Arizona. Arizona State has played one less game and is even in the loss column at 3-3.
With Utah losing starting quarterback Tyler Huntley to a season-ending broken collarbone, the likelihood that USC could win the South with a 6-3 record has majorly increased. Somehow, after everything that has transpired, a trip to the Rose Bowl is still possible.
Helton's growing number of detractors won't be able to overlook the fact the offense succeeded against Oregon State, which entered the game ranked 126th in the country against the run. It was painfully obvious how inept the Beavers are up front defensively, as USC running backs routinely carried the ball into the second level of the defense without being touched.
This week was about fixing a broken offense. All of that attention — the Martin demotion, the firing of offensive line coach Neil Callaway and moving of running backs coach Tim Drevno to that role — did not mean that the USC defense wasn't going to need its own comeuppance.
The Trojans have plenty of excuses for why their defense hasn't performed. Porter Gustin is out for the year. Cameron Smith missed three games. Marvell Tell was out last week, prompting a sudden move of nickel back Ajene Harris to safety. With safety Talanoa Hufanga out for the year now, too, Harris was forced to stay out of position.
Smith and Tell returned Saturday, but Clancy Pendergast's unit still looked lost for a large portion of the game. Oregon State quarterback Jake Luton completed 31 of 45 passes for 301 yards.
When the Beavers pulled to within 28-21 in the third quarter, it appeared that no matter what changes Helton makes, nothing is going to come easy for these Trojans. But USC's defense clamped down in the fourth quarter, boosting Helton's record in November as permanent head coach to 8-0.
"I thought the big men really took control of the game tonight, both offensively and defensively," Helton said. "It's a big man's game."
UP NEXT >>> After losing their first three Pac-12 games, the Golden Bears ran off back-to-back wins over Oregon State and Washington. The 12-10 upset over the Huskies gave new life to California's season.
Twitter: @BradyMcCollough
---
Get the latest on L.A.'s teams in the daily Sports Report newsletter.
You may occasionally receive promotional content from the Los Angeles Times.