USC has relied on true freshman Palaie Gaoteote to quarterback its defense while Cameron Smith recovers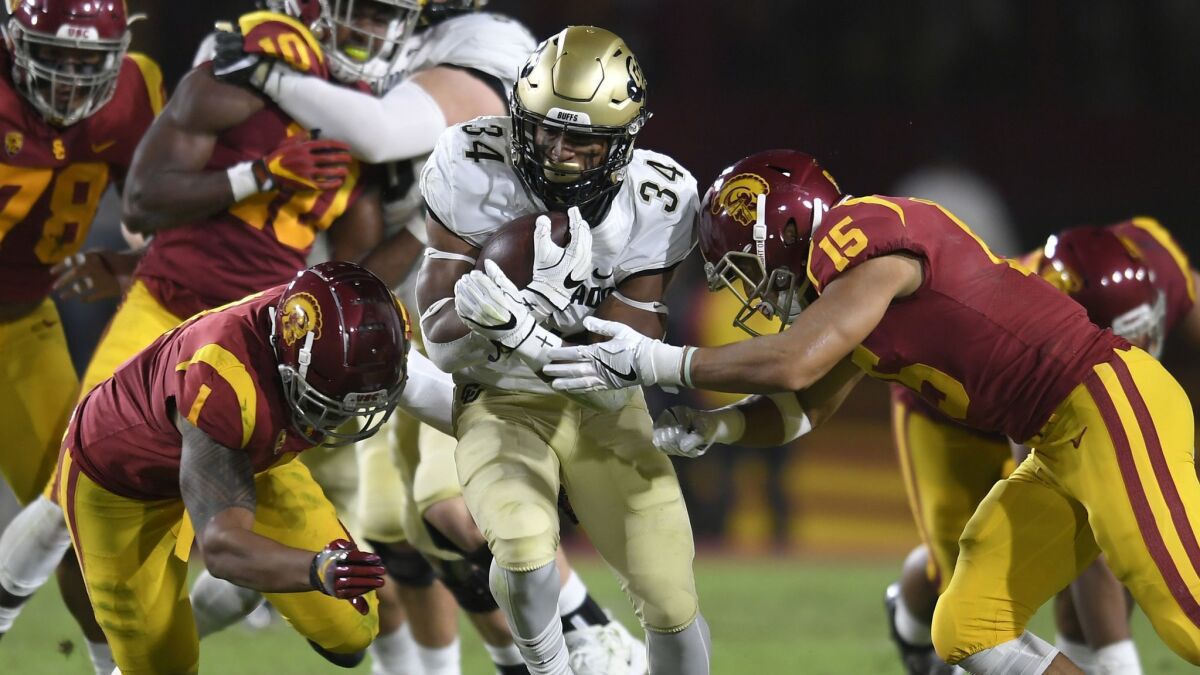 USC had a pretty good idea it was going to have a true freshman leading its offense this season. Clay Helton and his staff felt confident in that decision because JT Daniels was the future of the program but also because the Trojans had a veteran defense they felt they could lean on.
But Helton never considered, with senior captain and All-America candidate Cameron Smith at middle linebacker, that a true freshman could be quarterbacking his defense, too.
That's what happened last weekend against Colorado, as Smith rested to heal a mild hamstring strain. And it could very well happen again Saturday at Utah.
Helton said Thursday that Palaie Gaoteote was medically cleared to play after going through concussion protocol this week, while Smith will once again be a game-time decision.
In USC's 31-20 win over the Buffaloes, Gaoteote looked every bit the five-star recruit he became at Bishop Gorman High in Las Vegas, pacing the Trojans with nine tackles before exiting the game in the third quarter with concussion-like symptoms.
"Another very football-smart, instinctive kid," Helton said of Gaoteote, who is nicknamed "EA" because Palaie is pronounced pa-la-ee-ay. "I've said this before, that Mike backer position is like being a quarterback of the defense in terms of having to make calls and make adjustments. You're literally a quarterback back there trying to make those calls, plus doing your own job. I'm so impressed with what he did last week, and I think the future is extremely bright."
Like Smith, Gaoteote will continue to receive evaluation until kickoff, but Helton appeared confident he was trending right.
"He practiced today, moved around good, and looked good," Helton said. "Still will be a game-time decision, but practiced well today. Cam is progressing nice. I think he's more probably a game-time decision. I want to see him tomorrow, see how he's doing. He did move around and has progressed throughout the week."
The fear with Smith's hamstring is that him playing could worsen the injury and keep him out a month or more.
The Trojans, 4-2 and 3-1 in the Pac-12, could lose to Utah and still finish atop the Pac-12 South division standings thanks to holding a tiebreaker over Colorado. There's no reason to risk Smith's health for the season's stretch run, particularly when Gaoteote led the Trojans' most dominant defensive performance of the season last Saturday.
Helton sees the group as a whole as a strength going forward. If for some reason Smith and Gaoteote were unable to go Saturday, senior Reuben Peters would start and receive help from Jordan Iosefa, who would move inside from his outside linebacker spot.
Peters had six tackles and two tackles for loss after filling in for Gaoteote against the Buffaloes.
"The position is very strong," Helton said, "when they're all healthy."
Cornerback depth hurting
Helton said true freshman cornerback Olaijah Griffin won't play Saturday.
"He's another week away at least," Helton said.
Senior backup nickel cornerback Jonathan Lockett (hip) will travel to Utah but will be a game-time decision.
Redshirt freshman Greg Johnson will back up Iman Marshall and Isaiah Langley, and Ajene Harris will man his usual nickel spot when the Trojans choose play five defensive backs against the run-heavy Utes.
Etc.
Because of a conflict with the Lakers' home opener, the radio broadcast of the Utah game will air on 1110 AM (KRDC) and 99.1 FM (KGGI).
Twitter: @BradyMcCollough
Get the latest on L.A.'s teams in the daily Sports Report newsletter.
You may occasionally receive promotional content from the Los Angeles Times.