Jack Sears, Trojans' third-string quarterback, could start against Arizona State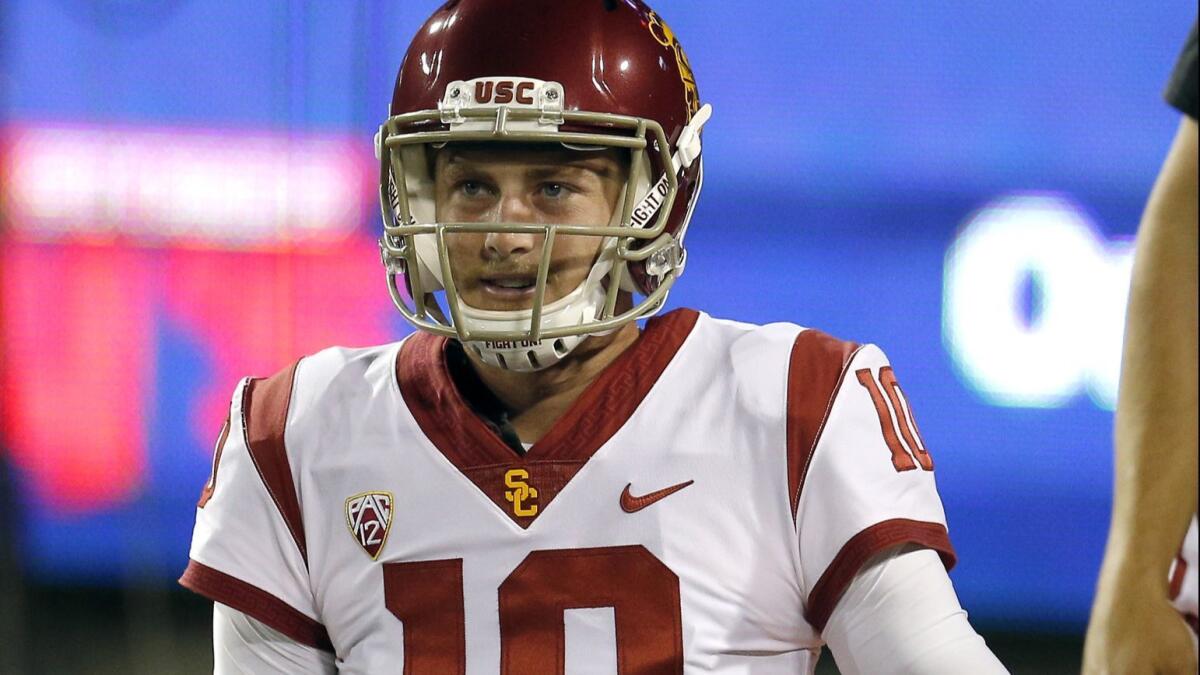 One of the few bright spots during a dim Saturday night for USC was the performance of backup quarterback Matt Fink, who led two touchdown drives in garbage time while in relief of starter JT Daniels.
Daniels took a hit to the head near the end of the third quarter and will spend at least the beginning of this week in concussion protocol. Fink seemed like an able replacement in completing six of seven passes for 43 yards and a touchdown while adding 21 yards on four carries. But Fink also took a costly hit against the Utes in USC's 41-28 loss, Trojans coach Clay Helton said Sunday night, and sustained three broken ribs that will keep him from playing against Arizona State.
Helton said third-string quarterback Jack Sears, a redshirt freshman who has not appeared in a game for the Trojans, will practice this week as if he's going to start against the Sun Devils.
The good news for USC is that Sears received equal reps to Daniels and Fink as the trio competed for the starting job through three weeks of fall camp.
"I'm a big fan of Jack," Helton said. "One of the big things I really appreciate not only of Jack but of Matt, through these first seven weeks, is those kids prepare like they're starters each and every week. For Matt to go out there and in that situation lead us to two touchdowns just speaks volumes for how he's trained over the first seven weeks.
"Jack has been the same way. He's been into the game plan just like he's preparing to go into the game each and every week. I know if given the opportunity, he'll do a great job."
Sears, who followed in Sam Darnold's footsteps at San Clemente High School, now may have the chance to do the same at USC if he were to get his first start for the Trojans as a redshirt freshman.
His skill set is more dual-threat than Daniels'. One of the things Sears tried to show in fall camp was that he could also stay in the pocket and go through his progressions to find open receivers downfield. Sears had some truly impressive days in camp and seemed like the player with the highest ceiling to compete with Daniels for the job. But it appeared coaches trusted Fink's experience and grasp of the playbook in favoring him for the backup position.
Helton said that he is not worried about Daniels missing too much practice time this week if he is eventually cleared to play before Saturday.
"He's a very smart person," Helton said. "He has been with the offense now for seven games, and we're not going to try to reinvent the wheel this week, obviously, with Jack, who has not had a ton of reps. We'll pick the plays we think fit Arizona State's defense, plays that we know."
If Daniels is not cleared by Saturday, Sears would start and walk-ons Holden Thomas and Brandon Perdue would back him up.
Poor rush attack addressed
After watching the tape, Helton said USC's poor night running the ball — the Trojans ran 29 times for 83 yards for an average of 2.9 yards per carry — was not about missed assignments.
"Primarily, when runs weren't efficient, it was us losing one-on-one battles," Helton said.
Helton said that also held true for USC's wide receivers not winning one-on-one situations and defensive players missing numerous tackles in the open field.
Walking wounded
Other than possibly losing its top two quarterbacks, USC took a beating all over the field Saturday. A list of the damage coming out of Utah: Talanoa Hufanga (lower back strain), Marvell Tell (bumps and bruises), Malik Dorton (ankle), Brandon Pili (shoulder strain), Christian Rector (bruised quad), John Houston (bruised hand and bruised rib), Jordan Iosefa (shoulder sprain), Aca'Cedric Ware (shoulder sprain).
Helton said Cameron Smith, who missed Colorado with a mild hamstring strain and played just the first two series against Utah, is getting closer to a full return.
"Our plan was to see how the warm-ups went," Helton said, "and he felt exceptional. He went through a couple series and was very unselfish, said, 'Coach, almost there.' I said, 'Let's go ahead and not do this.' It's a long season and we hope to get him back."
Twitter: @BradyMcCollough
Get the latest on L.A.'s teams in the daily Sports Report newsletter.
You may occasionally receive promotional content from the Los Angeles Times.