Former USC coach Lane Kiffin chimes in on Tee Martin situation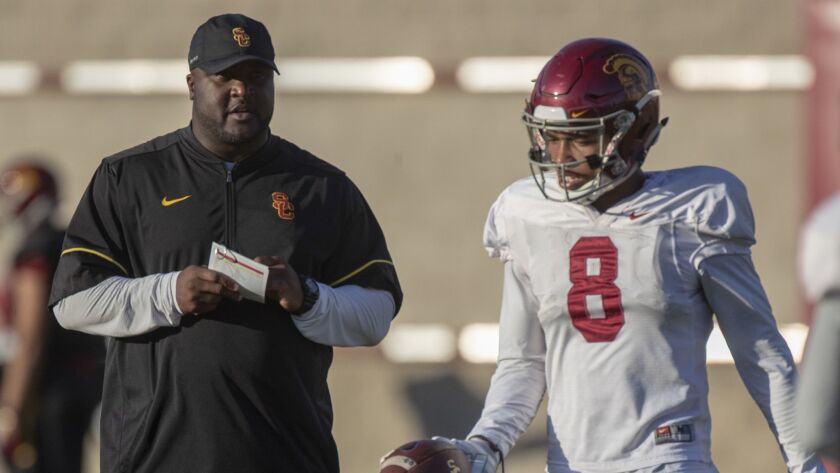 Lane Kiffin is not often perceived as a voice of reason, but in a conversation this week about friend and former colleague Tee Martin, Kiffin offered perspective not only on Martin's struggles this fall as USC's offensive coordinator but also on the expectations at the school he used to call home.
As the Trojans' coach from 2010 to 2013, Kiffin set the direction of the current program in motion. He hired Clay Helton to coach quarterbacks in 2010. He hired Martin to coach wide receivers in 2012. Kiffin has been away from USC for five years, and he's realized some things about the place from a distance.
"Growing up in coaching at USC, when that's kind of all you're around, all you know, when you get out of that, you realize it is a tremendous amount of pressure there," Kiffin said. "The expectations are so high, whether you're a head coach, a player or play-caller.
"USC is maybe one of those five places in the country where the standard is so high, with what Coach [Pete Carroll] did in his run, which was unbelievable, playing in three straight national championships, that's a once-in-a-lifetime type thing. That was a rare run, one of the greatest runs in the history of college football. The expectation to think that's going to happen all the time is crazy."
Kiffin got his career going again as offensive coordinator at Alabama after getting fired by USC. From his spot inside Nick Saban's historically dominant program, Kiffin noted that the Crimson Tide had to show plenty of patience between periods at the top of college football.
"You see places go through this," Kiffin said. "Sometimes it's 20, 25 years. Alabama, I was there to watch the history of that. Since Bear Bryant, they've been waiting for Bear to come back, then Nick Saban is doing the same thing 30, 40 years later."
Kiffin had just heard the news about Helton taking over play-calling duties from Martin. He expressed some surprise, given the numbers that USC put up against Arizona State with third-string quarterback Jack Sears playing his first college snaps.
To Kiffin, so much of it comes down to quarterback play, and Martin has had to call plays this fall for inexperienced freshmen quarterbacks in JT Daniels and Sears.
"That's what gets missed in a lot of these things," Kiffin said. "Young quarterbacks struggle. The Jalen Hurts stories don't happen very often where you're freshman of the year and go to the national championship game as a freshman.
"People forget how valuable the quarterback is, and how much better they get. Here's USC going through it with a freshman, and Carson Palmer started 16-16 there. Nobody remembers that. In Matt [Barkley's] first year, that was Coach's worst year by far since the first year there because he was a freshman. You go to a freshman, it's not going to be the same, no matter how good the kid's eventually going to be."
Defensive captains probable
Helton said Thursday after practice that senior free safety Marvell Tell (stingers) and senior middle linebacker Cameron Smith (hamstring) have looked good in practice this week and should be available against Oregon State.
"Marvell is good, he's had a great week of practice, him and Cam both," Helton said. "I thought the week off helped Marvell, the two weeks have really helped Cam. I thought they were flying around."
With Tell back in the lineup, he should play alongside Ajene Harris, who moved over from nickel back last week to replace Tell against Arizona State. Now, with Talanoa Hufanga sidelined for the season because of a broken clavicle, Harris will stay put at safety.
Etc.
Middle linebacker Levi Jones (hip) will sit out against Oregon State. … Tight end Austin Appleby is sidelined because of a neck injury. … Helton said that cornerback Olaijah Griffin is doubtful because of a sore shoulder.
Twitter: @BradyMcCollough
---
Get the latest on L.A.'s teams in the daily Sports Report newsletter.
You may occasionally receive promotional content from the Los Angeles Times.